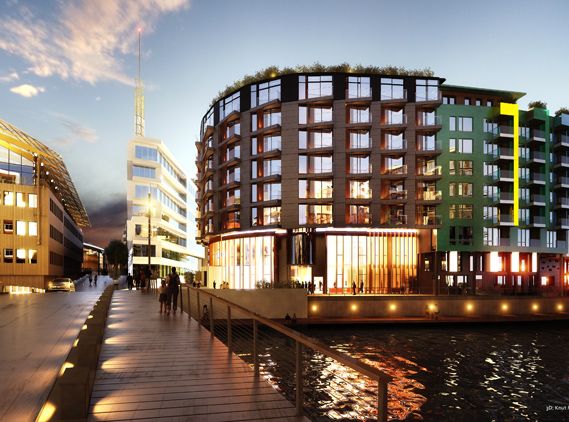 Photo Courtesy of Design Hotels
Booking The Thief hotel may seem risky when searching for
luxury accommodations in Oslo
, but rest assured, rooms are equipped with safes; and besides, the only thing the hotel plans on stealing is you...away from the monotony of everyday life, that is. The Thief is a member of Design Hotels, a group which specializes in avant-garde hospitality and is the first waterfront hotel in Oslo, set between the Oslofjord and the canals of Tjuvholmen.
The hotel name comes from the neighborhood it is located in, Tjuvholmen, whose main inhabitants in the 18th century were criminals, warranting it the nickname "Thief Island." Current day Tjuvholmen is of course very different, but the dangerous past is something that still intrigues visitors. The contemporary neighborhood is known for being "one of Scandinavia's most exciting urban renewal projects," and is home to many fine cultural attractions, vibrant nightlife and stunning architecture.
The hotel's design team combined personally selected artwork and chic furnishings from around the world to create an artistic environment that stays true to its roots. Rooms are equipped with modern amenities like flat screen LCD TVs, complimentary high-speed Internet access, and a Geneva sound system for your iPod. There's also a fully stocked refrigerator, down duvets and pillows by H?ie, Nespresso coffee machine, and spacious bathrooms with rainshowers. Aside from the indoor man-made beauty on display, the hotel also helped develop the Oslo Escape Routes, four walking paths designed to showcase the city's unique architecture. If you'd rather not brave the cold for too long, but still want to look at the sights, the property is located right next door to the iconic Astrup Fearnley Museum of Modern Art.
In addition to pampered and cultivated minds and spirits, The Thief's inhabitants are granted access to a fitness center, a mere 500 feet away. The hotel also offers bicycles to visitors who want to explore Oslo and take in the sights on two wheels. Should you wish to stay in, The Thief provides a variety of services on request, including in-room spa treatments, a personal trainer, a hairdresser, or even a make-up artist, ensuring that you always look and feel your best during your stay.
The Thief is focused not only on supporting local artists, but also on supporting local farmers. The hotel restaurant, Fru K provides a modern twist on Norwegian cuisine, using organic and locally-grown ingredients. There is also a wine and champagne bar on location with a rooftop terrace. Built on a philosophy of sustainability, the hotel makes use of the latest technology to reduce energy, water and waste, to protect this cultural hub for years to come.
These environmentally friendly and economical practices do not however take away from the guests' comfort. In addition to the technological necessities, The Thief spoils guests with 24/7 room service, turn-down and newspaper delivery services, as well as king size beds from Hilding, floor-to-ceiling windows, private balconies, and comfy designer armchairs in all 119 guest rooms.

The Thief promises to "steal you away from everyday life," offering a unique way to experience Oslo, immersed in the contemporary culture and steeped in the region's rich past. Tjuvholmen is a bustling town which is the location of many shopping options, fine cuisine and trendy bars. The Thief is set in the center of this thriving community and offers custom options for guests to fit either their business travel or leisure vacation needs. The Thief is taking reservations now for its grand opening on January 9, 2013.