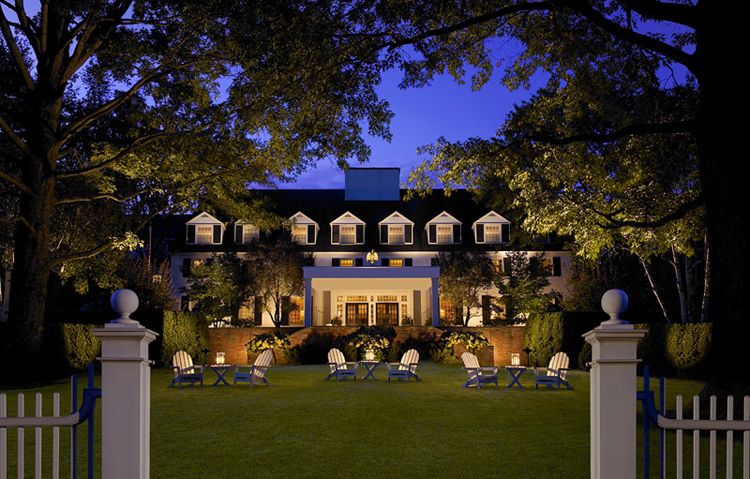 Photo Courtesy of Woodstock Inn & Resort
If you were hoping to kiss the ground that musical legends Jimi Hendrix and Janis Joplin played on during the 1969 Woodstock festival, then you are barking up the wrong tree. This Woodstock is a cozy little Vermont town with a history of farmers markets, and archaic golf courses. Here, you won't find topless hippies and illicit drugs, but rather a
luxury resort
, called the Woodstock Inn.
All of the inn's 142 guestrooms are outfitted with 600 thread count cotton sheets and pillow-top mattresses, and decorated in the classically cozy Vermont style with modern highlights. The décor draws heavily upon the resort's location. From bath amenities to artwork, many of the objects found in the Woodstock are native to Vermont. All of the rooms include plush bathrobes and hand-dyed wool blankets to ward off the New England chill coming up through the "beautifully-appointed marble" that covers the bathroom.
There are also 23 rooms that feature fireplaces, to further warm your bones; either natural wood-burning or gas-burning, depending on your preference, price-range, and the availability of the Executive Suite. The Tavern wing is described as the most luxurious section of the inn; decked out in pastel green and faded yellow, it certainly does soothe the spirit. The Tavern suite features a sitting area, a sofa bed, and a king bed.
The Woodstock Inn Spa is a more recent addition to the property and has a number of amenities to ensure guest's comfort. The Great Room is a bright and warm space for relaxation to prepare you for treatments. If you still feel tense, there is also a meditation tree available. And if that doesn't do the trick, there's a soaking pool. Once you've calmed yourself thoroughly, you can allow others to do it for you. All treatments are performed by licensed therapists and include the range of typical spa offerings, like waxing, massages or facials, but they also offer specialty techniques based on Vermont's four seasons. These seasonal treatments last 100 minutes and feature organic exfoliation, hydrating body masques and scalp and foot massages, using botanicals available during that time of year.
Though the Woodstock is located in a small, sleepy town nestled at the foot of the Green Mountains, it provides a number of recreational activities to keep you occupied. For instance, on the premises, there is an indoor pool, a co-ed steam room and sauna area, a racquetball court, indoor and outdoor tennis courts, and a sand volleyball court. As if you needed anything else, you are also granted admission into the Billings Farm & Museum with the price of your room. The Golf Club is also located only five minutes away and is the oldest course in Vermont. The 18-hole par 70-course includes a putting green and fully equipped pro shop. But, if you're looking for a bit more excitement, there is also skiing nearby at the family-friendly two chair lift area, Suicide Six.
Meals at the Inn are taken very seriously. The Red Rooster Restaurant, despite not being five years old yet, has earned a Four-Diamond title from AAA. Chef Jason Lawless emphasizes Vermont's epicurean tradition and a variety of fresh local ingredients and Vermont cheeses. The Main Dining Room, overlooking the green, is the place to be for breakfast, you can sip your coffee and read the morning paper, while occasionally pondering the Vermont history which that golf course represents. Richardson's Tavern is named for the original owner of the inn and showcases live bands, cocktails, and a glowing fire. Out of Bounds is on the Suicide-Six Ski Area property and offers ski-appropriate nourishment, like soup, sandwiches and salads during the long winter months. The Inn also offers complimentary afternoon tea and morning coffee.
If you do happen to make your way over, decked out in your tunic and peace-sign medallion, prices at the Woodstock Inn average about $200.00 - $825.00 a night, and we're sure they'd be happy to accommodate you.