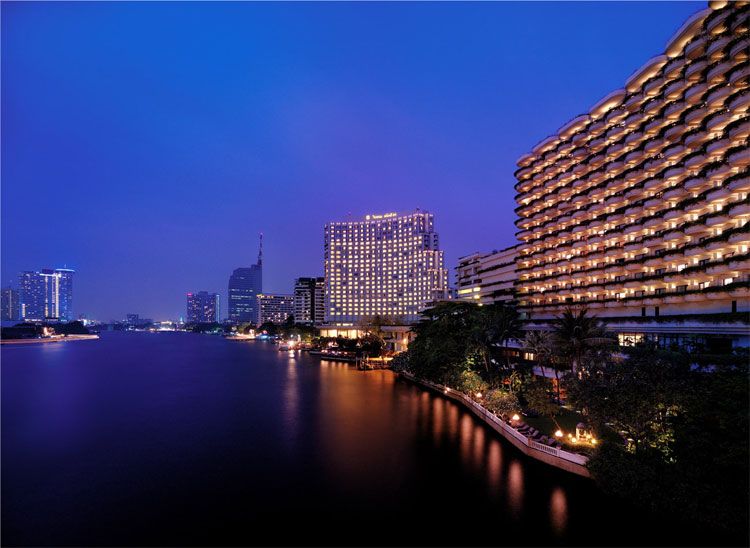 Photo Courtesy of Shangri-La Bangkok
In 1933, British writer James Hilton dubbed "Shangri-La" as the whimsical, cloud-topped Tibetan mountain area in his book, 
Lost Horizon.
 While Shangri-La was fictional in Hilton's depiction, Robert Kuok decided to make the term a real-life utopia, by opening his first
luxury Shangri-La property
in Singapore in 1971.
Today, Shangri-Las speckle the globe with 75 hotels and resorts throughout Asia Pacific, North America, the Middle East, and Europe. On a recent trip to Asia, I was able to enjoy the legendary Shangri-La in Singapore, as well as the bustling Bangkok property tucked right along the water. Below are just a few reasons to make either property the choice in two of Asia's most distinct and intriguing cities.
Singapore: The first Shangri-La
To Singapore locals, the Shangri-La hotel represents the country's first icon of luxury. Having endured a tumultuous separation from Malaysia in 1965, Singapore had begun to flourish as an independent nation in the early 70s. Kuok, one of Asia's dominant sugar and rice traders, knew nothing of hotels but "had spent a lot of time in some excellent hotels in Europe. I knew what I wanted in a good hotel." "Good" is a meager term to describe what Kuok created in what is now a 750-room resort encompassing 15 acres of pristine property; but Kuok is known as a humble man.
Singapore lobby itself is a center of grandeur, so irresistible that loitering was de rigueur. Four hundred tons of marble comprise the floor and columns while four grand chandeliers, each made with 15,000 glass pieces, shimmer from above. Several locally commissioned paintings and sculptures are sprinkled throughout the lobby, each depicting an interpretation of a Shangri-La.
The grounds of the property are just as rich as the lobby. I spent one afternoon just exploring the many gardens of the hotel, which contain more than 110 species of flora and 200 plump Japanese koi. My suite, situated in the Garden Wing, featured a wrap around private patio overlooking the enormous swimming pool for guests. I spent every morning reading the international news, sipping a latte, and delighting in the balmy mist of Singapore's September days.
Just beneath my room is the hotel's latest dining addition, the Waterfall Cafe. Already a favorite of locals and guests alike, the restaurant immediately allured me with its ideals of comfort: large, deep seated dining chairs, wood shelves and shutters, and living room-style lamps. The first step into the restaurant puts guests in a hybrid open kitchen, where chefs, including Executive Chef Stephane Cocu, can be spotted slicing fresh bread, prepping organic meats, and assembling locally sourced greens.
Another dining option, although far distinct from the Waterfall Cafe, is The Line. International cuisine, from Chinese to American sweets, is served across 16 geometrical stations in a creamsicle colored splashed space.
Bangkok: A retreat at the Shangri-La
Bangkok, the capital of Thailand, teems with the energy of a bursting economy amid the quiet serenity of its temples, sanctuaries, and Buddha statues. Finding a piece of paradise among the city's eight million residences is easily accomplished by a stay at the Shangri-La Bangkok. If possible, take a riverboat along the Chao Phraya River for a magnificent arrival right to the doorstep of this Shangri-La, donned in traditional Thai silks and glossy woods.
I was whisked up to the top floor, where the Horizon Club overlooks various skylines of Bangkok, like framed contemporary postcards. The Horizon Club, designed for discerning travelers seeking extra privacy and attention, is a must for any stay in Bangkok. I love the intimacy of a small resort, and this enclave amid the large and bustling 802-room property brings personal attention and the charms of a boutique resort immediately to each guest.
Shangri La
Check-in takes moments, and who would mind—the skyline is glistening back at you while you sip a cocktail and admire the fresh tropical flowers adorning the table. I always appreciate the ability to help myself to snacks and drinks and the Horizon Club provides round-the-clock goodies, juices, sodas, coffees and teas in between its hearty nightly canapés and cocktails. The spacious boardrooms and complimentary suit pressing, what the staff calls "little luxuries," are a big help to many guests, I noted.
Along the river awaits Salathip, the resort's most impressive dining experience and a favorite of locals. Several teak pavilions, designed with classic influences (Thailand silts and slanted ceilings) compose the traditional Thai restaurant. I liked the outdoor seating, where my guests and I could watch the lazy riverboats bob across the waterfront between the sets of the restaurant's Thai dancers. Thai Chef de Cuisine Tussanee Putkaew is the master in the kitchen with all creations Thai. Her entire career consists of bouts across the globe at 5-star properties from France to Switzerland.

The Shangri-La group hired Putkaew in 2004 and since then she's visited other Shangri-Las, perfecting her global influences and mother's culinary techniques at Salathip. The menu showcases a robust array of traditional Thai dishes with modern interpretations. I opted for the restaurant's signature dishes, which included Nuea Ka Ta Roan (beef tenderloin served on a hot wok) and the Tom Yam Keiw Goong (a spicy, sour soup with giant prawn dumplings). Fish entrees (salmon, cotton fish, seabass, garupa, and more) are also a scrumptious treat and can be prepared in 10 different ways.