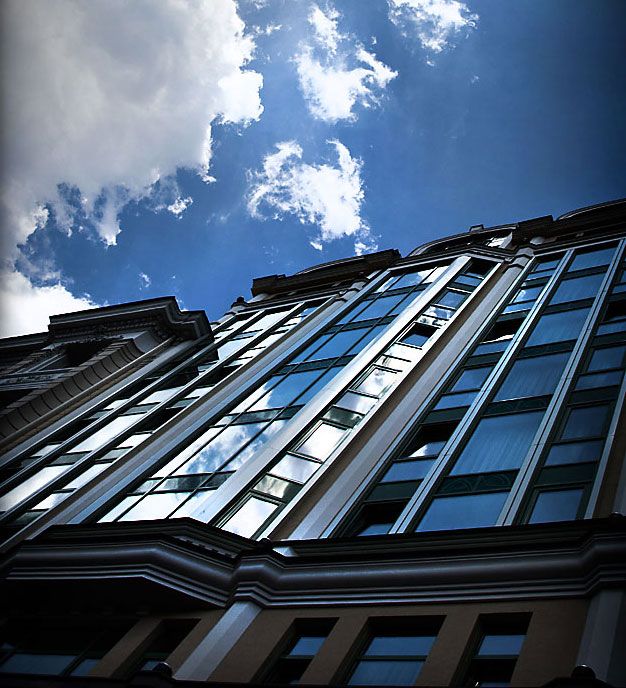 Photo Courtesy of Design Hotels
Ukraine's first Design Hotel, 11 Mirrors is an 11-story
luxury hotel in Kiev
, with a unique architectural focus designed around the theme of reflection; indeed, the hotel promises to be an experience in introspection. Created by Wladimir Klitschko, the hotel will also reflect his personal affinity for elegance, free Internet access, and modern, yet homey touches.
The building is contemporary but grim, an increasingly popular architectural theme in Kiev. 11 Mirrors turns away from the grandiose imperial architecture that was once common-place, possibly serving as a reflection of the Ukraine's 1991 independence after a long series imperialist rulers.
11 Mirrors is made up of 49 bedrooms and suites overlooking the historical center of the city. The Incognito Superior Rooms offer the utmost in privacy for those looking to shut the world out for some R&R or even catch up on work in peace. They feature a stylish bathroom with walk-in shower for two, an open bar, LCD TV, two twin or one king-size bed, and views of either the quiet courtyard or the historic city. Desire DeLuxe Rooms feature spa-inspired bathrooms with natural bath products and walk-in showers, a king-size bed, work area, open bar, LCD TV, and floor-to-ceiling windows to take in stunning vistas, day and night.
Reflecting the elements of air and water, Signature Premium Rooms offer panoramic windows that open up to expansive views of Kiev, as well as spacious bathrooms with walk-in showers for two and large soaking tubs. For those in search of superior luxury and exclusivity, the two Lifestyle Executive Suites are a great choice. Located on the 3rd and 4th floors of the property, these 785-square-foot suites offer a bedroom with king-size bed connected to a comfortable living area, with lots of natural light streaming through the picture windows during the day. 11 Mirrors is also not surprisingly full of mirror-décor and other art by Taras Tkachenko, so no matter how hard you try, you can't escape yourself or your surroundings.

As it is located in a Kiev hotspot, dining at 11 Mirrors may not be your first instinct, but both guests and the public are welcome to come taste their refined European dishes for breakfast, lunch and dinner. Tables are arranged around the idea of socializing in a sophisticated, but casual environment. On the first floor, a lounge complete with crackling fireplace, encourages guests to unwind, sip their favorite cocktail, or curl up with a good book in a welcoming and warm space. Rooms begin around $346 a night depending on availability and room choice.