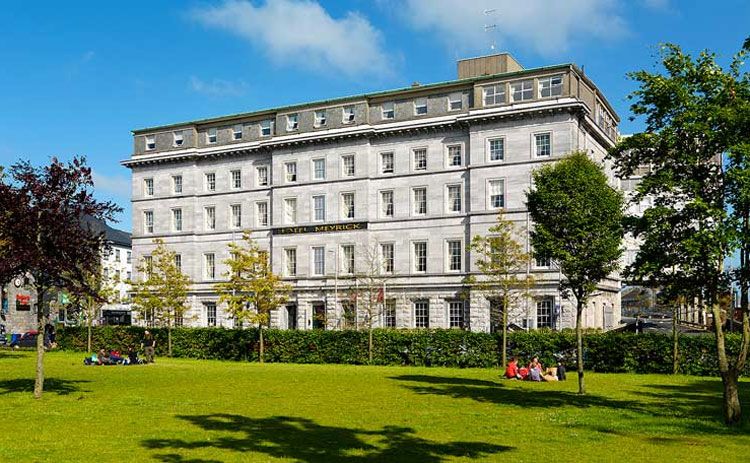 Photo Credit: Columbia Hillen/Meyrick Hotel
Known as 'the grand old lady of the square,' the elegant, old world charm of the Meyrick Hotel is a perfect passport into Ireland's western city of Galway and the wild beauty of the Connemara region beyond. Located in the central, stately Eyre Square which celebrates its 300th anniversary this year, the
luxury hotel
offers visitors a convenient location from which to walk leisurely through what is one of the most attractive downtown areas in Ireland.
The hotel has a narrow off-road space in front where new arrivals can park and unload baggage, while regular parking is taken care of by valet—the lot being an easy, few hundred-yard walk around the corner. The entrance is up several broad stone steps and through large revolving doors (an easy-to-maneuver pathway for wheelchairs is also available to the side of the front entrance). Inside, a long, high-ceilinged room greets guests, stretching all the way forward as far as the eye can see, to the back of the hotel. Standing in the open, marble-floored lobby, there can be seen a small café to the left surrounded in chairs and an open fire with marble surround and matching soft sofas to the right. A grand piano rests at the center of some seating and a set of bookcases lie at the far end of the room directly ahead.
Chandeliers and stately, twin marble pillars stand-alone, while rust-colored vases and a chess-patterned marble floor beyond the entrance door offer a sense of a golden bygone age with warm hints of 19th century nostalgia. The fact that the hotel offers a scrumptious afternoon tea complete with scones, silky cream, varied jams and sweet delicacies, all presented on a multi-tiered, silver tray, comes as no surprise whatsoever. A flute of champagne is an enticing extra (too enticing for us to turn down).
The reception desk lies discreetly behind the wall where the fireplace is located. Here, we found service to be friendly and unhurried, matching perfectly the overall relaxing atmosphere of the property itself. For example, a member of staff is also a musician, so we were warmly directed to a particular pub, Busker Brownes, where said gentleman appeared as a trombone player in a terrific 17-piece swing band, Black Magic. This experience offered provided us with what was to become the musical highlight of our entire west-of-Ireland tour.
As one friendly local woman Emer, put it, "It's Galway's wee gem on a Monday night." In another example of local friendliness, one of the ladies behind the reception desk brought me back a copy of a local newspaper I was keen to read, straight from her own home, while another went across the street for a particular national Sunday edition I was interested in.
We were accommodated on a fifth-floor room and were immediately delighted, not only with its luxurious design and the expansive nature, but also with the wonderful views of the square and Christmas market below. What greater magic can one ask for than twinkling fairy lights, a spinning, multicolored carousel, red and white tented stalls and the evening shadow of the cathedral beyond on the dim horizon of the cityscape?
Our room displayed an overarching light vanilla color scheme, with the walls being of that hue, complemented by paintings framed in gold-leaf. The artist's subjects varied—a rustic, rural Irish scene complete with traditional cottages and horse-drawn carts; a view over the nearby Atlantic from a stone pier; a still-life of a fruit basket; and a depiction of battling, muscular men in the throes of a rowing competition. Twin, elegant, copper-colored Romanesque-like vases stood on the two bedside tables while at the push of a button a large television elevated in front of where we lay. I couldn't have asked for a more comfortable viewing spot to watch my favorite soccer team in action. Indeed, also interested in an historical documentary playing at the same time, I was able to watch both with the help of two separate TVs (other rooms offer cabinet-style televisions and four-poster beds).
Several finely-carved tables, one of polished cherry wood, the other of walnut, add to the overall warm ambiance. There is also an ample-size writing desk against one wall, where I burned midnight oil without disturbing my sleeping partner. Thick padded curtains ensure privacy from the outside world and deep, luscious sofas, with an intricate rose and white motif, offer a most relaxing retreat for reading and imbibing a fine glass of wine, or another desirable accompaniment. If that isn't relaxation enough, pop over to the spa, also on the fifth floor. We did, and enjoyed a majestic view over the city from an open-air Jacuzzi topped off with several bouts in the steam room.
The Oyster Bar and Grill Restaurant at the 160-year-old Meyrick is an explosion of black and dark red, with its wallpapered rooms, large framed mirrors and ambient corner lamps emanating a boudoir-like atmosphere. Starters are diverse and international but packed with local flavors, from smoked duck and Limerick black pudding tian with balsamic reduction, dressed salad leaves and apple chutney, to West Coast seafood chowder and Aran peat-smoked salmon (Aran is an island just off the Galway coast).
Choices are not made easier by the creativity of the main dishes menu, including carpet bag steak (a fillet of steak stuffed with oysters), chateaubriand or Slaney Valley lamb, all served with sumptuous Irish potatoes and a selection of vegetables.

To make our dining evening complete, desserts such as apple and poached raisin compote served in a Tuille crisp, vanilla ice-cream and cr?me anglaise with coffee reduction or dark chocolate and spiced orange mousse with cr?me Chantilly, chocolate sauce and sugar crisp came marching out of the kitchen like flamboyant hats on English Derby day with the design skills of the Czech pastry chef, on full display. To say they melt in your mouth is a severe understatement.