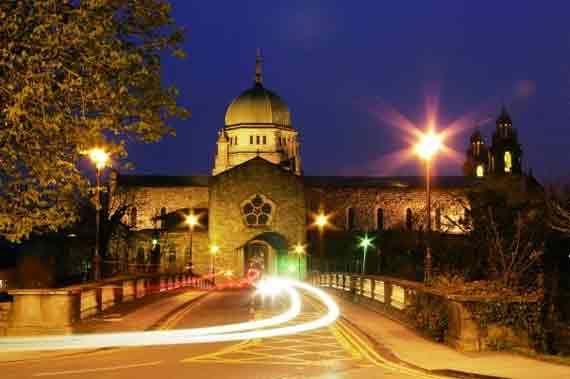 Photo Courtesy of Columbia Hillen/ Galway Bay Hotel
Galway is an attractive Irish city, but like most such places, traffic at times can be challenging so an interesting choice of vacation spot is the town of Salthill, just outside the metropolis where the Galway Bay Hotel is located. An extensive, multi-gabled sand-colored building, this 153-bed, four-star property stands proudly before the Atlantic Ocean. It offers a picturesque view over the rocky seafront and a long promenade that stretches all the way to Galway several miles away.
Columbia Hillen
The Galway Bay Hotel is decorated in a classic style, with long corridors of crimson carpeting on each of its three floors. We were placed in a room on the top floor overlooking a side garden with a partial view over the ocean. Aside from a loud party (it was the week before Christmas after all, and it did end promptly at midnight) the immediate area was quiet and we slept soundly, undisturbed during our stay.
Columbia Hillen
Our room was simple but spacious, bereft of paintings or wall hangings of any kind. In its place were mead-colored walls, a fire-red carpet with gold motif, a round glass-topped table large enough to work with computer and documents spread out, and a khaki-colored sofa with a smaller drinks table in front. The curtains were made from heavy brocade, dark red and beige-gold decorated with birds and flowers. Four standing lamps help light up the whole. The ceiling is not what one might call high, but unless you're a basketball player there's no need to worry about bending your head. It was the bathroom, however, that provided us with that all-important element of surprise – a considerable-sized enamel Jacuzzi tub, with space enough for two, of course (does anyone sit in a Jacuzzi alone? Seems such a lonely place to be).
Columbia Hillen
Food options are varied. Arriving early evening but with a show to attend, we opted for pub grub (the Harvest Café, which serves mainly soup, sandwiches and salads, as well as carvery lunches, was closed) and we left quite content after an hour with the fish and chips and chowder soup we had ordered. Breakfast is buffet-style in the Lobster Pot Restaurant, facing the seafront, though with a little coaxing, off-the-menu items can be obtained. One elderly Irish lady close to us enjoying a pre-holiday break with her husband took a notion for French toast – not as popular a breakfast item in Ireland as it is, for example, in the United States. At first, the Latvian waitress wasn't sure what she meant but after some discussion, she went off, told her superior and the toast was duly brought, making aforesaid lady extremely content.
Galway Bay Hotel
Interesting to note, many, though not all of the waiting staff in the restaurant, originated from various countries, including Latvia, Lithuania, Poland, Slovakia, even Canada. As one who grew up in an Ireland very much – indeed, too – parochial in nature – I am delighted to see how my small nation has become much more multinational. And generally, I have found those in service industries such as hotels and restaurants, like many emigrants – to be infused with added zest and consumer competency towards their work. Overall, Ireland remains the main beneficiary of the dynamism these relatively new arrivals bring. Another major benefit of staying at the Galway Bay Hotel is that a short walk brings one not just to the promenade but also to the downtown area of Salthill where a large number of restaurants, cafes and pubs are located.