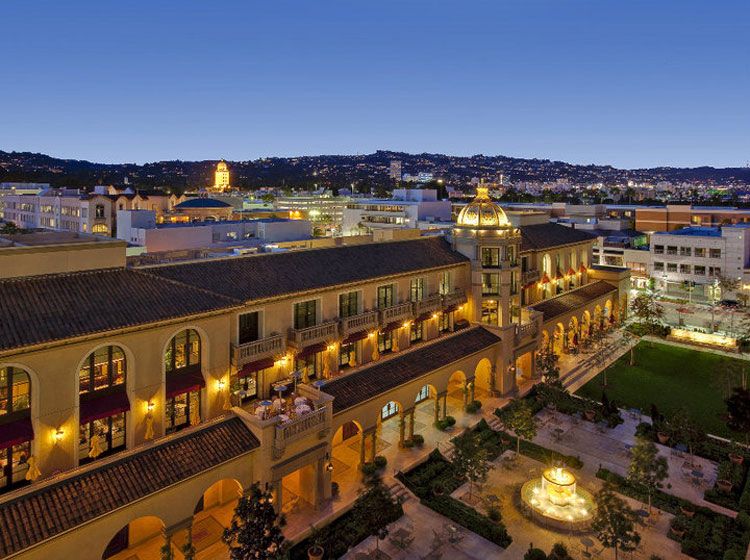 Photos Courtesy of Montage Beverly Hills
Beverly Hills, the epicenter of glamour and luxury on the west coast, is home to
Montage Beverly Hills
—a hotel exemplifying the same opulence and attention to detail that the city is known for. Its location—filled with frequent Hollywood high-society sightings, and just two blocks from Rodeo Drive's chic shops—helps create an undeniable allure. As one of three Montage Hotels and Resorts properties, the Montage Beverly Hills is a distinct haven of "comfortable luxury." Here are a few of my favorite finds during a recent stay:
Design de Jour:
Described simply by my travel companion as "marvelous," Montage Beverly Hills' design motif contains a fusion of aesthetics. Six design teams, including locally based Nancy Goslee Power and Associates (landscape) and Darrell Schmitt Design Associates, Inc (interior design), combined elements of Spanish colonial revival charm with 1930s Hollywood adornments. Throughout the 201 guestrooms and 20 Montage Residences, set designs or costume sketches can be spotted among Moroccan inspired lanterns and grand European tapestries.
Despite the extravagant furnishings, the Montage Beverly Hills was the first hotel in Southern California, and one of only four hotels worldwide, to be awarded Gold level certification under the U.S. Green Building Council's LEED (Leadership Energy and Environmental Design) in 2009. Such an honor is only bestowed upon properties demonstrating high proficiency in numerous areas of energy conservation and eco-friendly initiatives. In addition, the property is the first ever mixed-use residential and hotel project to be LEED Gold-certified as a single development.
Montage Resorts
Cabanas and Conservatory:
I could have spent the entire weekend in a cabana on the top floor of the hotel, and I nearly did. The hotel's mosaic-tiled saline swimming pool and whirlpool are surrounded by balmy palms and private plush cabanas, available for daily rental.
Between pool laps and magazine reading, I gazed over the picturesque views of Beverly Hills' rolling estates and stunning cityscape. There's no reason to leave the roof top for dining, as the tented Conservatory Grill serves a number of nibbles created from goods from local farmers' markets and artisanal purveyors.
Tea Time and More:
It's hard to find a tea time done right along the west coast, but the Montage Beverly Hills hosts one to rival many of London's and New York's best. From 12 to 4 p.m. Friday through Sunday within the Parq Bar, hotel guests, well-heeled locals, and business colleagues sip exceptional tea from hand-painted china by porcelain artist Lissi Kaplan.
A variety of menus (a chocolate one was available while I visited in February) offer treats like warm scones, delicate petit fours, and colorful macaroons prepared by the property's Executive Chef Gabriel Ask. I loved the extra touch of live harp music. For a different type of liquid indulgence, the ?10 (Ten Pound) bar serves some of the area's finest spirits, including some of the most rare and expensive expressions bottled by The Macallan.

A 10-Year Celebration:
Montage resorts celebrates its 10-year anniversary with a yearlong offering of exceptional memory-making experiences at each of its locations. As Founder and CEO, Alan J. Fuerstman, noted, "Our hotels have become havens for guests to create memories and traditions that pass down through the generations." Noteworthy is the hotel groups' offering of five $10,000 college scholarships. "Memory Makers" from age 13 to 17 are encouraged to submit essays on the impact they make in their community for a chance to win one of the coveted prizes.