Jared Paul Stern View Profile

Writer, JustLuxe | Editor | UrbanDaddy's DRIVEN
The Ritz-Carlton, Cancun: Not Your Average Spring Break Experience
Mar. 15th, 2013 | Comments 0 | Make a Comment
Photos Courtesy of The Ritz-Carlton, Cancun
Cancun has some of the world's most beautiful beaches, and of course at certain times of year, some of the busiest. While its reputation conjures up images of spring breakers on a partying spree, there are definitely ways to enjoy Cancun's natural beauty and considerable attractions without encountering a single Jell-O shot.

The five-star Ritz-Carlton, Cancun is an oasis of calm refinement. It is currently the only Ritz-Carlton in Mexico and the only AAA Five Diamond resort in North America with two owned and managed AAA Five Diamond restaurants as well. In contrast to the larger, noisier resorts lining the other end of the legendary shoreline, the Ritz-Carlton, Cancun strives to offer a more intimate experience akin to being a guest in a friend's luxurious villa.

The sort of place people come to for weeks at a time, the Cancun property, one of the most highly regarded in the Ritz-Carlton portfolio, offers a lavish oceanside Kayantá Spa and a private Beach Club with 17,000 square feet of pristine sand adjacent to the attractive pool area.

The private access Club Level—a signature feature of Ritz-Carlton resorts—is particularly popular with discerning travelers with its dedicated concierges and continuous culinary offerings throughout the day in a well-appointed lounge. Other posh amenities at the property include a Cliff Drysdale Tennis Center, cooking lessons at a Culinary Center designed by Viking, and exclusive Escada and La Perla boutiques.

As the gateway to many important Mayan archeological sites on the Yucatan Peninsula, Cancun attracts its fair share of visitors interested in the ancient civilization. The Ritz-Carlton offers a calendar of Mayan themed activities designed to complement a day's exploring. The on-site travel agency can organize enticing excursions such as a tour of nearby Chichén-Itzá, a UNESCO World Heritage Site, via private helicopter. Closer to home, one can find local flavor in one of the resort's tequila tastings, during a signature Seashell Mayan Massage at the 5,500-square-foot Kayantá Spa, or browsing the artwork at the Xaman-Ek Mexican Gallery.

At night the beach palapas (traditional Mexican shelters roofed with palm fronds) are transformed into Casitas, private candlelit dining rooms on the ocean providing the ultimate romantic meal. There are seven dining options in all, with atmospheres ranging from European elegance to casual beachfront relaxation.

The property's top-shelf restaurant, Fantino, offers gourmet Mediterranean-style cuisine in a sophisticated setting. The Sushi & Ceviche bar gives guests an opportunity to sample the locally-caught bounty of the ocean, while El Café Mexicano allows one to indulge in artfully-prepared regional specialties like Mexican Gulf shrimp cocktail or Tampiqueña de Res.

Those who demand the very best, or are looking to celebrate a truly special occasion, can reserve the three-bedroom ocean front suite—the only one of its kind on property, located next to the spa and featuring a private swimming pool. Originally created out of two smaller suites for a certain A-list Hollywood actor visiting the resort, the 1,900-square-foot space features luxurious baths, a dining area, entertaining spaces and easy access to a secluded section of beach.

The 2,460-square-foot Presidential Suite is on the hotel's highest level, and boasts a Jacuzzi on an enormous private terrace overlooking the ocean, and offers access to the Club Lounge. The property has a total of 365 guest rooms, all of which feature ocean views, including 50 suites and 56 Club Level rooms.

More than just a hotspot for beachgoers, the Ritz-Carlton, Cancun is also a popular destination for business groups and wedding parties, with over 27,000 square feet of meeting space and two opulent ballrooms. Every year, Sony Pictures throws lavish parties at the resort to promote its new releases attended by the likes of Julia Roberts, Angelina Jolie, and Leonardo DiCaprio. The hotel prides itself on a level of service that can make any guest feel like a celebrity.
You might like :
Popular Luxury Hotels in Cancun
Featured Luxury Hotels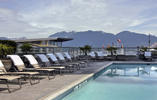 Vancouver, Canada
Fairmont Waterfront
The Fairmont Waterfront Hotel, Vancouver showcases the best of Vancouver....

Fort Lauderdale, United States
W Fort Lauderdale
Lounging on Florida's sugar-sand coastline W Fort Lauderdale makes its debut as...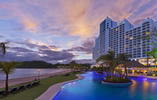 Panama City, Panama
The Westin Playa Bonita Panama
Discover complete rejuvenation at the natural refuge, where a serene beach...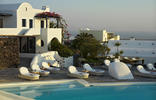 Santorini, Greece
Vedema Resort Santorini
Vedema Resort is the place where style, emotions, creativity and perfection...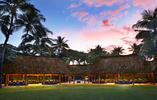 Nadi, Fiji
The Westin Denarau Island Resort & Spa, Fiji
Whether it's the private beach, the award winning Heavenly Spa by Westin, the...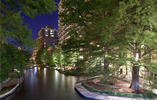 San Antonio, United States
The Westin Riverwalk, San Antonio
At The Westin Riverwalk, settle in San Antonio's luxury landmark, nestled on a...