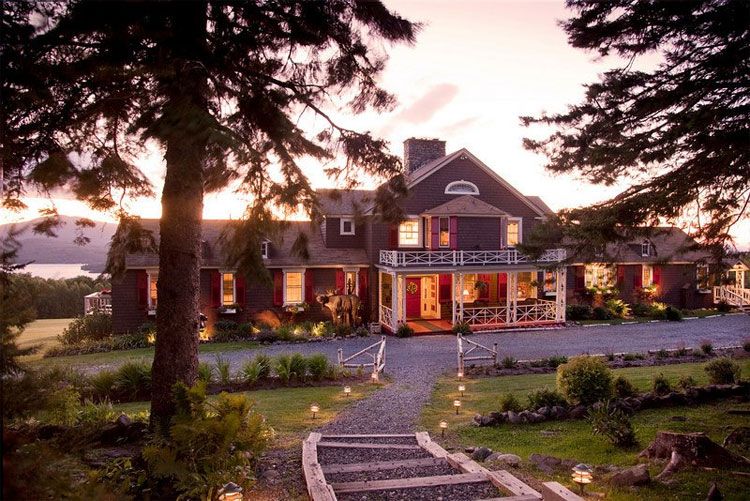 Photos Courtesy of Lodge at Moosehead Lake
Way up in the deep north woods of Maine lies a magical place where the state's natural splendor and beauty abounds. It's where stressed out travelers (and even celebrities) come to find solace and an escape from their hectic routines. After a near six-hour trek from Boston, we finally arrived at
The Lodge at Moosehead Lake
. We walked up to the massive front door and were quickly greeted by friendly innkeeper Linda Bortis, who runs the property along with her husband Dennis.
It is here in the main lodge, she informed us, where breakfast and dinner is served in the private Lakeview Dining Room with huge windows that overlook massive Moosehead Lake (The breakfast entrée is Chef Dennis' choice, which was a delicious bacon and broccoli frittata the day we visited). It is also here that you will find the common pantry stocked with DVDs, tea, coffee and snacks like freshly made warm chocolate chip cookies each afternoon.
Linda got us checked in and gave us the key (on a cute moccasin keychain) to the pet-friendly Baxter suite. The beautiful Maine-themed room was recently redecorated with every last detail incorporated. There is a birch tree (yes, in the room) separating the king bedroom from the step-down living area that is complete with a couch that swings "because it's always fun to swing outside, but New England weather can be unpredictable," as Linda noted. Sit inside here on the swing or venture out to the deck that offers a front row view of Moosehead Lake with breathtaking pink and blue sunsets.
Above the bed there is a display of moose antlers (which we later discovered are actually shed by the moose). The living room had all of the upscale amenities you would expect, including a remote controlled gas fireplace and flat screen TV with DVD player, along with some special touches like daily personalized weather cards and "in camp" requests for privacy door displays.
The massive bathroom was a room created to relax and rejuvenate. Light the candles and step into the two-person Jacuzzi tub; or after a warm day, cool off in the separate glass shower. We loved the spacious birch vanity with double sinks that housed a Keurig machine, which came in handy for our early morning moose safari (There is also a small refrigerator stocked with bottled water and a cooler of ice).
Since the property is pet friendly, we decided to bring our English bulldog in tow. Prior to our arrival, our suite was set up with all sorts of pet amenities, including a dog bed, pet bowls, pickup bags, treats and even Chloe's canine crunchies recipe. (Chloe is Linda and Dennis' super friendly French bulldog).
There are tons of activities to do here if you choose: Book a flight on a sea plane; try your luck at fly fishing; head into the water for some canoeing; kayaking or whitewater rafting; walk the spacious grounds; or go for a nice long hike. Do everything or do nothing; the choice is yours.
Whatever you decide, the must-do activity to book here is the Moose Safari & Wildlife tour where you will head into the deep north woods for a look at Maine's incredible wildlife. The four-hour tour departs from the lodge at 5:30 a.m. where you could spot everything from moose and deer to bears and ducks. Our personal guide, Mark, was one of the most knowledgeable tour guides we have encountered, enthusiastically sharing with us what moose eat, how much they weigh when they are born, where you can find them and encouraging us to ask questions along the way.

After a drive along a dirt road, where we spotted several moose along the way, we came upon a secluded remote pond where Mark took us in search of moose that love to swim and drink here. After the canoe ride, he set up a breakfast picnic for us pond-side, which included everything from blueberry muffins made by Dennis, yogurt, hard boiled eggs, fresh fruit, juice and a tasty apple, peanut butter and granola "sandwich" that we loved. What a weekend to remember.