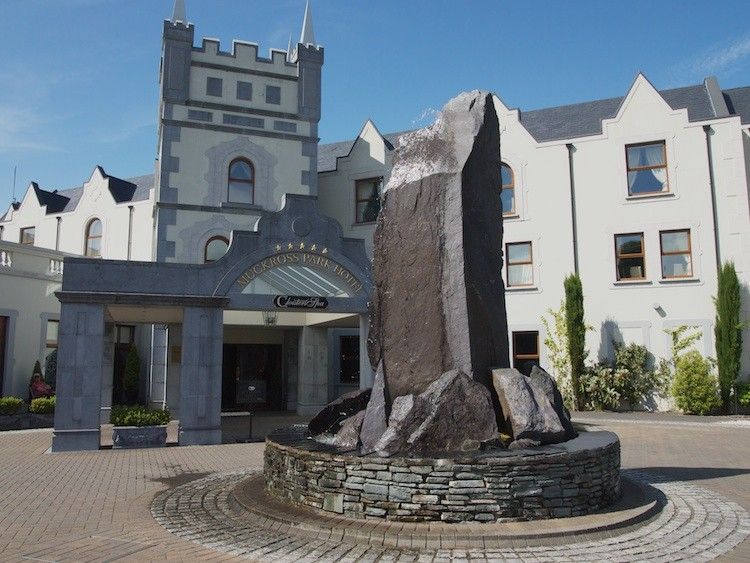 Photo Credit: Columbia Hillen
A tall, lean water sculpture composed of intricately interwoven gray slates from nearby Valentia Island is the first thing you'll notice as you approach the front entrance of
Muckross Park Hotel and Cloisters Spa
. Immediately inside, a veritable feast of furnishings meets the eye: twin decorative Doric columns, Grecian urns, crimson armchairs, gilded mirrors, century-old oil paintings, an open fireplace with a varnished wood border and twin marble statues of dogs.
Photo Credit: Columbia Hillen
With former guests including Daniel O'Connell, a leading 19th century political figure known as 'The Liberator' and Michael Collins, who played an important role in the struggle for national independence, this five-star property is steeped in history. Located inside Killarney National Park, with approximately 25,000 acres of rugged mountainous terrain, this 65-room Victorian mansion is an elegant property. The house boasts a combination of oak paneling, marble and varnished wood flooring, bronze ornamental trappings, lampshades with decorative wild stallions and an abundance of chandeliers.
Photo Credit: Columbia Hillen
Our room, the Tower Suite, at the end of the first floor consisted of a spacious living area, classic but simple. It held two central facing sofas and a small-curved varnished wood bar with four high stools and an open-air veranda. Viewing out onto the landscape, the veranda overlooked the entrance driveway and Ireland's highest mountain range, the McGillycuddy Reeks. Adjacent was a bathroom with a tantalizing heart-shaped Jacuzzi and a bedroom with thick-drape curtains and plenty of cupboard space.
Photo Courtesy of Muckross Park Hotel
Steps outside our door led down to the spa which offers an assortment of hot, dry herbal and salt saunas; outdoor and indoor Jacuzzis; treatment and relaxation rooms; and a steam room. After a strenuous walk through the picturesque Gap of Dunloe, a hot stone massage in the Cloisters Spa provided a well-deserved respite of relaxation. A longer stay would have convinced us to try the skin rejuvenation by the Pevonia line of skincare products.
Photo Credit: Columbia Hillen
Formal dining at Muckross takes place at the Yew Tree Restaurant, whose dining room presents a colorful red and butterscotch display of velvet and satins. It offers a very impressive tasting menu as well as á la carte options. Alongside the menu items is a comprehensive description entitled Our Food Philosophy which explains in detail exactly how each dish is prepared as well as its origin. Chef Mike Hayes deserves recognition for his well-structured and creatively presented eight-course tasting menu.
Photo Courtesy of Muckross Park Hotel
Taking locally sourced produce, inspired in part from history — the salmon pastrami and cucumber was served to Queen Victoria in 1861 — the menu encompasses foie gras parfait with cherry espuma; salmon smoked on the plate under a glass bell (a more fragrant result than traditional ways of smoking); ham hock terrine with three kinds of apple (dried, puree and jelly); and beef fillet enveloped in a subtle truffle scent cuddled beside a pillow of smoked mash.

Our evening was all the more enjoyable due to the piano playing of music student Deirdre and excellent service by waiter and sommelier, Andras. A single borage flower that accompanied each course was a delightful addition. According to holistic experts the flower brings "lightness and ebullience to the soul, filling it with optimism and enthusiasm."
Photo Courtesy of Muckross Park Hotel
More informal fare is served at Molly Darcy's pub where bare, wooden floors, wine barrels, stonewalls, exposed beamed ceilings, open fires and live Irish entertainment create a warm and convivial atmosphere. We enjoyed the music and singing of Onora, a traditional Irish group, while eating locally caught crab claws in a garlic sauce alongside sea bass cooked whole. Baked in its own skin, the bass was soft and moist, as if it had been cooked in salt. A menu of tasty micro beers and boutique ciders such as Galway Hooker IPA and Stonewell cider from Cork are available. There's no better place for an after-dinner drink than the Monks Bar, where wood-paneled walls, deep leather couches and low lighting create an intimate and relaxing ambiance.
Photo Credit: Columbia Hillen
A key highlight of Muckross is its prime location, far enough away from the busy tourism center of Killarney to avoid traffic and noise, yet close enough for a visit on foot or by car. The national park in which it sits consists of extensive woodland, verdant valleys and playful waterfalls. There are four self-guided nature trails including a trail for the visually impaired. A short walk up a steep footpath leads to the Torc Waterfall formed by a river that flows from the Punch Bowl high in the mountain. The waterfall flows to a 60-foot drop and the footpath offers excellent views over the Killarney lakes. Ross Castle is a lovely location nearby with boats leaving regularly from its grounds on one-hour tours across the lakes on MV Pride of the Lakes.
Photo Courtesy of Muckross Park Hotel
A half-hour away is the stunning Gap of Dunloe, carved sharply by the melt waters of a huge glacier thousands of years ago. It is about seven miles in length with the Tomies and Purple Mountains on the left and the McGillycuddy Reeks on the right. Many tourists walk or cycle the route, but for the romantic, a journey into the gap by traditional pony is the best choice.
Photo Credit: Columbia Hillen
No expense has been spared to enhance what is already a well-known hotel dating back from 1795 on Ireland's popular southwest coast, a mere five-minute drive from the picturesque town of Killarney and the 'Ring of Kerry' scenic coastal route. The award-winning Muckross Park Hotel and Cloisters Spa has been named "Best Five-Star Accommodation in Ireland" by the Irish Accommodation Standards Institute and has earned a AA Rosette for its excellent food.