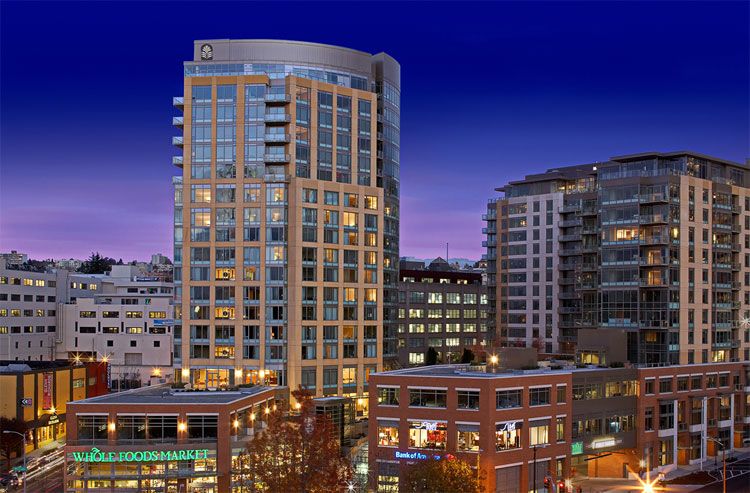 Photos Courtesy of Pan Pacific Hotel Seattle
It seems fitting that Seattle, the outdoor-enthused, tech-savvy and culturally-engaged Emerald City of the Northwest would be home to one of the nation's top green, tech and art focused hotels. In 2011, the Pan Pacific Hotel group opened its first US location in the South Lake Union neighborhood of Seattle. Amid the busy bike lanes, gliding sea planes and headquarters of super-star corporations Amazon and REI,
Pan Pacific Hotel Seattle
blends seamlessly into South Lake Union's brimming scene of understated 'hipness'. During a recent visit in Seattle, I stayed at the Pan Pacific to get a glimpse of this niche neighborhood and an appreciation for the property's perfect spot within it.
Let's Talk Tech
Few hotel groups take technology as seriously as the Pan Pacific Hotel group. My 1,200-square-foot suite, one of 22 on site, was a gadget-lover's delight. If it weren't for the stunning panoramic views of the Seattle Space Needle framed by lush trees and rolling hills, I may have focused just on the technology offered within my modern accommodations. The Pan Pacific was the first hotel group to launch ONEvision™ technology in America, a system complete with stunning 42-inch Panasonic TV screen displays and a number of savvy features. Digital devices from
iPhones
to cameras are fully compatible with the system, which allows guests to "plug and play" with their devices right on the screens' displays. A wireless keyboard let me navigate my e-mails and a few TED talks on YouTube from my bathtub.
Each Pan Pacific room is also installed with intellectual thermostats that sense and respond to the occupancy of the room, and iHome docking stations ensure every gadget I brought was fully charged. Even housekeeping gets to keep things tech since every room attendant carries a handy iPod Touch. Guests' requests are updated frequently in order of priority on the device, and housekeepers can immediately notify the front desk that a room has been spruced up for the next guest.
Green, Giving and Artistic
Beyond the technology offerings of the Pan Pacific, the consistency of the hotel's commitment to the local community via art, non-profits and green policies is exceptional. The distinct art pieces displayed throughout the hotel present a cosmopolitan, rather than cookie-cutter approach to the hotel's décor. While the Pan Pacific Hotel group is known for its neutral beige and vanilla tones hailing from Asian inspiration, the art within the Seattle property — curated by private and public art manager Pablo Schugurensky — is a meticulously arranged collection that sparks intrigue and admiration. Twelve local artists fill the two-story lobby with intricate pieces created in various mediums.

One of my favorites was Katy Stone's White Roots, a hanging cascade of thick, cream-colored strips of material. Not to be missed was Akio Takamori's beloved Three Women. This piece also appears in larger versions outside the property in the mixed-use complex shared with Whole Foods and other retailers. In a quiet corner of the lobby lounge, three stoneware sculptures of raven-hair women face each other, seemly waiting patiently for guests' arrivals.
In addition to the local artist support, I learned the Pan Pacific of Seattle launched
PanEarth
the year of its opening. This is an initiative far beyond the leave-your-towel-off-the-floor and we'll-save-water programs often touted by hotel groups. PanEarth contributes partially used toiletries to the local YWCA Angeline's Women's Centers. More than 6,000 pounds of food annually have also been donated to local charities including the Pike Market Food Bank and Chicken Soup Brigade. Such massive recycling to the local community, among several other aspects of PanEarth, have earned the property a Green Globe Certification, the only U.N.-sanctioned, internationally-awarded program to recognize hospitality organizations with exceptional commitment to sustainability.
Get Your Spa On
Vida, the spa partner of Pan Pacific of Seattle, is one of the area's only Ayurveda-focused spas. I was delighted to receive a treatment, as the Ayurveda philosophy is based on 5,000-year-old Indian principles of connecting the mind fully with the body. My therapist spent ten minutes with me, asking specific questions about my body temperature, my food cravings and even my day-to-day temperament. My massage, crafted after my diagnosis as a Pitta-Dosha energy type, was a massive tension release. Somehow my therapist perceived I had been traveling quite a lot, bouncing city to city for various obligations.
The Vida spa at the Pan Pacific offers another attractive amenity: an infrared sauna, which uses a gentler radiant heat. The result is more of a penetrating and detoxifying experience, as well as more tolerable. I always found the traditional steam saunas to be difficult to endure, but an infrared version offers true relaxation.
For the techy in me, Pan Pacific Hotel Seattle is high on my list of places to stay while visiting Washington. Likewise, supporting a hotel that gives back is equally as enticing. I look forward to return to the Pan Pacific for one of its quarterly Cocktails for a Cause events that benefit agricultural and economic-need communities around the area and globe.