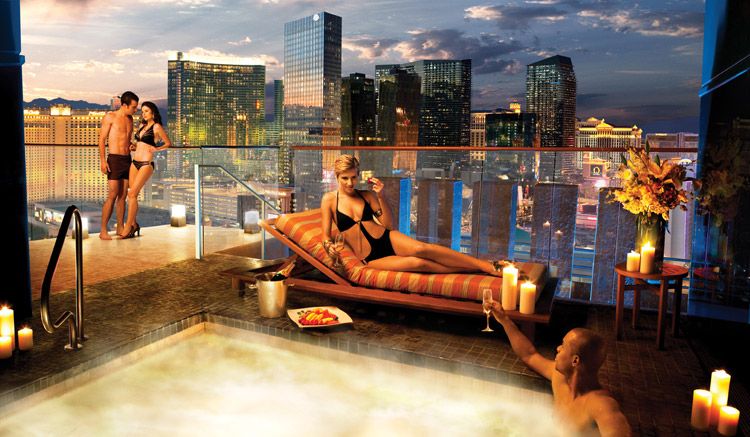 Sponsored by MGM Skylofts
If you've been an avid JustLuxe reader for some time, you may have noticed that we're big fans of the SKYLOFTS at MGM Grand in Las Vegas, Nevada. (If not, we'll give you a minute to catch up). More than just another luxury accommodation, the lofts are saturated with high-end amenities and personal service that is a cut-above.
The resort alone has plenty of extras to keep guests from needing to ever leave the property. In the midst of all the activities offered, SKYLOFTS separates itself from the flock by its impeccable level of service. Prior to arrival, a personal concierge will be assigned to you who can arrange restaurant or spa reservations, show tickets or anything else you might want to do while visiting.
Arriving in style is half the fun of a Vegas vacation, and what better way to do so than by a chauffeured Rolls-Royce Ghost Limousine? Once on the property, the concierge will escort you to your room via a private elevator. After the private in-room check-in, guests will receive a complimentary welcome beverage and get a chance to meet their butler who is available during the duration of the stay.
Instead of spending the next hour unpacking, allow the butler to take care of the task while you sit back and relax after the flight, preferably with a cocktail made from your own stocked premium bar. An environment remote, espresso machine, heated towel racks, immersion chamber, laundry service, in-loft massages, and pressing services are some of the other conveniences allotted to SKYLOFT guests. When it's time to hit the town, an ambassador will arrange for transportation, no matter what hour.
Nightly from 5-9 p.m., light appetizers and cocktails can be enjoyed in the exclusive SKYLOFTS lounge, the perfect setting for mingling with your fellow loft neighbors. As hotels have begun to take extra steps to ensure guest's satisfaction, more dream butlers and pillow menus have been added to rooms. The lofts are no different with butlers transforming rooms into intimate retreats with calming music, hand drawn baths, teas and multi-sensory spa treatments.
Whether staying for one night or a week, those who visit the SKYLOFTS will receive the utmost care and attention, a touch that makes any stay feel more personal. Living fabulously isn't a luxury at the lofts; it's a way of life, and SKYLOFTS refuses to take short cuts to get you there.
[Photos Courtesy of MGM Skylofts]