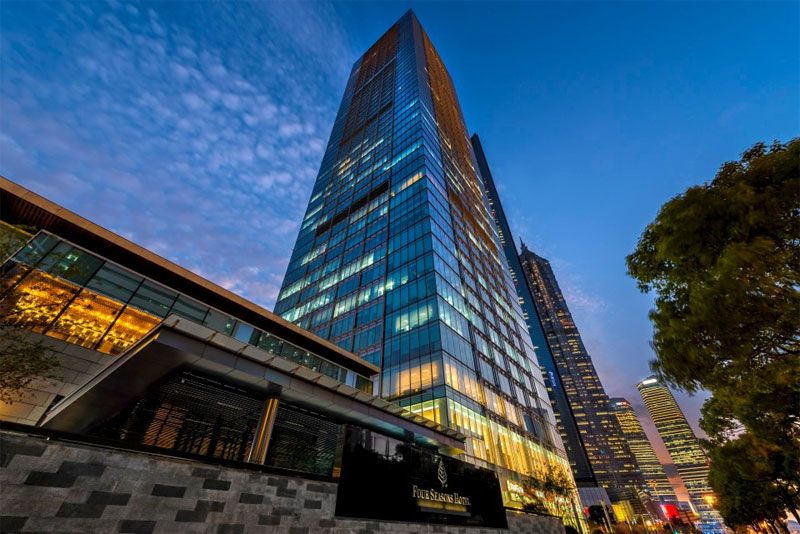 Photos Courtesy of Four Seasons Shanghai Pudong
Since its opening in 2012, Four Seasons Hotel Shanghai has been stealing the limelight from its sister property in Weihai Lu. Ten years its veteran, the Weihai Lu property has become a staple among Shanghai's residents and an esteemed destination for China's travelers. But as all younger, cooler siblings tend to do, Four Seasons Shanghai at Pudong is making guests rethink staying at its more "mature" counterpart in order to party with the new hip crowd.
The hotel is stunning; a gem in the busy Chinese metropolis sitting at 55-stories high with a glass façade showcasing views of one of the world's most photographed cities. Built to attract a 21st century clientele, the property is decked out with modern amenities and Art Deco designs with touches of the brand's classic elegance mixed in. In the lobby, pops of maroons and reds are modestly sprinkled throughout the furniture and warm lighting and marble floors set the welcoming mood inside.
Make sure to book a private transfer when you arrive and head to the hotel in either a Mercedes-Benz or Bentley that is filled with amenities like complimentary Wi-Fi, iPads, chilled water and towels, and copies of Four Seasons magazine.
Of the 187 guestrooms, 15 have been created into spacious suites and all accommodations come with wall-to-wall views of the cityscape, exotic woods, deluxe leathers and remarkably high-grade marble in the bathrooms. One room of note is the Pearl View Junior Suite with a king bed and views of Pearl Tower and Century Boulevard. Sitting at 786 square feet, the suite is furnished with the same color themes strewn throughout the hotel of reds, purples and blacks with stingray leather and rich Macassar ebony finishes.
What really caught our eye about the hotel, however, is the ultra-sleek FLARE spa and it's striking indoor infinity pool. Spread out across the floor-to-ceiling windows, the pool is 59 feet wide with sparkling emerald-colored tiles that Dorothy (and Toto) would approve of. From its edges, guests can serenely take in the beauty of Shanghai while forgetting about the hustle and bustle of the city streets below. The spa also offers two VIP suites, four additional treatment rooms, a salon and a 24-hour fitness center.

Immaculate and private, the discreet Shàng-Xí restaurant within the hotel only seats 22 guests at a time in its five rooms that each reflect a semi-precious stone. The fine dining establishment serves authentic Chinese cuisine and business casual attire is recommended. Of course, if you're going to claim to be fashionably cool, it doesn't hurt to offer a French restaurant that serves dishes prepared by chefs trained at the Michelin-starred Le Cinq restaurant at Four Seasons Hotel George V Paris. And pair that with the restaurant's outdoor terrace that floats high above the city.
Four Seasons Hotel Shanghai at Pudong is located in the Financial District, which makes it an easy choice for business travelers as well. What's also intriguing about this destination, is that for those travelers who have seen their share of beach vacations and secluded islands, the city of Shanghai is filled with energy and a racing pulse that is electrifying. There's a plethora of luxury dining and shopping establishments all throughout the area with plenty of activities to fill your day.
And, based on TripAdvisor guest reviews, the approval ratings of this young hotel seem to be rising with comments such as "…nothing short of fabulous," and "…perfect as ever," showing up consistently. If you've been, let us know what your experience was like, especially if you've been to both properties in Shanghai. Well-seasoned and familiar, or new and unexplored, what's your choice?