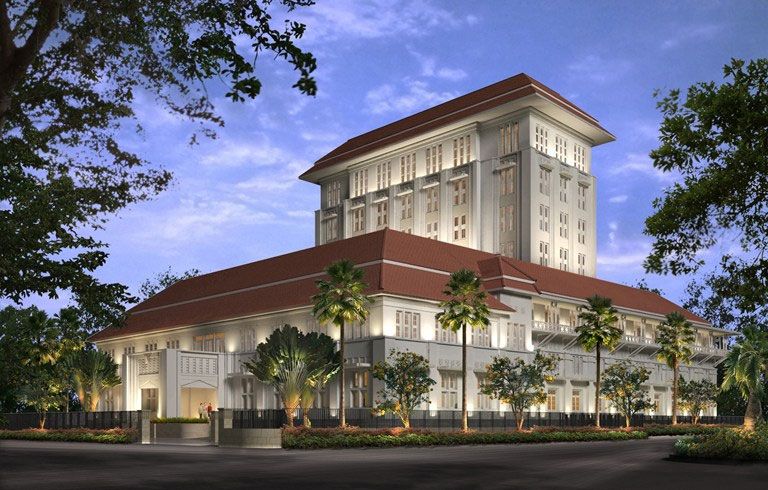 Renderings Courtesy of The Hermitage
The new Hermitage hotel opening on May 1 and situated in Jakarta's impressive Menteng District, is promising to offer a wonderful night's stay in one of Indonesia's most prestigious areas. The combination of bespoke services and serenity should be a welcome addition to the city, and will likely become a hotbed of international and business travel due to its modern amenities and pledge to excellent hospitality.
Constructed from a renovated telecommunications office built in 1923, much of the flair and décor of that period has been incorporated into the look and feel of the property. Rich woods, bold colors and strong angles greet guests in public spaces, while rooms and suites provide a lighter color tone to inspire tranquility and rest.

The hotel's primary onsite restaurant L'Avenue will be cooking up French cuisine with a bit of local flavor for all-day fine dining. Having been deemed an ethno-brasserie, this stylish eatery could easily become a favorite in Jakarta. The Courtyard Café offers light fair, cocktails and patisseries in a surrounded outdoor environment. A rooftop pool bar is available for a resort-like atmosphere with sweeping views of the city accompanied with a seaside décor and a robust menu of cocktails. The 1923 Lounge Bar features rich cigars and smooth, top-shelf single malts. For guests who're looking for a different dining experience, the property also provides 24-hour room and concierge services.
The 74 rooms, including 16 suites, come equipped with HDTVs, electronic safes, media hubs, espresso machines, high-speed internet access and other accommodations to satisfy modern travelers while plush pillow-top mattresses and luxury furnishings look to ensure a truly comfortable living experience. Accommodations range from 350 to 1750 square feet, and come with twinkling views of the surrounding city.