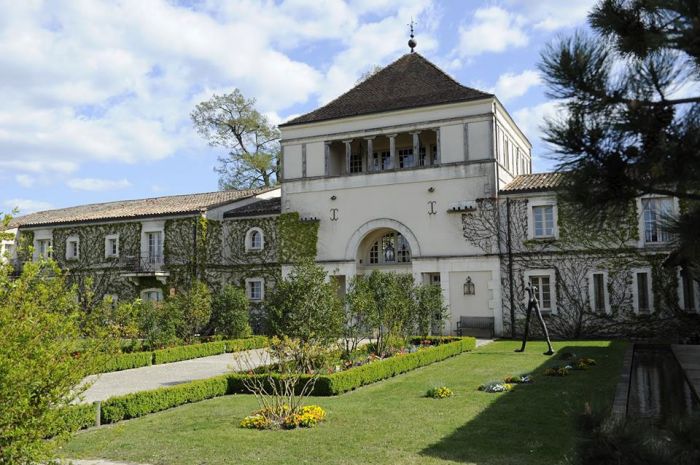 Photos Courtesy of Les Sources de Caudalie
The concept behind Les Sources de Caudalie is simple: a French diet and lifestyle is conducive to good health. Established in 1999, the boutique hotel was built among the vineyards of Château Smith Haut Lafitte in the famed Bordeaux region of France as a place where everything is devoted to nature, taste and senses.
Designed by architect Yves Collet, the hotel was made from scratch using recycled local materials that highlight its surroundings. The property has 40 rooms decorated with antiques and collectible furniture, and all are named after aspects of their regional heritage. Many accommodations also offer terraces or balconies with views of Château Smith Haut Lafitte's vineyards and the lake. The over 130-square-foot Coeur des Sources suite is ideal for families due to its spacious rooms and home-away-from-home feel. The suite offers a master and guest bedroom, small kitchen, living and dining room, and two bathrooms.
However, if you want to bypass rooms and suites and opt for a much larger option, Le Sources also gives guests the choice to rent out La Chartreuse du Thil, a historic country house built in 1737. This nine-bedroom and suite home is available from April to October, sits a mile from the hotel, and is the epitome of refinement and authenticity. Full of antique furniture and contrasting designs, floor-to-ceiling windows and hardwood floors, the rooms are all different and full of surprises.
While the hotel is small, it still offers a spa, and is one of the features that is most discussed among visitors. Caudalie's Vinotherapie® is reminiscent of an old tobacco kiln and pairs the uses of natural hot spring water with the benefits of the grape and the grapevine. Drawn from 1,772 feet beneath the earth, the hot springs are rich in minerals and oligo-elements. When using the facility, guests will also have unlimited access to relaxation rooms, the steam room, and the jet-stream during the day.

Around the hotel, activities range from wine tours to cooking classes and tasting lessons to athletic endeavors. Swim, bike, jog, or workout in the fitness center, you'll have plenty of ways to stay active while on vacation. Open from May to October, the nearly 83-foot, heated, outdoor swimming pool also features an outdoor Jacuzzi barrel bath filled with natural hot spring water.
When you get hungry, the Michelin-star rated La Grand'Vigne offers a romantic dining experience overlooking the lake. Showcasing an 18th century fireplace and a dining room dressed in shades of red wine grapes, the restaurant pays homage to its regional products through gastronomic inventions and creative, healthy cuisine. Also on-site is La Table du Lavoir serving bistro-style food and The French Paradox Bar which is home to 16,000 bottles of wine from around the world.
Les Sources de Caudalie, with its quaint French charm and luxury accommodations, has a good balance of both a high-end boutique and a warm family residence. Rates begin at around USD $860 a night.