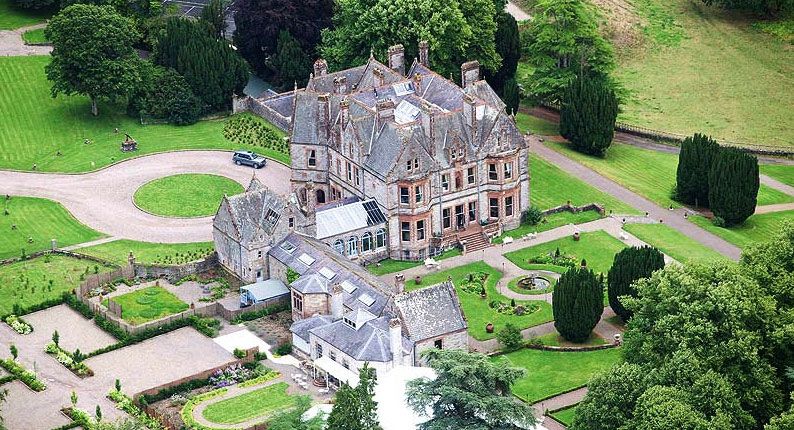 Photo Courtesy of Castle Leslie
If Sir Paul McCartney chooses your property for his wedding venue, then it can be assumed that place is probably something pretty special. As guessed, Castle Leslie located in north-central Ireland, definitely is, especially due to its epic 500-year-old history of esoteric family characters inhabiting its walls.
Photo Courtesy of Castle Leslie
Situated at the edge of Glaslough, a quaint, one-street village in Monaghan—a county straddling the border with Northern Ireland—Castle Leslie has been the seat of the Leslie family since 1665 when 'Fighting Bishop' John Leslie expanded an old tower into a manor house. Well-connected politically in England, the family expanded its holdings until it owned more than 50,000 acres of land in seven counties.
Entering the grounds under an imposing stone archway and seeing a large expanse of field and woodland ahead, one immediately senses the power and influence the Leslies must have wielded before the 1916 Irish revolution and national independence.
Photo Courtesy of Castle Leslie
The property, more an Anglo-Irish mansion than a medieval castle, was extensively renovated about 10 years ago under the watchful eye of family member Samantha, with part funding from the Irish government and the EU. The estate offers several accommodation options, 20 rooms (16 heritage-style and four Master), 29 bedrooms in The Lodge, 12 self-catering village houses and 12 self-catering Old Stable Mews. A short pathway leads from the parking lot of The Lodge, with metal horseshoes embedded in the cement granting the first clue as to the property's overall theme.
Photo Courtesy of Castle Leslie
Inside, a collection of framed photographs of thoroughbreds sit on the walls, and leather harnesses hang from wooden pegs in the corridors. Castle Leslie not only opened to paying guests some years ago but also became a strong equestrian center where residents and day visitors could learn how to ride or take a canter in the 1,000-acre estate. There are 300 cross-country jumps, and for novices, there is also a virtual horse to practice on.
Photo Credit: Columbia Hillen
Our ground-floor room was comfortable and warm, with pistachio-colored walls and classic furniture, including a lovely vanity mirror and framed portraits of horses. The old-style, claw-foot bathtub is a delightful touch as is the open, walk-in shower. Sumptuous turquoise curtains cloak a balcony outside that overlooks the extensive stable-yard and large indoor riding center.
Photo Courtesy of Castle Leslie
Housing a bar and a restaurant, The Lodge is the social hub of Castle Leslie. On the ground floor, just around the corner from the reception area, is the bistro-style Connor's Bar. Wood-floored, with a standing grandfather clock and framed hunting prints lining the walls, the outer part boasts large windows facing an outside stone patio. Upstairs is the pine-floored Snaffles Restaurant, a large open room with skylights along one side where breakfast is also served. It was here the dulcet tones of Beethoven's Moonlight Sonata suddenly broke the silence.
Photo Credit: Columbia Hillen

Meet 97-year-old Sir John, former World War Two prisoner of war, pianist, painter and owner of Castle Leslie. The nonagenarian, who walks around wearing a Basque beret with peacock feathers protruding from the top, lives in one of the rooms in the mansion but often eats at the lodge area and is not averse to regaling guests with stories from his family's colorful past over a nightcap of fine whisky. His father, Shane, was an environmentalist and multi-book author, and though a Loyalist by background, switched his allegiances to stand for political office as a Nationalist.
John's brother Desmond, a former fighter pilot, film producer and screenwriter, penned a bestseller entitled The Flying Saucers Have Landed. His sister, Anita, also an author, married a Russian submarine commander. The family's reputation for unconventionality and feistiness is hardly surprising considering the estate's founder. Bishop Leslie married an 18-year-old girl at age 67, bore a number of children and died a few weeks short of his 100th birthday.
Photo Courtesy of Castle Leslie
Though the estate was reduced to around 1,500 acres after Ireland's independence, it still retains a considerable expanse of woodland landscape threaded with pathways leading to such curiosities as a rundown Gothic-style house and the tiny Leslie family graveyard.
Photo Courtesy of Castle Leslie
The various rooms within the mansion itself are festooned with ornate decorations. The floor in the entrance area is a mosaic (a copy of a Roman villa in Ravena, Italy), with the coat of arms of the family hanging on an opposite wall. Beyond, in what is known as the Gallery, is a wall-size tapestry from Brussels dating from 1600 depicting King Solomon receiving the Queen of Sheba. In the drawing room is the oldest and most valuable item in the mansion, a marble mantelpiece by the renaissance sculptor, Andrea della Robbia, made around 1490.
Photo Credit: Columbia Hillen
The breakfast menu is a varied one that includes kippers, eggs Benedict (with a undisputable Hollandaise sauce ), and scrambled eggs with salmon. Dinner, however, is the highlight of a stay, with creations based on local produce including thin, delicate strips of Lough Neagh smoked eel on a bed of risotto and beetroot; crab and lobster dariole that has a creamy composite of shellfish flavors; white port soup served in espresso cups with biscotti-like croutons; and pan fried turbot, its crispy sides and tender middle served with a Muscat white sauce. Desserts are exceptional, particularly the passion fruit parfait with roast pineapple and saffron, a well-balanced and refreshing mélange. Additionally, a special high tea is served at the mansion daily.
Photo Courtesy of Castle Leslie
Mention must be made of the restaurant's gin trolley, a table boasting 50 different types of the juniper liquor from countries such as Scotland, Colombia and New Zealand. How does one featuring lemon, ginger, coriander seed, angelica leaves, orris and gentian root, Manuka berries and kawakawa leaves sound?
Activities at Castle Leslie are plentiful and include lake fishing (mainly for pike), hot-air ballooning, kayaking, falconry and clay pigeon shooting, not to mention a massage at the hotel's Victorian-style, seven-room spa complex where they use Eminence and Voya products. (The Grip Fast massage refers to the words on the family's coat of arms).
Photo Courtesy of Castle Leslie
If it's a fascinating, historical immersion in the lives of eclectic, larger-than-life characters you seek, a countryside retreat away from the stresses of urban life, or to try your hand at various sports, Castle Leslie may just provide the prescription you require.