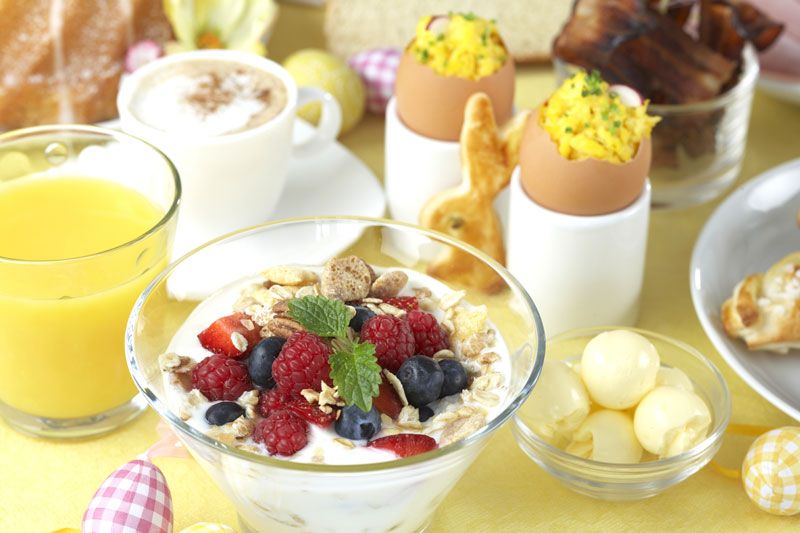 Photo Courtesy of Shutterstock
This weekend, many of us will be celebrating Easter, some staying home to cook big meals for family and friends, and others opting to use the holiday as an excuse to travel. If you're part of the latter group and are still looking for a place to enjoy brunch on Sunday, April 20, check out the menu offerings at these six hotels in some of our favorite cities.
Photo Courtesy of Conrad New York
Conrad — NYC, New York
Restaurant: Atrio Wine Bar and Restaurant
Type: Mediterranean
Setting: Causal, family-friendly
Price: $55/adults; $30/children
Menu: Adults can choose either a Bloody Mary, Bellini or Mimosa and one of nine mouth-watering dishes. Children will receive either fresh pressed juice, hot chocolate or chocolate milk, and a variety of classic kid-favorite dishes.
Extras: The hotel will have an Easter Bunny and Easter Egg Hunt on-site throughout the day that families can enjoy at their leisure before or after brunch.
Restaurant: Waterfall Terrace Restaurant
Type: American
Setting: Relaxed, seaside atmosphere
Price: $67/adults; $33/children
Menu: Buffet-style with items such as Del Mar Cobb with calamari, bay scallops and grilled chicken, all kale Caesar salad, New-American "Benny" with toasted brioche, maple-lacquered pork belly and cayenne hollandaise, Southern-Style home fries, sweet corn and crab chowder and bread pudding French toast
Extras: A "Street Food" station for tacos, sliders, and biscuits and gravy plus a Dessert Station serving delectable treats such as funnel cakes, brownie pops, churros and cupcakes.
Photo Courtesy of Hotel Hassler Roma
Restaurant: Imàgo
Type: Italian
Setting: Fine Dining
Price: €110 (approx. USD $150)/adults; €55 (approx. USD $75)/children
Menu: Buffet-style featuring items like prepared-to-order pasta menu served tableside, as well as savory pies, roasted goat with potatoes, ravioli with pecorino cheese and fava beans, Roman-style artichokes, and a dessert buffet with homemade Colomba cake and a ricotta-based Pastiera Napoletana.
Extras: The Pope's annual Mass takes place at the nearby St. Peter's Basilica, so you could be celebrating the holiday with tens of thousands of pilgrims from around the world.
Photo Courtesy of Capella Washington, D.C.
Restaurant: The Grill Room
Type: American
Setting: Upscale
Price: $95/adults; $30/children
Menu: Family-style buffet served at the table. Items include: Caramelized Onion and Alpine Cheese Quiche served with Tomatillo Salad, Orange & Rye Whiskey Cured Salmon and a Mizuna Leaf, Pickled Sweet Potato & Cranberries Vegetable "Escalibada," Grilled Red Snapper Cooked in Extra Virgin Olive Oil & Crispy Thyme Quinoa, Yogurt and Lemon Marinated Leg of Lamb, and a dessert trolley.
Extras: Champagne and rye-based punches will be on offer ($36 per table).
Photo Courtesy of Rosewood Little Dix Bay
Restaurant: The Pavilion
Type: Casual
Setting: International
Price: $65/adults; $30/children
Menu: Highlights include smoked salmon, lobster, seafood salad, roast beef with all the trimmings, roasted lamb, filo-wrapped whole salmon, mahi mahi and chocolate eggs galore.
Extras: The resort is hosting an Under-the-Sea Easter Egg Hunt which includes prizes like treatments at Sense® spa, a private dinner for two or a sunset cocktail cruise. There
Photo Courtesy of The Jefferson Hotel
Restaurant: Under the Rotunda lobby
Type: American
Setting: Business Casual
Price: $52/adults; $22.95/children
Menu: Highlights include various poached egg specialties; sausage craft patties and links; hickory smoked bacon; three cheese grits; chef's weekly choice of carving station featuring roasted prime rib, New York strip loin, smoked beef tri tip; seasonal pasta; pecan bourbon torte, sundae station with chef's choice of bananas foster, cherries jubilee, stuffed crepes or waffle cones and ice cream
Extras: Champagne, Music by the Skip Gailes Trio