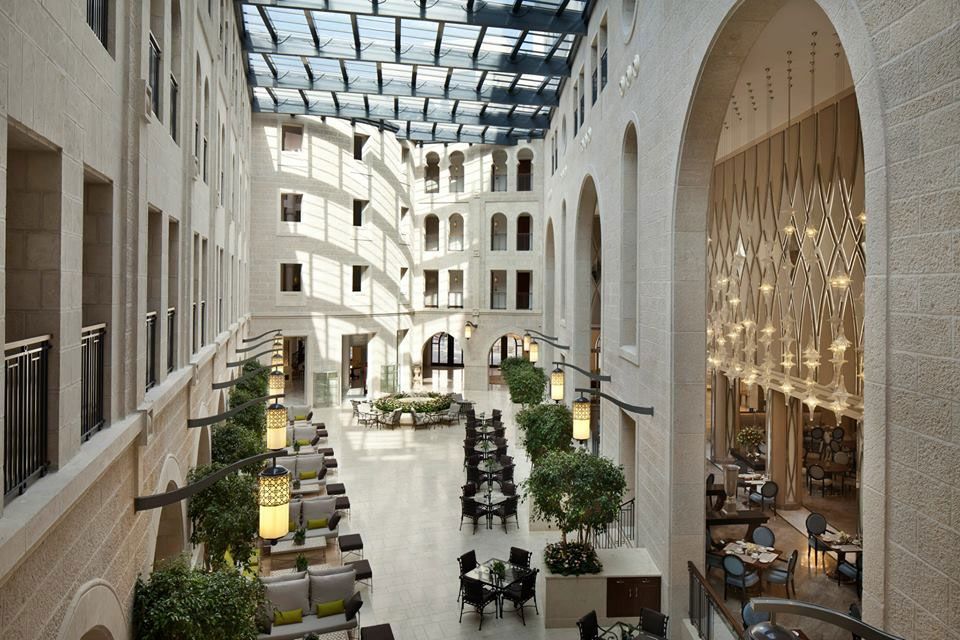 Photos Courtesy of Waldorf Astoria Jerusalem
There's something intriguing about the opening of the Waldorf Astoria Jerusalem—bringing together the old world with today's modern society—so much so, that we're seriously considering a trip to the Holy Land this year to check it out. The new hotel, blending Greco-Roman, Gothic and Ottoman architecture, sits at the intersection of King David, Agron and Mammilla Streets and nearby the Jaffa Gate.
Built inside a preserved 80-year-old building which was once home to the Palace Hotel, the property hadn't welcomed guests into its doors since 1935. Almost 80 years later, it is now open once more as the city's only internationally-branded luxury hotel. It's also possibly one of the longest restoration projects in the country's history with seven years of construction after four years of delay and USD $150 million in investments.
However, the result is extremely impressive with beautiful centerpieces decorating the entryway, a retractable glass ceiling allowing natural light to flow through the hotel and an open-air atrium that imitates the cafés and paths along the streets of Jerusalem. Designed by Israeli architect Yehuda Feigin and Turkish interior designer Sinan Kafadar, the interiors have all been redone and refurbished with décor such as arched windows, sparkling chandeliers and an iconic clock with four sets of numbers covering its four bold faces.
While its exterior refrains from over-indulgent décor, its 226 guestrooms more than make up for its humble façade. Boasting more spacious rooms than most in the city—it's smallest starting 23 square feet larger than the city's biggest—the accommodations feature 500-count bed linens, TVs, chandeliers, and modern amenities such as iPads. Taupes, beiges and shades of brown color the polished rooms that include bathrooms with heated Italian marble floors, mirror embedded TVs, soaking bathtubs, and a sit-down shower stall.

For dining, The Palace restaurant has a quintessentially New York feel to it with interiors dark woods, oversized vases and illuminated columns setting the tone of the fine dining establishment. Serving Mediterranean-style cuisine, the restaurant utilizes locally-sourced ingredients such as olive oil, and fresh lemons from the citrus orchards of the Hebron hills. At The King's Court bar (could there be a religious connotation here?), guests can enjoy Champagne, fine wines and boutique-brand drinks. And in case you were wondering, yes, the hotel is certified kosher by the Jerusalem Rabbinate.
Opening in 2015, the property will offer a luxury spa, but until then you'll have to work on toning your muscles in the 24-hour fitness center instead of restoring them. Business travelers and event planners will have access to eight flexible meeting rooms and a Grand Ballroom for corporate affairs, weddings or sophisticated banquets.
The juxtaposition of the elegant multi-million-dollar hotel on the worn streets of the Old City is in itself, thought-provoking. In a city heavy with turmoil and at the same time a place that Jewish and Christian tradition claims as the streets that Jesus once walked, where does a five-star hotel fit into this setting? Much of Jerusalem's mystique lies in its ability to keep its 3,000-year past intact (even in today's ever-evolving world), through its architecture, culture and people. With city planners and real estate developers continuing to add more properties to the holy land, will Jerusalem lose its appeal?
In a city that is developing and drawing visitors from all over the world, it would however seem appropriate to have a hotel that accommodates the spiritual city's most discerning and affluent travelers. The Waldorf Astoria Jerusalem's target audience seems to be those who will allow themselves to indulge while in the country's most populous city as well as foreign diplomats and royals alike. But will long-time residents be thrilled to see this new property taking over their historic neighborhood?
Only time will tell, however, a hotel of this caliber will no doubt attract a wealthier clientele who will be visiting surrounding shops and boutiques, so this could be a win for business owners. Either way, the city is at a crossroads in the 21st Century: To build or not to build. We're curious to see how this New Jerusalem will look in the coming years and if limits will start to be in place to keep developers from metropolizing the city.
Rates range between USD $620 to $1,400 a night during the weekdays.