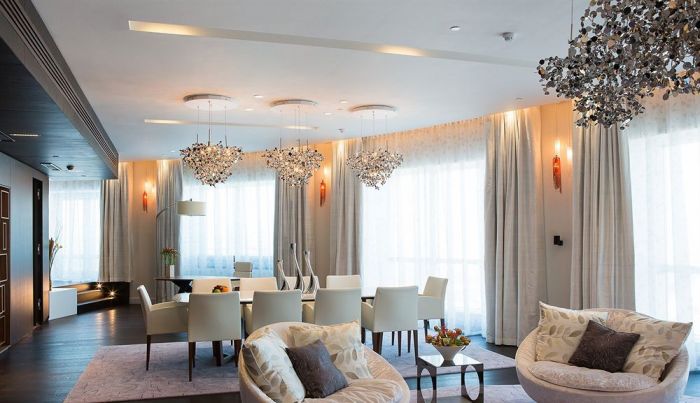 Photos Courtesy of Swissôtel Krasnye Holmy
Last week, Swissôtel Krasnye Holmy in Moscow unveiled their new 2,927-square-foot Penthouse Suite on the 19th floor of the hotel. Offering views of Russia's capital, the opulent suite is both elegant and comfortable.
Designed by the Australian agency Studioaria, the Penthouse is decorated in light tones that are contrasted against vibrant dark colors of fabrics and materials. With a large entry hall, dining room, living room, kitchen, and spacious outdoor terrace with custom dining and lounging furniture, the suite is great for entertaining. A separate guest powder room sits off of the living room.

Inside the bedroom, guests can enjoy a king size bed and luxurious marbled bathroom with a full-size, egg-shaped bathtub with panoramic views and a separate shower and sauna. To convert the space into a two-bedroom suite, the Executive Club Room can be connected to the accommodation.
Throughout the suite, all utilities are operated via touch panels or iPads including lighting, curtains and room temperature. The room is wired for a fast bandwidth connection as well as Wi-Fi capabilities and also comes with Loewe televisions with high-definition digital content on demand and a high-quality audio system. For rates and booking options, contact the hotel directly.