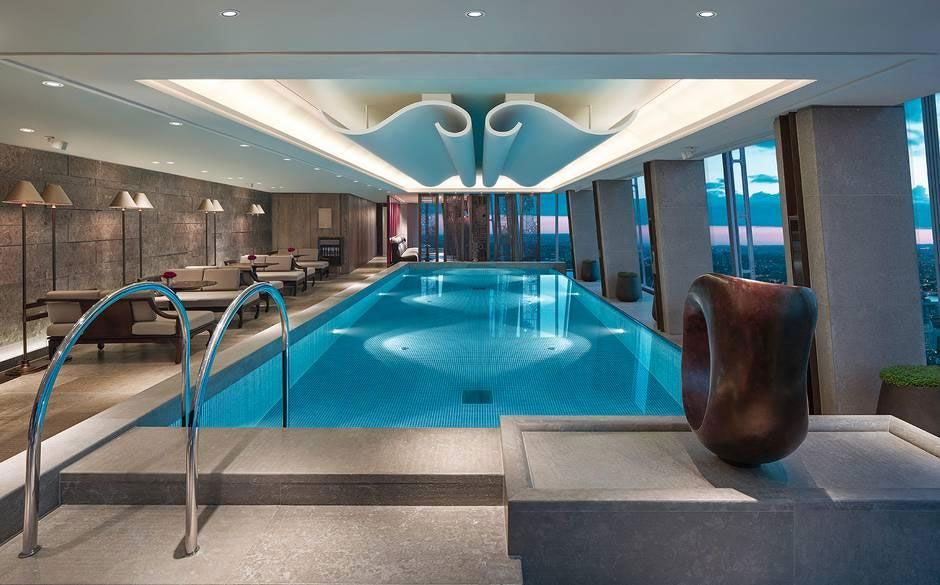 Photos Courtesy of The Shangri-La at The Shard
Having already broken the record for the highest bar in London, The Shangri-La at The Shard is setting another one with its infinity pool at Gŏng bar. SkyPool, located on the hotel's 52nd floor, is now the highest in Western Europe. Facing west, the 11x4m heated pool offers panoramic views of London from St Paul's Cathedral on Richmond Street to Westminster Bridge Road.
Designed by Hong Kong-based interior designer Andre Fu, the pool combines Western glamour and Eastern elements, and is home to an oversized paint scroll sitting across the ceiling and measuring 49 feet in length.
During the day, the pool is open to hotel guests only. In the evenings, the room turns into a sophisticated bar venue for both hotel and non-hotel guests to sip on cocktails and Champagne poolside. High-end snacks such as Cornish crab, foie gras and a selection of the finest caviar are also available after 8:30 p.m. Those looking for a more intimate affair can book the pool for a private party high above the city. Yet, no swimming will be allowed at night, leave those bathing suits at home.
Rooms start at around USD $740 per night and the pool is open daily from 6 a.m. to 8 p.m. for swimming. Access to Gŏng bar is limited, so reservations are highly suggested. Non-hotel guests may face a minimum spend of around USD $50 to drink with the cool kids, so come hungry and thirsty.