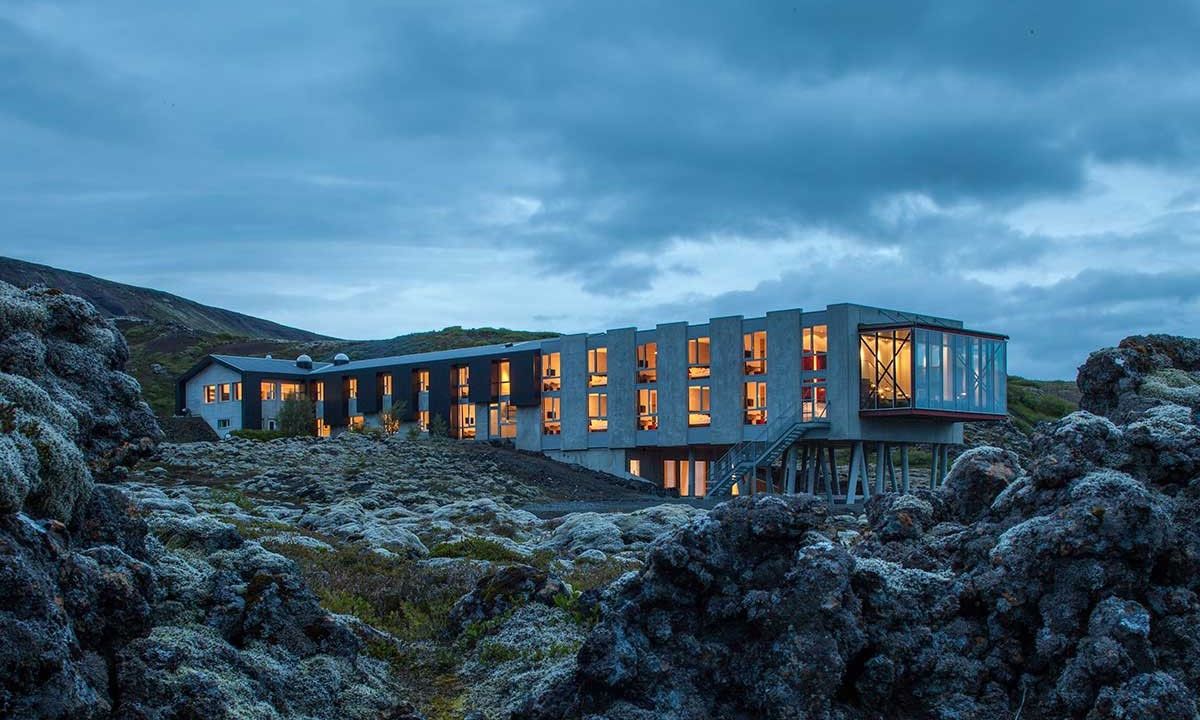 Photos Courtesy of Ion Luxury Adventure Hotel
Situated less than an hour outside of Iceland's capital city Reykjavik, the ION Luxury Adventure Hotel is a four-star property where unique design meets gorgeous landscapes under the beauty of the glowing Northern Lights. On clear evenings, guests can step outside to view the sparkling spectacle, while during the days, rivers, glaciers and mountains stand ready for exploration and activities.
The property holds 22 guestrooms featuring Icelandic style and floor-to-ceiling windows viewing out onto the Nesjavellir Geothermal Power Plant or the Thingvellir National Park. Rooms come with fair-trade organic linens, a spacious bathroom and soaps and lotions from Sóley Organics.
At the ION Spa, travelers can fully relax with soothing and natural treatments that feature aromas, scrubs and lotions originating from Iceland. With a Jacuzzi deck, sauna, indoor and outdoor pools and the backdrop of Iceland, you might find yourself spending all day there. For the best option, pair a massage with a facial, hot mask, thermal wrap or other various skin treatments.
Around the property, guests can partake in outdoor activities such as hiking across glaciers, fly fishing amongst the region's abundant waterways or 4x4 adventures around solidified lava fields. Additional outings offer guests the chance to go kayaking, snorkeling, soak in hot springs, diving and white water rafting.
Silfra Restaurant follows a Nordic food culture that uses seasonal, local and simple ingredients in new and thoughtful ways to serve up delicious new renditions of traditional plates. However, one shouldn't assume the menu isn't robust as it's quite the opposite, with featured dishes like braised shank of lamb, citrus grilled salmon and walnut steak for its 2014 summer menu. At the award-winning Northern Lights Bar, a large collection of Icelandic microbrews can be enjoyed alongside popular and regional spirits.
Among its many accolades, the hotel was honored with a European Hotel Design Award; a 2013 Restaurant Design Award, LA; and was granted a Boutique Hotel Award in the sustainability category. For those who like the no-nonsense, less fussy aspects of a luxury hotel, this is probably the place for you. Its sleek interiors, minimal décor and structured design are what make the property unique. Rooms begin at USD $350 per night.