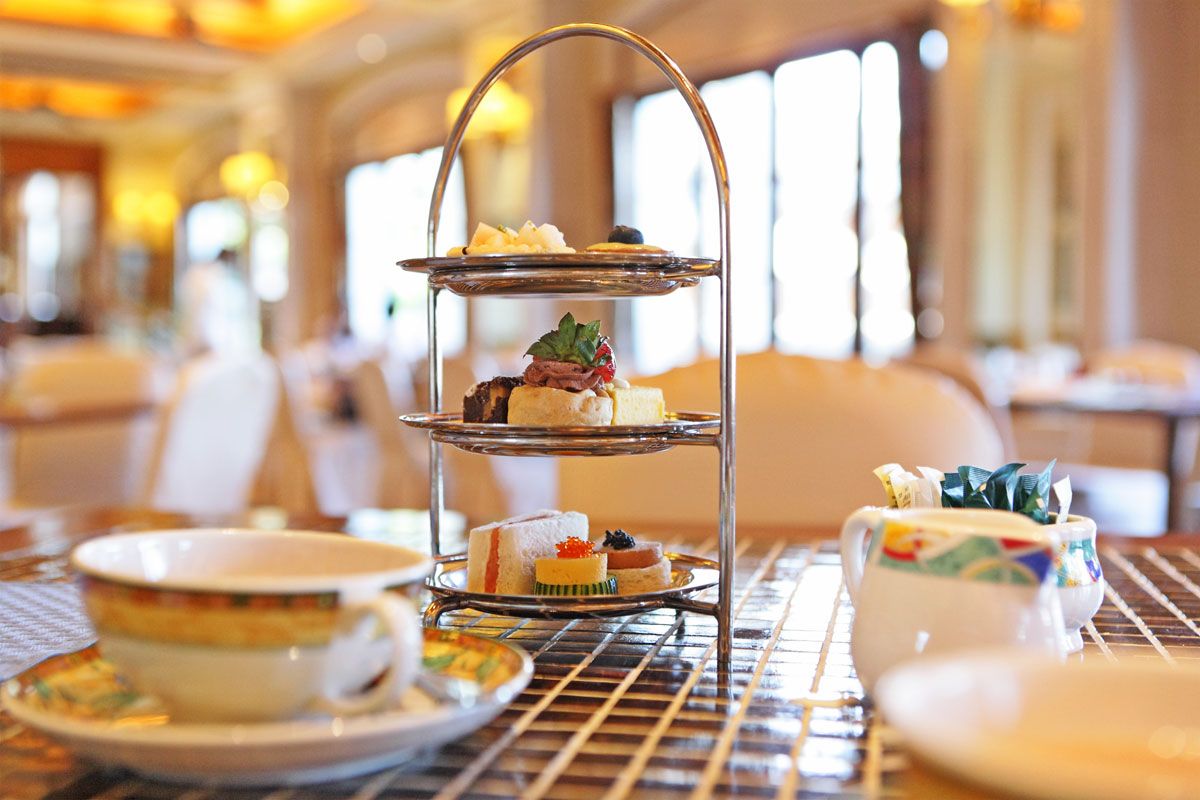 Photo Courtesy of Shutterstock
The quintessential English experience—traditional afternoon tea in some of London's most luxurious settings—is a seasonal practice worth getting into. Credit for the long-held custom dates back to the Duchess of Bedford, a lady-in-waiting to Queen Victoria, who ordered tea with delicacies in her boudoir for friends. Since then, it has expanded exponentially with almost every major hotel offering its own version, each striving to outdo the other with innovative variations. While all include finger sandwiches on assorted breads with fillings such as cheese, cucumber, egg mayonnaise, ham, salmon and tuna, they all also have unique features.
Photo Credit: Columbia Hillen
Historic and Healthy
Follow in the footsteps of luminaries such as murder mystery writer Agatha Christie who supposedly based her novel At Bertram's Hotel on Brown's Hotel, a 177-year-old Rocco Forte property in fashionable Mayfair. Queen Victoria also enjoyed tea here, as did writer Rudyard Kipling who completed The Jungle Book while enjoying its afternoon delights.
Hosted in the English Tea Room, just off the lobby beside the Donovan Bar, its varnished mahogany paneled walls, antique fireplaces and low, ornate ceilings create a cozy ambiance reminiscent of a bygone era. Paul Smith floor lamps and contemporary artwork complement the space and a pianist entertains guests with Christmas carols and choruses of Happy Birthday. Twenty-one teas are offered as well as a Seasonal Tea Library with four special blends changing regularly and curated by Lalani & Co., with a sommelier offering advice. The Ruinart Rosé Sester centennial Tea for Two is the Champagne special.
Photo Credit: Columbia Hillen
Apart from the traditional option, Brown's has a Tea-Tox Healthy Afternoon Tea with smoked chicken and guacamole on spelt bread sandwiches; poached salmon and dill crème fraîche on dark rye with chicory leaf, smoked mackerel and a soft boiled quail's egg; and gem heart leaf with tabbouleh, chocolate tulipe, and mango and coconut rice conde sugar-free cakes. Our tea was served on China dinnerware by Heritage, with a colorful leaf and berry motif. The Japanese Matcha blend, served hot in a martini glass, was a highlight.
Photo Courtesy of Baglioni Hotel London
The Italian Touch
Located opposite Kensington Palace and Gardens, Baglioni Hotel is an Italian-styled property celebrating La Dolce Vita with black and white photographs of famed screen stars such as Sophia Loren. A creative elegance is reflected here by Murano candelabra, a flowing water-on-glass fixture representing the iconic fountains of Italy and a rich gold interior symbolizing the European nation's glorious sunshine. Afternoon tea takes place in the ground-floor restaurant adjoining the lobby on comfy soft armchairs with generous views across the street to the park. In fine weather, a checker-tiled outdoor terrace with wrought iron chairs and tables is used.
Photo Credit: Columbia Hillen
We were fortunate to be served by Salvatore Maggio, an award-winning mixologist, who had granted us an impromptu cocktail-making lesson the previous evening. Nine types of teas are available including superior Oolong semi-fermented tea grown in Formosa which was rich and elegant with aromas of nuts and fruits. Also, the caffeine-free Tarry Lapsang Souchong consists of Granny's garden fresh rhubarb, with the sweetness of Bourbon vanilla.
In addition to standard sandwiches, the hotel also offers its own Mediterranean version with offerings like tasty focaccia with courgettes, aubergine, fennel, tomatoes, mozzarella and oregano; Italian Parma ham wrapped around grissini; and bruschetta with bresaola, rucola and cheese. Desserts include Opera cake, beignets, tiramisu and raspberry mousse cake, all served on tableware by Schönwald of Germany.
Photo Credit: Columbia Hillen
Traditional and Opulent
Afternoon tea has become synonymous with The Ritz London hotel, a stately property built in 1906 at the edge of St. James' Park. The exotic, oval-shaped Palm Court with its spectacular glazed skylight is the property's sumptuous setting for tea with live piano accompaniment. Reached by climbing a polished brass, mini-staircase off the main corridor, it features gleaming wall mirrors, birdcage chandeliers adorned with ornate metal flowers, a high ceiling with intricate gilded trellis, a striking stone fountain inhabited by large gilded statues and a vibrant central floral display.
Among the 16 teas are Rose Congou, a black version from Guangdong, China enriched with rose petals; Russian Caravan, a blend of Oolong and Darjeeling, producing a sweet floral tea with a slight roasted nut taste; and Ritz Royal English, a blend of Kenyan, Assam and Ceylon Orange Pekoe.
Photo Credit: Columbia Hillen
Having based its reputation on tradition, the afternoon tea remains just that with sandwiches including ham and grain mustard mayonnaise; cheddar and chutney; cucumber, cream cheese, dill and chives; and Scottish smoked salmon with lemon butter. Among the desserts are cardamom cream and orange teacake and frangipane almond cake with raspberry cream. For a more adult beverage, try the Reims-based Castelnau Champagne while enjoying the singing carolers celebrating the season.
Photo Courtesy of Corinthia Hotel
Contemporary and Character-Filled
Seated on pistachio and rose-colored armchairs beneath a dazzling 1,001-bulb chandelier designed by Chafik Gasmi for Baccarat in the five-star Corinthia Hotel London, the whirl of the city traffic seems a world away. Close to the River Thames and a short walk from Trafalgar Square, Westminster and Covent Garden, this luxury property was opened in 2011 in a grand Victorian building dating from 1885 and offers a warm, contemporary ambiance.
Afternoon tea is served in the front lobby lounge, a centerpiece of the hotel with floor-to-ceiling side windows facing a secluded courtyard and a colorful arrangement by in-house florist By Appointment Only Design on a central table. Framed artwork such as paper birds cut from fragments of maps by Claire Brewster and a large cabinet filled with multi-colored tea caddies create added character. Twenty-three tea varieties, blended by Harney and Sons, are served on Edwards porcelain china. Flavors include Black Blends, Black Single Estates, Green, Oolongs, and White and Historical teas (the Winston Churchill, a Lapsang Imperial, was particularly aromatic). Laurent-Perrier Champagne, both brut and rosé , complement the package.
Photo Credit: Columbia Hillen
With an emphasis on British ingredients, the Loch Var smoked salmon sandwich comes with cream cheese and chives while the Severn & Wye smoked trout is paired with cucumber, and Mrs. Kirkham's Lancashire cheese is served with Piccalilli. Desserts are a story unto themselves, with chapters entitled Dark and Stormy and Bramble. I couldn't resist ordering more Pistachio Chantilly with white chocolate and pistachio dacquoise, and crispy topped choux pastries with roasted white chocolate, crémeux and raspberry.
For Christmas, guests are entertained by carolers and can indulge in festive delights such as The Scrooge, a chocolate roulade with tea-infused ganache, and Santa's Little Helper made with chestnut cream, black currant macaroon and topped with sugar snowflakes.
Photo Credit: Columbia Hillen
Romance and Chocolate
Set within a soaring glass atrium, The Landmark Hotel's Winter Garden restaurant is one of London's most stunning spots for afternoon tea. Rising high above one's head and lined with verdant ficus, bamboo, dracaena and palm trees, the ambiance is tropical-like. Built in 1899 during the golden age of steam, this property near Marylebone Station combines classic British elegance and grandeur.
Photo Credit: Columbia Hillen
Sixteen different teas are on the menu from full-bodied Assam superior from the Zaloni estate in north-east India (a rich and malty black tea), to a Sencha Aloe Vera emanating a refreshing taste of pineapple. Of the sandwiches served, Lapsang Souchong with smoked salmon on granary bread, and free-range corn-fed chicken with tarragon crème fraîche on walnut bread were our favorites. A celebration of chocolate, the special afternoon tea comes with warm, chocolate chip and fruit peel scones served with Cornish clotted cream, hazelnut chocolate spread and lemon curd.
Aside from a gluten-free version, The Landmark also hosts a Christmas Afternoon Tea, which includes rich spiced Valrhona dark chocolate ganache with a tonka bean cream and delicate chestnut and Madagascan vanilla macaroon and Pierre Nicolas Champagne.