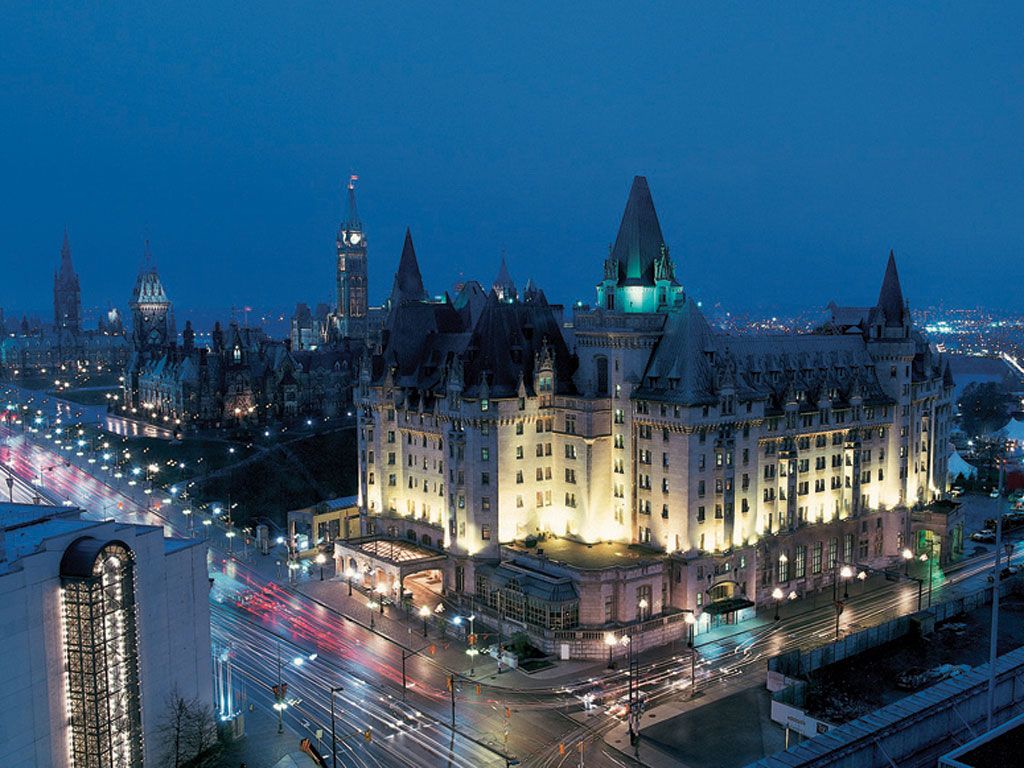 Photos Credit: Fairmont Château Laurier
Overlooking the Rideau Canal and next door to Parliament Hill, sits the Fairmont Château Laurier, a privileged location in the heart of Canada's capital, thanks to a man with a vision. When Illinois-born Charles Melville Hays arrived in the country as General Manager of the Grand Turk Pacific Railway, his mandate was to improve the balance sheets of the railway's shareholders. His plan called for completing a rail route to the Pacific. He also envisioned the building of luxurious hotels in all major cities. His flagship hotel was to be in Ottawa.
Today, Fairmont Château Laurier remains a Canadian icon and an Ottawa landmark. From the distance it appears as a castle on a hill, with its turrets reaching high into the sky. Many notable guests have been hosted here, including King George IV, Queen Elizabeth, Winston Churchill, Charles de Gaulle, Nelson Mandela and Princess Diana. The hotel was also home to two former Prime Ministers, Richard Bedford Bennett and Pierre Trudeau as well as photographer Yousuf Karsh. Karsh lived at the property for 18 years in his sixth-floor studio from 1973 until 1992. Some of his portraits still adorn the château's walls.
On a recent visit, I checked into my Gold Level room on the fourth floor using the private check-in reception reserved strictly for Fairmont Gold guests. Fairmont Gold provides several complimentary features and amenities, including full concierge services, an honor bar, hors d'oeuvres in the evening and deluxe continental breakfast. Breakfast is served buffet style in the exclusive Fairmont Gold Lounge, with a wide selection of both cold and hot items including bacon, sausage and hash browns available.
Standard in all rooms is a fully stocked mini-bar, along with a good selection of snacks, a Keurig coffee maker, a sitting area where you can kick back with a newspaper for a good book, and a desk with enough outlets to ensure on-going connectivity. Internet is $15 per night, although free for Gold Level guests and President's Club members. For entertainment, a flat-screen TV and an iPod docking station is available. Bathrooms include Le Labo Rose 31 amenities.
There are two restaurants located on the hotel's main level. Wilfrid's is an award-winning, fine dining eatery offering regional Canadian cuisine all day and Sunday brunch. It features items like Confit Duck Leg Cassoulet, Bacon Lardon and Mushroom Stuffed Quail, and offers views of both the Parliament Buildings and the Rideau Locks.
Zoe's Lounge is a great spot for an evening cocktail, but it's most famous for its Afternoon Tea. Professionally-trained servers will explain the distinctive taste and origins of the tea before serving it tableside. Zoe's offers Traditional Afternoon Tea or Canadian High Tea. I opted for the latter which comes with fresh strawberries soaked in ice wine, along with scones, clotted cream, mini sandwiches, and pretty pastries. The lounge itself is beautiful, with its chic décor, glowing chandeliers and a glass adorned atrium.
Ottawa is the kind of city that can be explored on foot, and the property's central location makes it easy to do so. Or, if you'd rather stay in and learn more about the historic hotel, you can pick-up an iPad at the front desk for a virtual walking tour. Either way, there's much to be discovered at and around Fairmont Château Laurier.