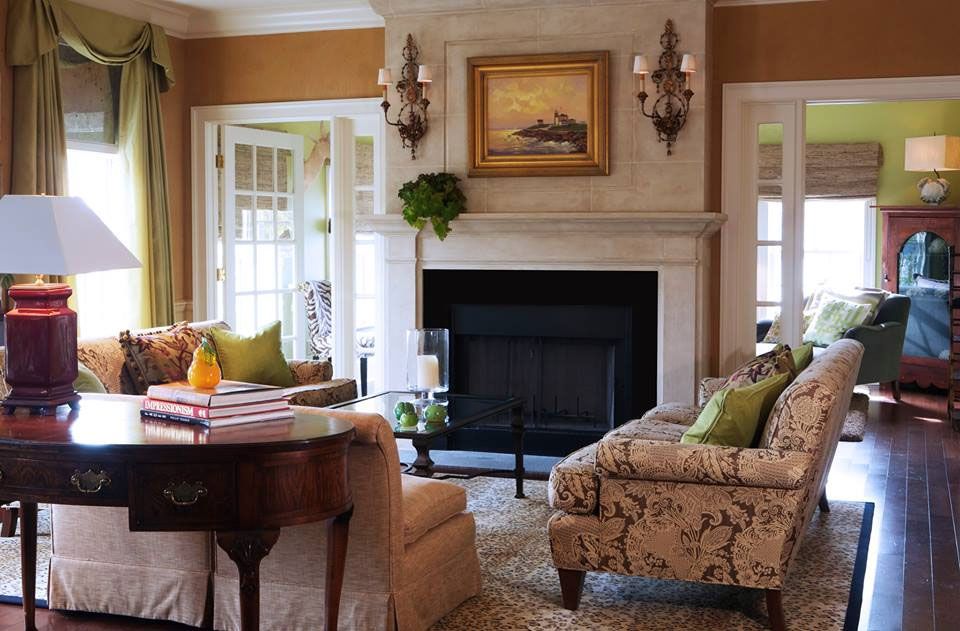 Photos Courtesy of Delamar Southport
Only 80 minutes from Midtown NYC, and a quick walk from Southport Connecticut's train station, Delamar Southport's classic white clapboard colonial architecture situated on the Old Post Road looks like it's been a fixture here since the town's 19th century maritime heyday. Until walking inside, it's hard to conceive that construction on the property was actually completed in 2010. Then you realize this quintessential Connecticut escape is a recent creation deftly balancing the refined elegance of New York chic with New England country charm.
Delamar Southport's lobby is the perfect place for lingering with your complimentary glass of Champagne or sherry upon check-in. You're surrounded by custom-designed furnishings, antique marble floors, museum-quality art from the owner's personal collection, and a French limestone hearth in the center.
Whether checking into one of their 44 guestrooms or six luxury suites, one of which is the 2,800-square-foot Woodward-Newman Presidential Suite outfitted with three spacious bedrooms and two-and-a-half baths, you're in for the ultimate boutique hotel experience. Rooms have a light, airy décor anchored by resplendent four-poster beds, handcrafted furnishings, flat-screen TVs and Tivoli audio systems with iPod docking stations. Marble floors, Bvlgari bath amenities, and Italian linens grace the bathrooms.
When it comes to dining, the hotel is home to Artisan Restaurant, Tavern & Garden. Originally from Paris, Executive Chef Frederic Kieffer cooked at top restaurants in France, New York and in Connecticut at L'escale and Gaia before taking the reins at Artisan in 2011. Kieffer reportedly had his ingredient suppliers lined up well before Artisan's architectural drawings were completed. "We source ingredients from local farms in the spring, summer and fall. In the dead of winter we have to reach out to Californian or Floridian growers but even then we only work with the most sustainable farms."
Artisan exudes craftsmanship from the interior's 18th century classic Scandinavian design to artfully prepared dishes. "Our goal is to produce as much as we can in house," says Kieffer. "Our restaurant is named Artisan because we want to showcase the craft of cooking in every way possible. Homemade items include our pickles, applewood smoked bacon, breakfast sausages, foie gras, meatballs, all our pastas, and not-to-miss sorbets and ice creams."
Their seafood chowder is a classic dish where it all comes together. Served in a shallow white soup plate, the dish only includes fish (caught from within the last 24 hours) on the bottom, before a server pours a pitcher of creamy chowder over the top. Sprinkling on some of their house-made, fennel-flavored oyster crackers adds just the right touch.
Seating options are diverse ranging from indoor dining areas centered around a full bar, an outdoor patio/garden during warmer months with a full service bar as well, and The Copper Room, an elegant glassed-in private dining room ideal for special intimate gatherings.
When asked about his personal favorite menu pairings, Kieffer shared, "During summer there is nothing better than our local oysters from Mystic, Connecticut with a glass of Sancerre. If you prefer chardonnays, then the roasted oysters are terrific. Menu items during cooler months like pig croquettes (homemade crispy pig headcheese), chicken liver mousse, and cheese from our friends at the Fairfield cheese shop, all pair nicely with a glass of Oregon Pinot Noir".
A restful escape is never complete without a spa visit. Featuring skin treatments using award-winning Biologique Recherche and Valmont, as well as micro-current therapy, medical-grade collagen upgrades, and an Amethyst BioMat, Delamar's full-service suite offers respite with a more intimate setting than the typical spa layout. Outfitted with a couples' treatment room, steam shower, and living room with a fireplace, you are closer than ever to restorative bliss.
Other inclusives making your stay extra special at Delamar Southport include chauffeur service within a three-mile radius of the property and a full breakfast buffet each morning. A 24-hour concierge service is on hand to arrange a picnic basket prepared for a day at the beach along with complimentary towel service and bottled water. It is also a dog-friendly property for pets under 100 pounds.