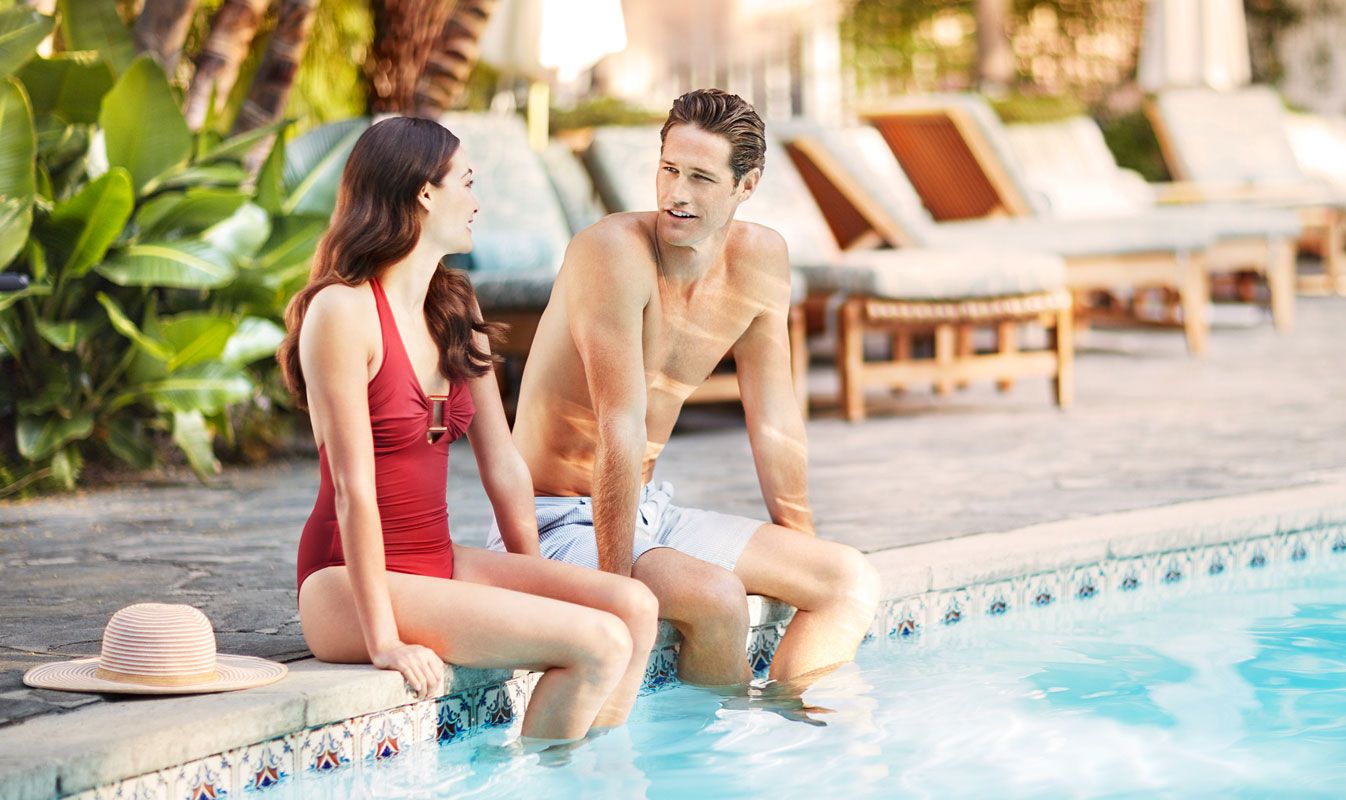 Photo Credit: Hotel Bel-Air
To some, a romantic getaway involves waking up to dreamy ocean views; for others it might mean cozying up next to a crackling fireplace, or relaxing in a hidden hot tub in the woods. Regardless of your definition, California is one destination that has it all, especially during Valentine's Day weekend.
Couples who love wine will feel right at home in Napa, while those looking for an intimate seaside retreat can find several secluded stays along the Pacific Coast Highway in Carmel, Big Sur and Santa Barbara. If you're looking for a sun-kissed vacation, Los Angeles and Palm Springs will give lovebirds the chance to lounge poolside under the warm sun. Here are the nine of the best resorts and hotels in the Golden State that will not only have you falling in love with your partner again but also with California:
Photo Credit: Farmhouse Inn
Farmhouse Inn
A family-owned, country-style hotel in Russian River Valley, the Farmhouse Inn is a six-acre estate with only 18 rooms. The main suites are housed in an authentic 19th-century barn, so you can almost imagine that roosters conduct all the wakeup calls. The guest rooms come with feather-topped beds, heated floors, expansive walk-in closets and a fire-pit for evening s'mores. Plus, this inn also boasts a Michelin-starred, farm-to-table restaurant and a world-famous bath bar with seasonal, homemade scrubs, salts and soaps. Couples can indulge in two unique romantic packages: "Alone Time Tour" if you and your loved one want to go on private wine tastings or "Candlelit Tub Turndown" to have the staff set the mood in your room with candles, music and Champagne on ice while you're out to dinner.
Photo Credit: Parker Palm Springs
Parker Palm Springs
The Parker Palm Springs is Beyoncé's own personal hideout during the Coachella music festival, so of course you can expect the hotel to be nothing but sublime. The property's unique style is eclectic but always tasteful. Superstar designer Jonathan Adler managed to blend together the chic-mod décor of the '60s with the groovy vibe of the '70s and a dash of the iconic Rat Pack-era appeal. But the Parker Palm Springs is not only Bey-worthy in the summer, it is also dreamy in the wintertime when the desert heat is more bearable. Guests can be found sipping on lemonade by the pool, playing croquet on the manicured lawns or getting a massage at the spa.
Photo Credit: Post Ranch Inn
Post Ranch Inn
Big Sur has always had a vivid love affair with nature, and the Post Ranch Inn truly captures that natural harmony, serenity and romance. Designed to make the most of its stunning natural surroundings, the Post Ranch Inn is made up of freestanding tree houses hidden in the redwood forest and coastal bungalows perched onto the cliffs with private decks and hot tubs overlooking the Pacific Ocean. The hotel is adults-only and caters to couples year round. For Valentine's Day weekend, consider the resort's "Romance at the Ranch" package, which includes accommodations, two four-course meals at the onsite restaurant, in-room couples massages, complimentary Champagne and your choice of romantic activities, like morning yoga, a guided nature hike and stargazing sessions.
Photo Credit: The Mission Inn
The Mission Inn Hotel & Spa
If you're in love with a history buff, what better way to celebrate Valentine's Day than by getting the presidential treatment? The Mission Inn is a historic landmark in Riverside, California that has welcomed 10 U.S. Presidents since it first opened in 1903, from John F. Kennedy to George W. Bush. For Presidents Day weekend, the property is offering guests a chance to "Live Like a President" with a new all-inclusive package. Couples get to stay in the Mission Inn's Alhambra Presidential Suite where Nancy and Ronald Reagan spent their honeymoon. You'll also get to drink special cocktails, like a JFK-inspired daiquiri, in the Presidential Lounge where Pat and Richard Nixon got married back in 1940.
Photo Credit: Calistoga Ranch
Calistoga Ranch
One of the world's most luxurious rural hideaways, Calistoga Ranch is made up of freestanding lodges. These one- or two-bedroom love shacks are equipped with hardwood floors, modern fixtures, indoor/outdoor showers and private hot tubs. These modern houses were also built off-site and transported to the area to preserve the 157 acres of luscious forest. Couples can enjoy nature walks, bocce games or a visit to the hidden wine cave, where iron chandeliers set the mood for wine tastings during their stay. If you're visiting for Valentine's Day, the "Rekindle the Romance" package includes accommodations, a candlelit dinner and an in-lodge massage. Couples looking to take their love to greater heights should also consider the "Sip, Soar and Explore" package which includes a hot air balloon ride above Napa wine country.
Photo Credit: Hotel Bel-Air
Hotel Bel-Air
If the rose-colored walls of the Hotel Bel-Air could talk, they would certainly have something to say about former guests like Elizabeth Taylor, Marilyn Monroe and Grace Kelly. Since it opened in 1946, its been the place where respected Hollywood royalty checks in to get pampered. Today guests from all over the world continue to be drawn to its enchanting Tuscan-style bungalows, A-list amenities and 12 acres of secluded gardens where both swans and celebs can be found. For Valentine's Day weekend, the property is offering one-night stay for two with a $110 breakfast credit per room, bottle of Veuve Clicquot Champagne, plate of chocolate covered strawberries and late check-out till 3 p.m.
Photo Credit: El Capitan Canyon
El Capitan Canyon
Glamping has been a sexy travel trend for a few years now, but there is one nature resort that practically pioneered the concept. Just twenty miles north of Santa Barbara right on the Pacific Coast, El Capitan Canyon is a collection of canvas tents, adventure yurts and heated cabins surrounded by 300 acres of creekside woodlands. The Safari Village is the campground's version of a presidential suite located on its own private hilltop, with a living room, kitchen, rooftop deck and an outdoor shower. The campsite is a car-free zone, and vintage bicycles are provided for free to all guests.
Photo Credit: Carmel Valley Ranch
Carmel Valley Ranch
California's central coast is quickly becoming a new destination for secluded, relaxing and romantic travel. Carmel Valley Ranch is the labor of love for billionaire investor John Pritzker and boutique hotel chain Joie de Vivre. The property is equipped with all the amenities you'd expect from a large resort including a golf course and tennis courts. Carmel Valley is tucked away a few miles from the quaint town of Carmel, known for its provincial-yet-sophisticated charm. The hotel is offering a Ranch Retreat package which includes suite accommodations, daily breakfast and activity credit for golf, tennis or spa treatments. Ask about their Vineyard Suites or their Vineyard Oak Studios that come with an outdoor soaking tub.
Photo Credit: Cavallo Point Lodge
Cavallo Point Lodge
Couples who want to escape from San Francisco's bustling scene for a bit will love the Cavallo Point Lodge and its world-renowned Healing Arts Center & Spa. This relaxing resort in Sausalito is so close to San Francisco that you'll always have a view of the Golden Gate Bridge. The property consists of two different but complementary lodging options: historic or contemporary. The historic accommodations consist of former residences for the military officers of Fort Baker. Fully restored, these rooms still retain residential touches like porches and fireplaces. To commemorate Valentine's Day, Cavallo Point is offering a "Love Is in the Air" package which includes accommodations, dinner for two at Murray Circle, breakfast daily, one dozen red roses and a bottle of Champagne and chocolates in your room upon arrival.