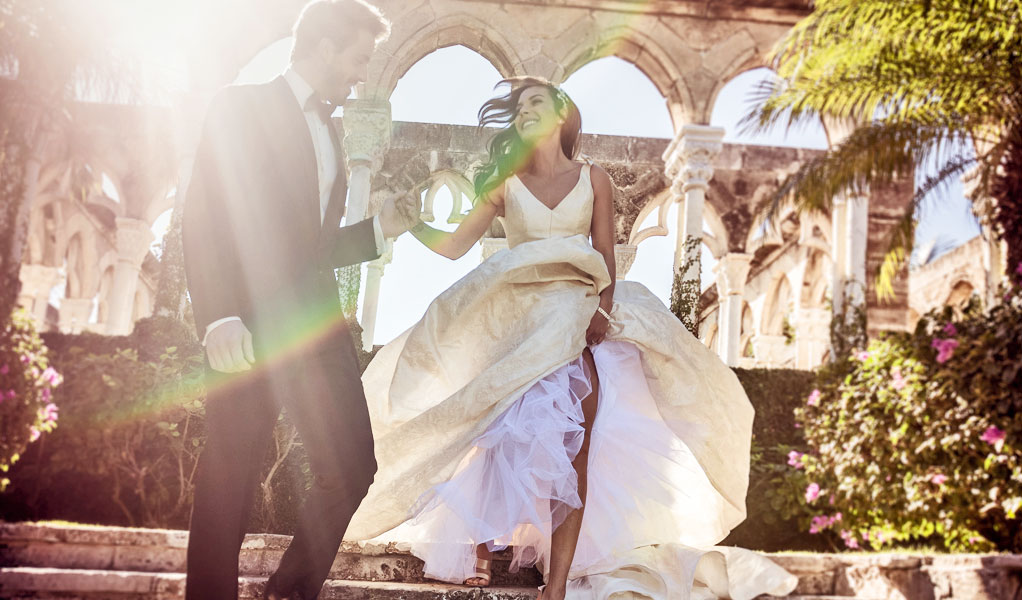 We've been to many weddings in our lifetime, some over-the-top, others rustic and traditional, and some weeklong-destination nuptials in tropical locales. Of all the affairs, the latter always takes the cake as our favorite way to see those we love say "I Do." Last month we made our way to the Bahamas to scope out some of the best wedding venues in Nassau for every kind of bride and groom. Here are five gorgeous hotels ready to make you Mr. and Mrs.
Photo Credit: Meliá Nassau Beach
Meliá Nassau Beach
We enjoyed the all-inclusive Meliá Nassau Beach as a solid choice for bridal parties traveling with many families and children. It's a little more laid-back than some of the other hotels on our list, making it a great family-friendly choice while still offering four-star service. It's also a nice hotel for brides who prefer a less extravagant affair and love the simplicity of a toes-in-the-sand wedding. The property sits on a 1,000-foot stretch of white sand along the Atlantic Ocean on Cable Beach. For this type of wedding, the couple can opt for a more boho-chic affair with an elegant alter decorated only with flowers and white linens and set in between two palm trees. Meliá is definitely our choice for a no-fuss kind of shindig. For accommodations, the Presidential Suite is the way to go for the bridal parties. The corner suites includes two bedrooms (the neighboring room can be added on), a spacious living room, sprawling balcony and plenty of space for all your ladies to get ready on the day of. Wedding package prices available upon request.
Photo Credit: British Colonial Hilton Nassau
British Colonial Hilton Nassau
If you're a film buff, you may recognize British Colonial Hilton Nassau immediately. It was featured in two James Bond Movies and has been a staple on the island since the early 1900s. The AAA four-diamond hotel is located on downtown's only private beach and offers a variety of wedding packages. The Hilton brand is familiar, which can be nice when trying to pick a wedding venue from another country. Although you can also be directly on the sand for a beach ceremony here, our favorite location is on a patch of grass fronting the ocean and in between swaying palm trees. The couple can choose whatever décor they'd like, but we'd go for a notch above the minimalistic vibes of Meliá here. The reception and dinner can take place right next to the ceremony as well, making it an easy transition for guests. Before the big day, because of its location, there are also an array of activities to explore while checking out the city such as the National Art Gallery of the Bahamas, dolphin encounters, dive excursions and visits to the renowned Bay Street Straw Market. Wedding packages are available upon request.
Photo Credit: Graycliff Hotel
Graycliff Hotel
The five-star Graycliff Hotel is an assuming in its appearance. The small 20-room hotel situated off a side street in downtown Nassau has been there for the past 44 years. Its peachy-pink façade with white accents are hidden behind a green garden of hanging branches and blooming florals. What you wouldn't know just by passing by is that guests like Nelson Mandela, Paul Newman, Bill Clinton and even Jay-Z and Beyoncé have a connection with the property. The latter stopping in for lunch during a Bahamas vacation. It also boasts the world's third largest wine collection (valued at around $10 million), the 19-year-old Graycliff Cigar Company and a four-year-old Graycliff Chocolatier within its walls. Sounds like the makings of a great wedding to us. The charm of a wedding at Graycliff is that it feels authentically Bahamian. Because of its size, we'd suggest a smaller wedding party. The inn suggests that it can hold anywhere from three people to 300 for the event, but keeping it smaller will allow the space to create a more private and intimate vibe. Among its venue options, our choice would be around the hand-painted pool surrounded by tall palm trees and lush foliage. It can be set up with chairs along the side with the pool acting as an aisle. Before the big day, book a few fun activities for the men and women in your bridal party to enjoy such as wine tastings, cigar rolling classes, chocolate tastings or hop on the inn's boat and head to the Blue Lagoon for a day. Wedding packages are available upon request.
Photo Credit: Atlantis Paradise Island
Atlantis Paradise Island, Bahamas
There seems to be close to 50 different venues to choose from at Atlantis Paradise Island. We might be exaggerating a bit, but the enormous resort can host virtually any size of wedding party anywhere on property. But our most favorite location is called Ocean's Edge and sits to one side of the resort overlooking the ocean. Before the "I Do's" are said, guests can enjoy cocktails in the outdoor reception area and the warm ocean air. Set up on a wooden deck, the actual ceremony area can take place al fresco or under a tent with air-conditioning with a 150 guest capacity. It gets pretty hot and humid so the latter is a great option should you wish to keep your makeup and hair fresh during your vows. When it's time for dinner, cake and dancing, head indoors inside the pavilion which can hold 60 seated guests. The reception and ceremony areas can always be switched so that the dinner takes place outdoors and the ceremony indoors. Among its more notable package is the Love Your Life offer which includes this venue as well as five-night accommodations at The Cove, a more upscale, all-suite tower within the resort. The offer also boasts some fun perks such as bridal hair and make-up, solo musician for ceremony, six hours of photography service for wedding day, six hours of professional videography service for wedding day and a 50-minute couples massage. The package is priced at $26,875.
Photo Credit: One&Only Ocean Club
One&Only Ocean Club
It's no surprise that producer and Snapchat king DJ Khaled was enjoying a leisurely vacation at the One&Only Ocean Club when we visited. The resort is known as a celebrity haunt in the Bahamas and is frequented by affluent jet-setters all year long. Those looking for an uber luxurious ceremony will love everything about celebrating their big day here. Although the Beach Deck might be your first choice for the event, our favorite venue is The Cloisters, a 12th-century, open-air cathedral and its Versailles-inspired gardens below. The cloister hosts up to 120 guests and a few feet away is the garden which is adorned with sculpted foliage and colorful flowers. Tables can be set-up inside the space for a formal dinner. The property also has three- and four-bedroom British Colonial-style villas available to host the bridal party. Each residence features a gated entry, vaulted ceilings, wood furnishings, polished marble floors, a garden courtyard, infinity-edge pool and jetted tub with shaded dining patio. You'll also receive a dedicated villa team with a personal butler, housekeeping staff and a private chef. Wedding packages available upon request.