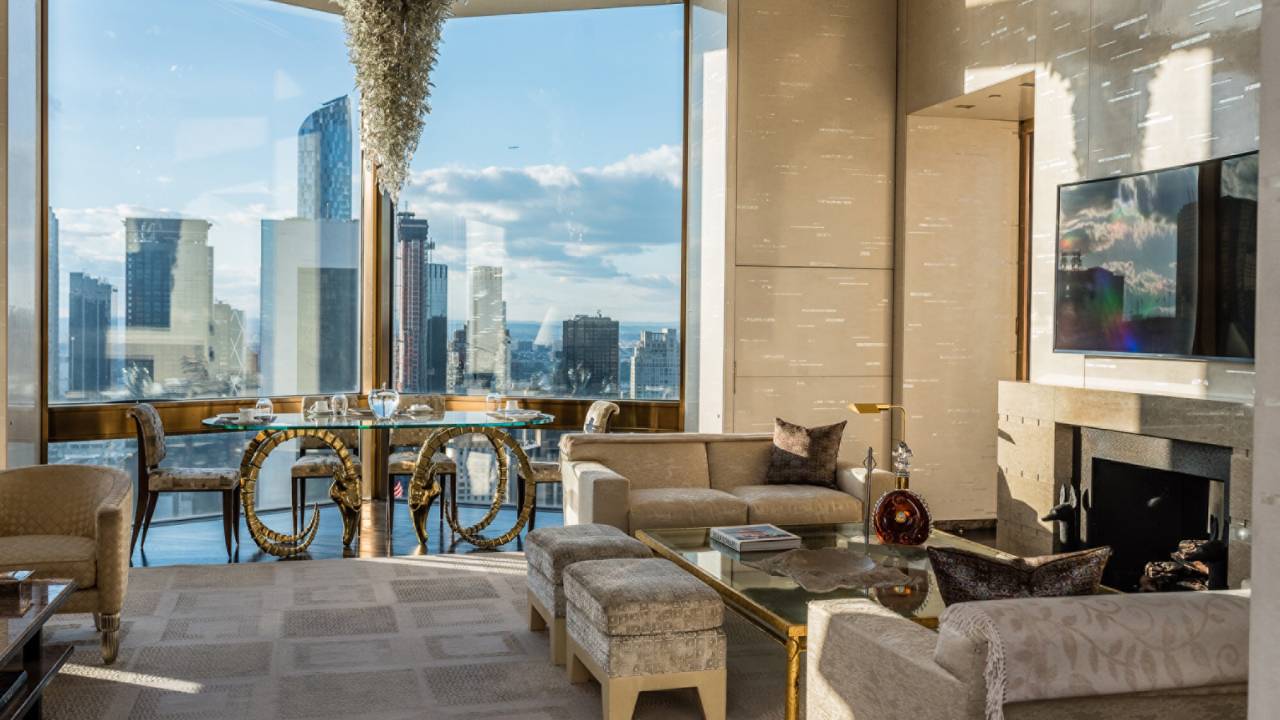 Photos Credited to: Four Seasons
Enjoying lunch with Mehdi Eftekari, GM of Four Seasons Hotel New York, I learned the hotel was designed by famed designer I.M. Pei and opened in 1993. "Recently the team spent $120 million in renovations," said Eftekari about the prestigious 52 story luxury hotel along "Billionaire's Row." Inside are custom Tai Ping 100% wool carpet, beautiful treated oak furniture and English Sycamore wood paneling on the walls.
This modern deco landmark in Midtown Manhattan is one of the only hotels in the city that is a hotel from the bottom floor up to the very top. It's a landmark building located just steps from Park and Madison Avenues.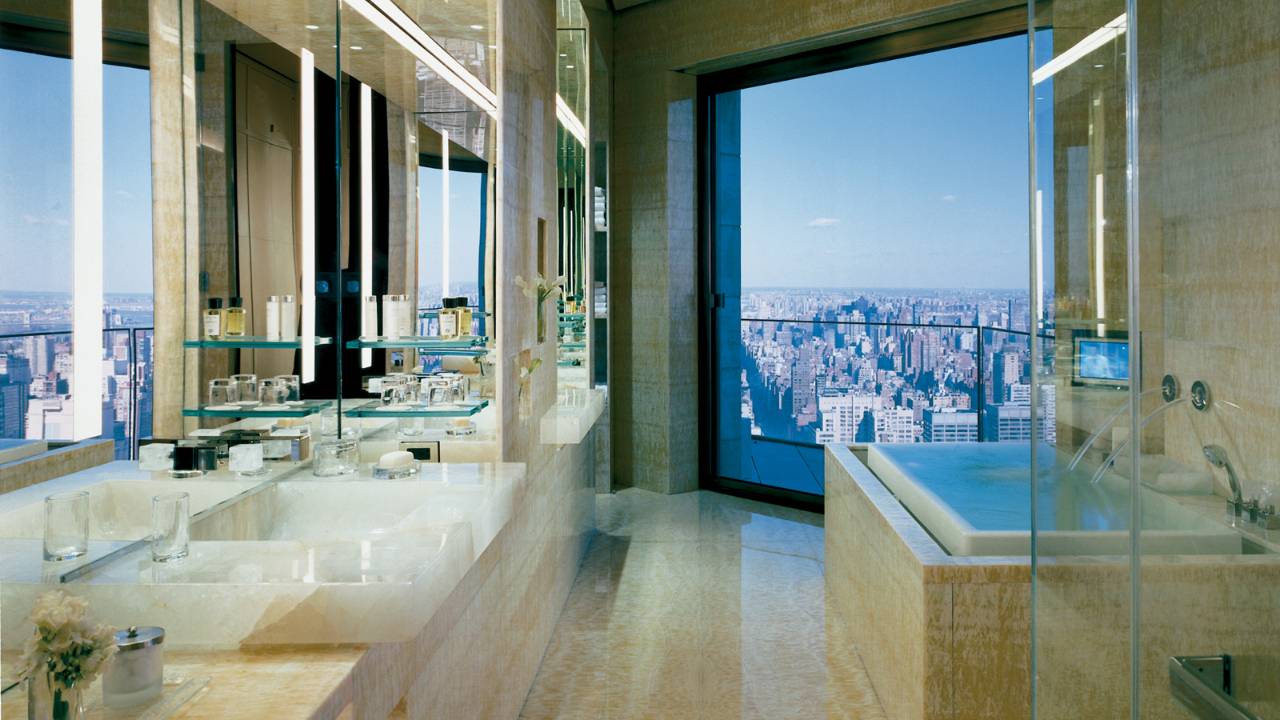 What makes this hotel even more special is the Ty Warner Penthouse up on the 52nd floor. "It's one of the most opulent one-bedroom accommodations in the world," said Eftekari, "offering a 360-degree view of Manhattan from inside and out on the four glass balconies looking north-south and east-west."
It took seven years to build this one-of-a-kind suite and was a collaboration with Ty Warner and Pei. Warner traveled the world to find the unique decor, art and speical features in the 4,300-square-foot living space.
Guests can work out in the private gym, soak in the master bathroom's infinity tub and enjoy as many massages as needed. Plus the hotel's chauffeur and Rolls-Royce will happily take guests for short trips within the city. "This special suite is for a maximum of two guests and is a new level of living when visiting New York City," Eftekari said.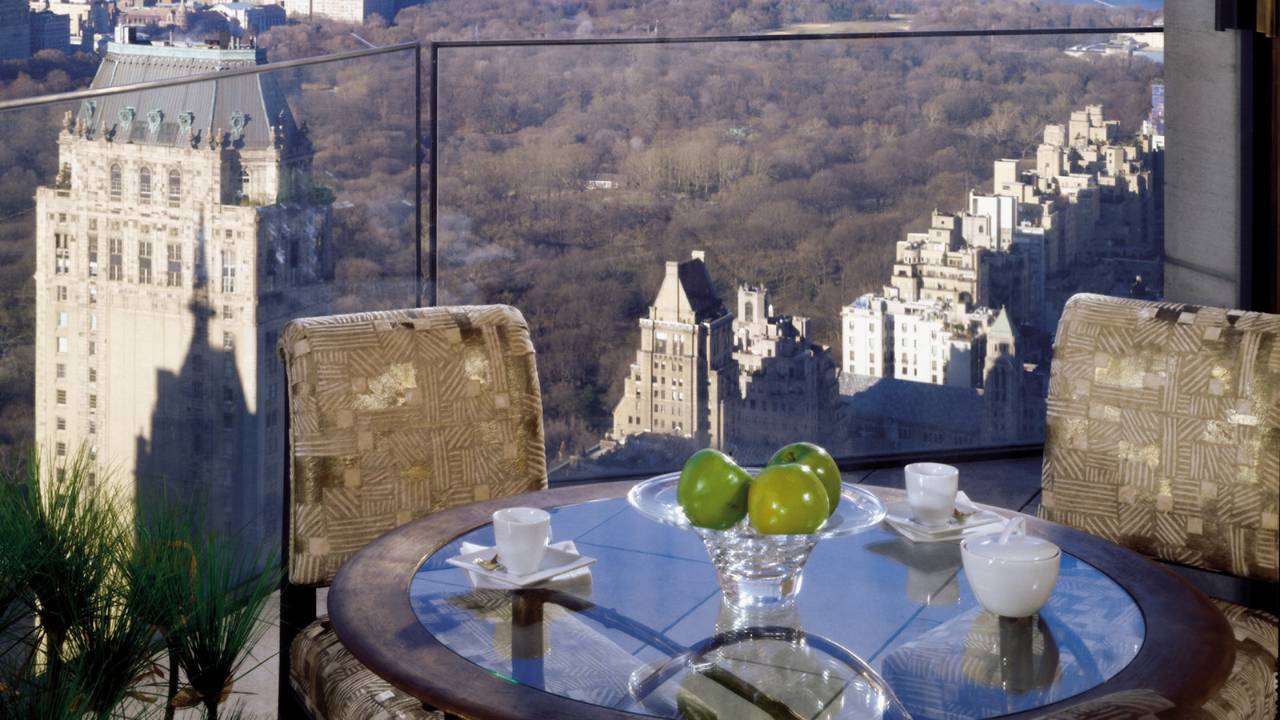 Of course the Four Seasons Hotel New York also has its standard class of accommodations on offer as well. "Our rooms are one of the largest in NYC," shared Eftekari. Each floor has fewer than 12 rooms creating a quiet and private destination. The Junior Suites range from 500 to 600-square-foot offering a sitting area, bar, walk in closet and four point bathroom. "The rooms have 55 to 65-inch curved screen televisions, Wi-Fi and walk-in closets," Eftekari said.
Benefits to staying at this hotel include a visit to L.RAPHAEL Spa, which offers nine treatment rooms and guests may take the hotel's Rolls-Royce car when available; the concierge is also happy to help with restaruant reservations, Broadway show tickets and shopping recommendations.
The hotel is home to the art deco Ty Bar where one can enjoy the hotel's own gin made in house. The bar offers an extensive list of craft beers, specialty cocktails, wine and champagne. Bourbon lovers will want to note that Hudson Bourbon makes a custom-barrel expression exclusively for Ty Bar. Guests can sit near the tall windows or at the cozy fireplace for a cocktail and innovative bar bites. For a complete meal, The Garden restaurant is an enchanted forest-like dining venue with tables strategically placed among enormous African Acacia trees. Menus include seasonal farm to table breakfast, lunch and weekend brunch delights.