Photo Credit: Columbia Hillen
With major renovations completed last year, Hilton Naples in southwestern Florida has recently seen a host of updates, including new furnishings and enhancements to the lobby, guest rooms, meeting facilities, fitness center and more.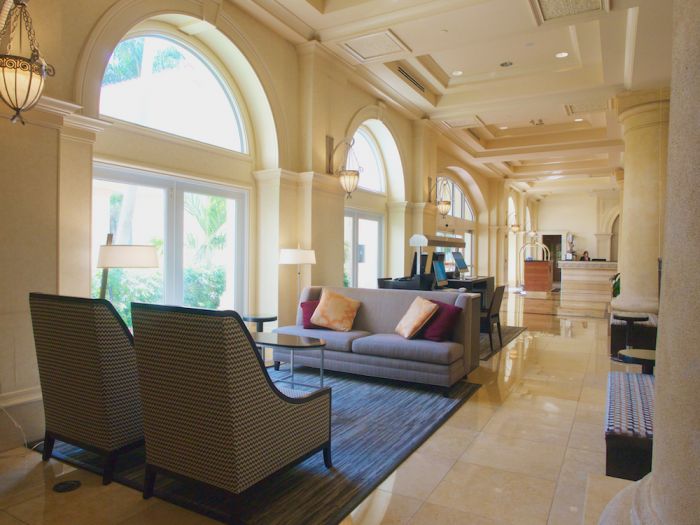 Photo Credit: Columbia Hillen
The hotel's lobby, with its imported stone and marble construction, received additional original artwork, new seating, tables, lighting and carpet. A new Connectivity Station was also added, consisting of complimentary workstations equipped with Wi-Fi enabled computers, printers and ergonomic seating. Guest corridors and public areas were also upgraded with new wall covering, detailed crown molding and refinished guestroom entry doors.
Renovations to the hotel's extensive meeting and event space include wall covering and window treatment, new lighting, seating and tables in the pre-function area. A 20-seat executive boardroom was also added featuring a distinctive table. The hotel's fitness center was expanded and equipped with the latest Precor equipment.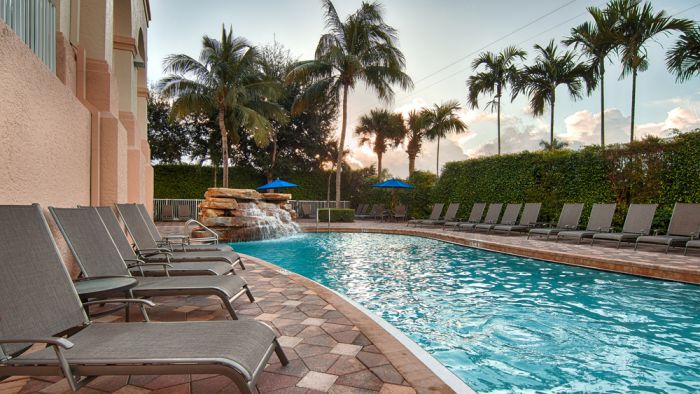 Photo Credit: Hilton Naples
"All rooms and suites have been completely redesigned and offer a luxurious Hilton Serenity Bed, plush seating, carpet, window treatment and an ergonomic task chair," said proud general manager, Clark Hill. "Enhancements to guest bathrooms include all tile and plumbing fixtures, vanity, wall covering and backlit mirror. New artwork completes the brand-new look."
The hotel's spacious lobby is decorated in contrasting colors, a largely cream interior with black trimmings including metal grills on ornate fencing and on floor designs. The space is dominated by a high ceiling, thick pillars and hanging metallic lamps on ceiling and walls. There is plenty of seating for around 40-50 people, with a dozen tables with soft chairs and sofas. A large gym tucked away discreetly at the end of the ground floor corridor and, just outside it, an outdoor swimming pool with chaise lounges and a small Jacuzzi.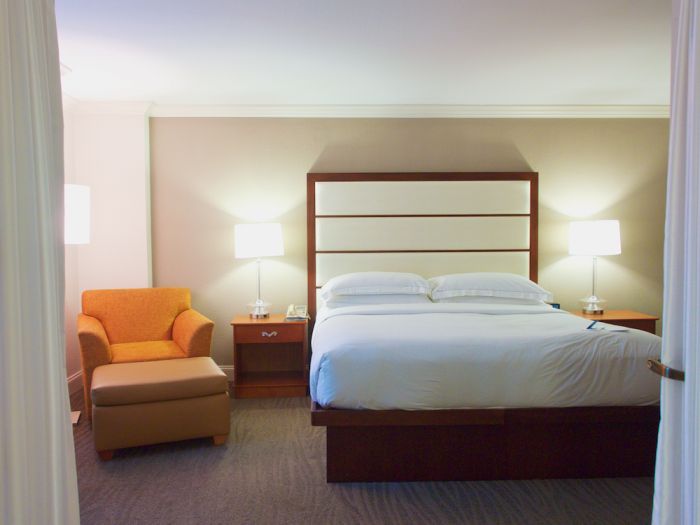 Photo Credit: Columbia Hillen
Our suite, 431, on the executive floor, overlooks the hotel's semi-circular entrance driveway and consists of three large rooms—bedroom, bathroom, and a sitting-room accessed through double doors. Ambience is classic, with soft furnishings, including a long couch in the latter with an ample-size table, four chairs and a large-screen T.V.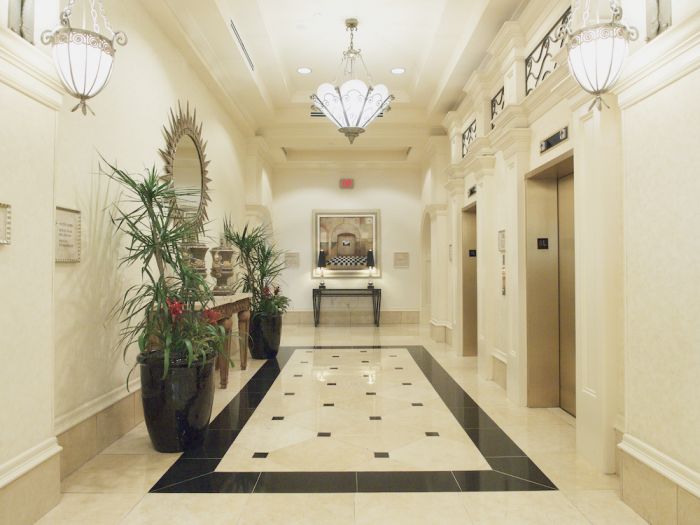 Photo Credit: Columbia Hillen
A few minutes' walk away is 'Waterside Shops at Pelican Bay,' an upscale, open-air shopping mall that is home to over sixty luxury retailers and restaurants anchored by Sak's Fifth Avenue and Nordstrom. The Artis-Naples cultural, performance and art venue, including the Baker Museum and the city's philharmonic orchestra, is also a short walk away. The Village, a complex of 45 shops, restaurants and boutiques on the waterfront, as well as Naples Pier, are an easy 15-minute drive away.
With relaxed lighting and plush seating, the restaurant is a bustling place with seating around the bar, as well as booths and tables further inside the spacious dining room. As for its specialized fare, the steaks come in all shapes and sizes, including the classic T-bone and Kansas City strip varieties, and are presented to guests on a platter prior to selection, no easy task as they all look so succulent and tempting, especially, as in our case, after a long, tiring drive across Florida from Key West.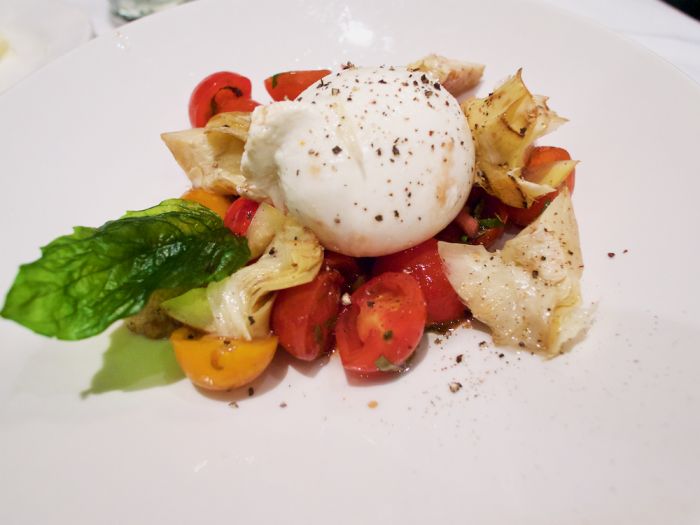 Photo Credit: Columbia Hillen
We opted for 28-31-day aged Black Angus steak from Georgia and a 'Cowboy' steak, with pepper and chimichurri sauces respectively, preceded by burrata and Caesar salads. As pre-dinner drinks we sampled cocktails such as Don's Signature 25, made with Knob Creek Single Barrel Reserve Bourbon, and a Coco Rita, a coconut tequila while enjoying the bustle around us.
A bottle of 2012 North by Northwest cabernet from the Columbia Valley with crisp tannins, well-balanced between earth and fruit, was the perfect complement. Though hungry, our dinner portions were so large, we asked for a doggie bag, and enjoyed a second feast later.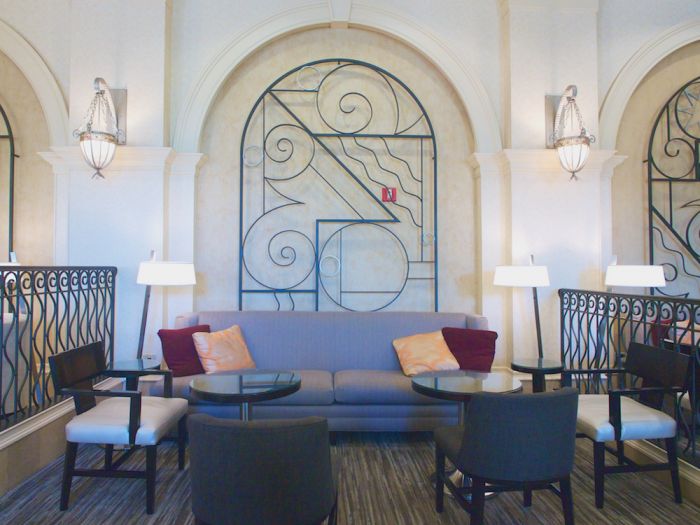 Photo Credit: Columbia Hillen
Reflecting the vision of management, the Hilton Naples was the first in the group in the city to implement 'Digital Key,' a high-tech benefit exclusively for Hilton HHonors members. While members have been able to choose and check into their rooms and pre-order in-room amenities via the Hilton HHonors app for some time, 'Digital Key' adds a new layer of convenience.
The hotel also received a 2017 Four-Diamond rating from AAA. According to AAA data, fewer than six percent of the nearly 28,000 properties approved by AAA achieve this distinction.