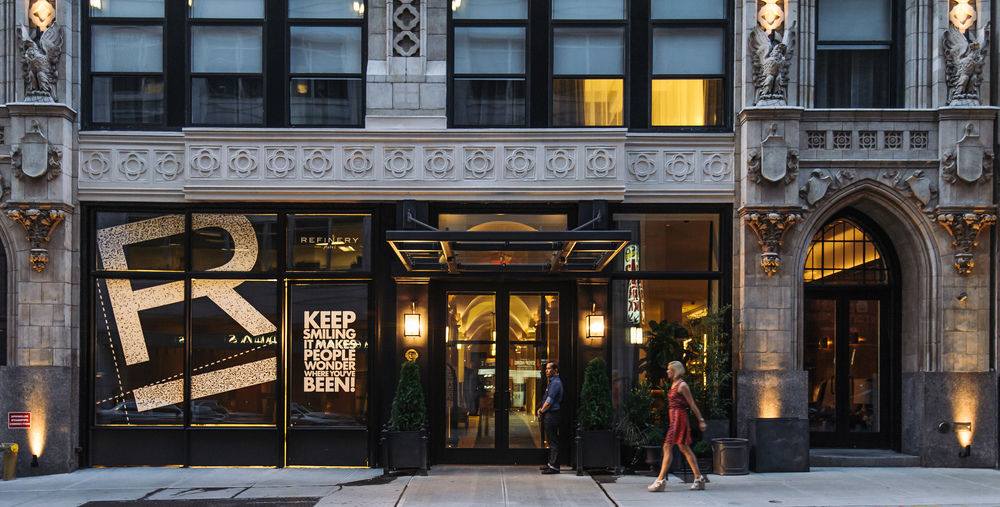 Photos Credit: Refinery Hotel
It's hard to believe that a former hat factory could morph into chic luxury accommodation, but that's the story of the Refinery Hotel in New York's Midtown. A rug at the front entrance adorned with scissors (as well as other tools of the millinery trade) hanging behind the concierge desk allude to this intriguing transformation. This 12-floor, 197-room hotel occupies the original Colony Arcade Building near Bryant Park, seven blocks from Central Station, which a century ago was a hub of America's clothing trade.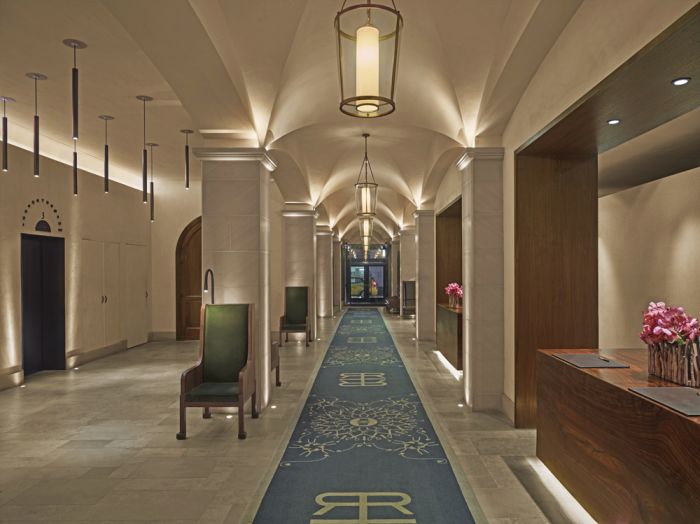 In the early 1900s, due to exorbitant prices in Paris and the shopping mecca of the "Ladies' Mile" moving to Midtown, business in this New York neighborhood exploded. As couture houses and garment factories set up shop to take advantage of the boom, so too did enterprising brothers, Frederick and Robert Zobol, who in 1913 promptly cut the ribbon on this neo-Gothic style building.
Positive impressions begin with the hotel's façade. The building is based on the 19th-century base-shaft capital design, meaning it has the proportions and aesthetics of a classical Greek column. Sculptural quatrefoils, original window shields and eagles enhance the neo-Gothic effect. The interior has a post-modern, yet industrial sense about it and its retro rooms feature 12-foot ceilings, windows that open, dark, brushed-oak hardwood floors, mosaic tile bathrooms and original art.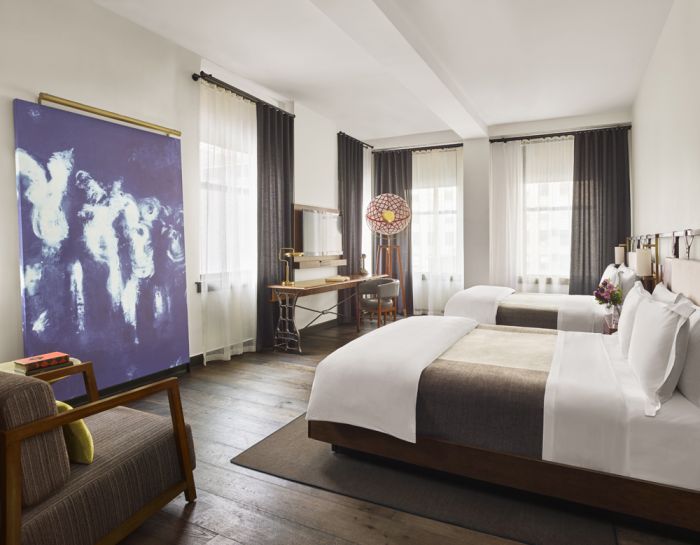 Highlights of our room included a lampshade in the corner posing as a 20th-century photographer's flash-bulb with print that replicates the quatrefoils on the building's exterior, as well as a writing desk crafted in homage to the Singer sewing machine once used by workers and artisans in the area years ago. Even the coffee-table reflected more than a hint of nostalgia, designed after old factory carts. Our bathroom featured a walk-in shower and Beekman 1802 toiletries from upstate New York. All rooms are loft-like, atelier style.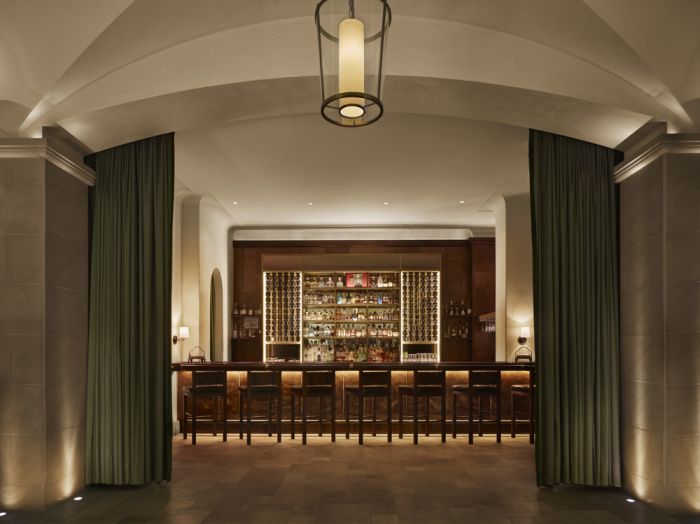 In terms of location, convenience doesn't get much better. The hotel is a five minute walk from Times Square and 10 minutes from Broadway theaters. Attractions such as the Beaux-Arts styled New York Public Library, the Highline, the Museum of Modern Art, Rockefeller Center and Observation Deck are all within a leisurely stroll. If you want to follow the fashion theme of the Refinery, visit the nearby Fashion Institute of Technology Museum and the Fashion Walk of Fame.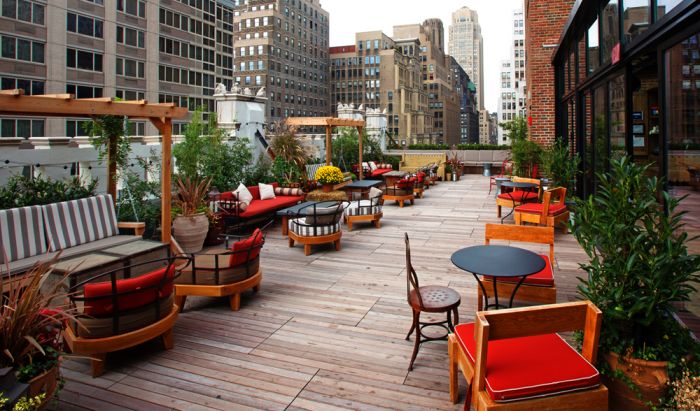 You know the hotel is popular when you see constant groups of trendy young people waiting on the elevator for the rooftop bar on a Saturday evening, or see the packed tables for weekend brunch in the bistro-style restaurant designed by architect Derek Saunders off the main lobby. The rooftop, once a grand industrial space, offers panoramic views of the Empire State building, and features French terracotta floors, a fountain and a fireplace.
An alternative meeting place is the cozy Winnie's Jazz Bar, which nods to the Prohibition-era salon of the building's original incarnation and is named after Miss Winifred T. McDonald who ran a tea salon here. Cocktails by Alex Ott, who boasts the intriguing title of "resident mood director and libation scientist," are creative, such as the "Doctor's Orders" consisting of charred oak rye, Earl Grey tea, sandalwood, milk thistle and tobacco spice.
Booking in advance for brunch, we managed to nab a discreet wall booth near the hostess desk in the restaurant, a strategic people-watching vantage point. Consisting of two large rooms with an oval-shaped bar in the middle, guests sat on high stools along the bar counter in comfortable, leather-seated booths or at larger tables set up for bigger groups. A score of vintage black-and-white photographs decorated the walls, depicting individuals and scenes from the pre-1950s, some reminiscent of the glory years of the Garment District. Glimmering crystal orbs hung from the ceiling alongside simple spotlights, with old-fashioned lamps above the booths. Piped jazz music overhead was straight out of the Prohibition and Big Band eras. Wallpaper with a floral motif made it seem as if guests were enjoying themselves in someone's sitting room, a notion enhanced by the mosaic tiled floor.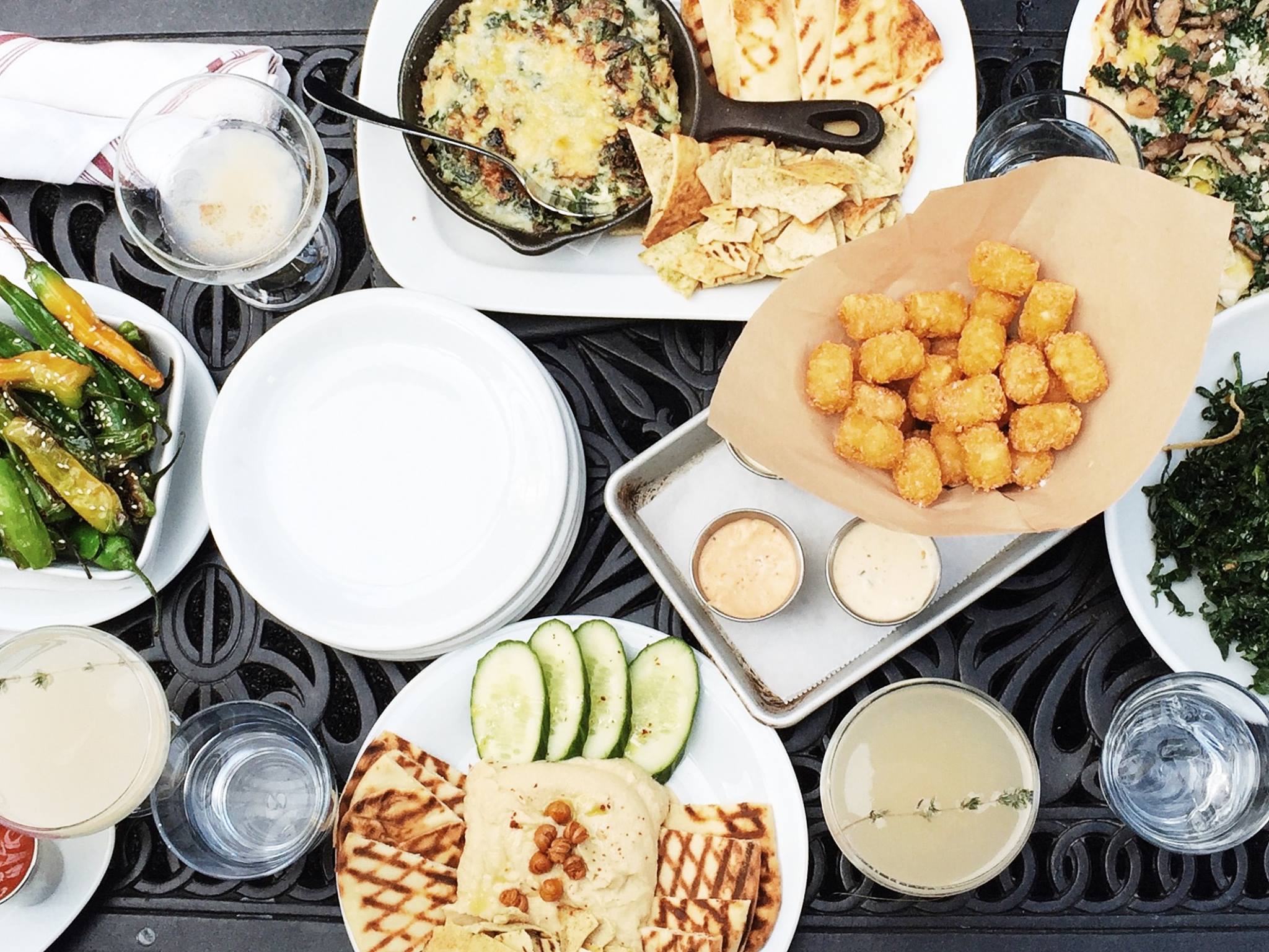 Preparing for an exploration day in the Big Apple, we chose several dishes, including grilled shrimp on a slice of sourdough bread topped with avocado and chili, as well as the meal's highlight, butcher's meatballs served with sourdough, cream and chives. Hamburger came as a generous slice of meat in a brioche with a layer of bacon and melted cheese on top. We couldn't resist the French toast with slices of poached apples and the Jacques Torres bonbons, handmade in New York.
The Refinery is a charming, retro hotel that grants nostalgic insights into a former era, offers diverse options for entertainment and is close to many of New York's cultural highlights.