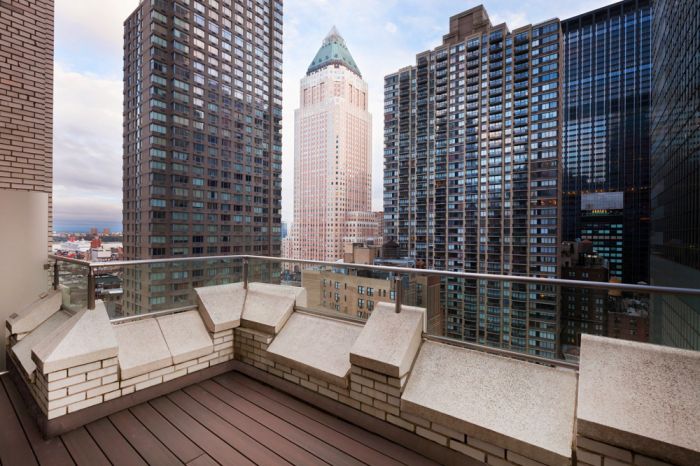 Photo Credit: Edison Hotel
Clambering out of our 17th-floor bedroom window, we found ourselves on a narrow, iron-railed balcony. From there, postcard-picture views of boats gliding gently down the Hudson River was one of the highlights of a recent stay at New York's Edison Hotel.
Located around the corner from Times Square, this art-deco inspired, 810-room property dating from 1931 offers glimpses into the old-world of the Big Apple and was specially named after the legendary inventor who obliged by turning on the lights when it first opened, via remote control from his home in New Jersey.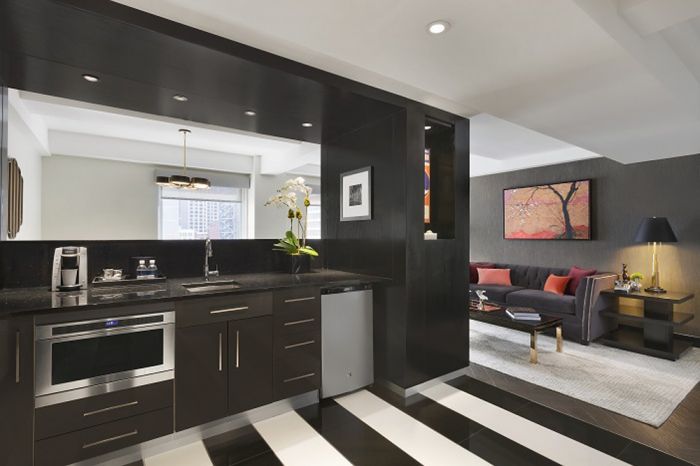 Photo Credit: Edison Hotel
So atmospheric is Hotel Edison, movie-makers have been keen to use it, with scenes from The Godfather when Luca Brasi, ex-wrestler and ex-bodyguard for the Colombo crime family, steps in the back door from 46th Street and proceeds up the mirrored hallway with shiny brass railings; scenes from Sex and The City, have also been shot there. The reception lobby emphasizes an art deco motif with murals of New York City in that era's heyday, featuring famed baseball player Joe Dimaggio, jazz singer and bandleader Cab Calloway and dance group, The Rockettes.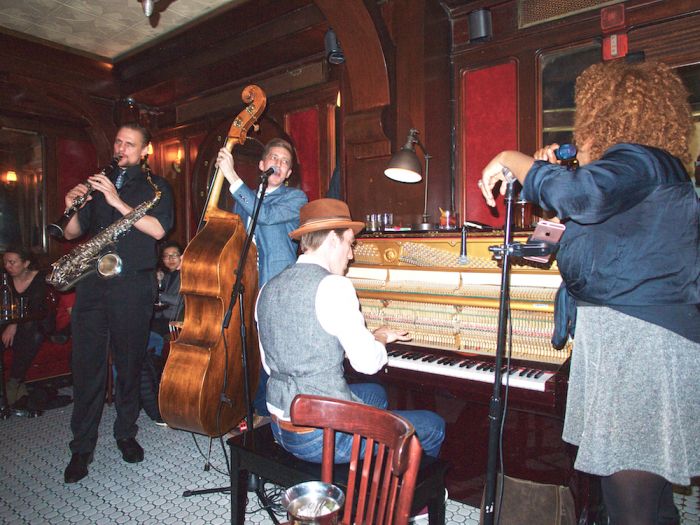 Photo Credit: Columbia Hillen
Not only is the hotel a few minutes' walk from the Times Square-42nd Street subway station, it is also close to many things to do in New York, like Broadway and Off-Broadway theaters, as well as Bryant Park, Time Warner Center, The Museum of Modern Art (MoMA) and Fifth Avenue stores. The Rum House, the hotel's ground-floor bar owned by Kenneth McCoy, is very same in which actor Michael Keaton stops in for a few drinks in the movie Birdman. While there one Saturday night, we were regaled by a dynamic jazz quartet, Mimi and The Pod Brothers, while sipping signature cocktails concocted by mixologist from Colombia, Abel Rodriquez such as Tortuga, that included eight-year-old E. Doradao rum, cinnamon 14 and citrus and fresh ginger, or other similarly potent variations such as Dark and Stormy, and Home Away from Home. So popular a haunt is The Rum House such celebrities as Bill Murray and Mathew Broderick have popped in for music sessions.
Photo Credit: Edison Hotel
Owned by Triumph Hotels, which has seven Manhattan properties under the control of President and CEO Shimmie Horn, and constructed by architect, Herbert J. Krapp, the Edison's design helped usher in the city's art deco era. Its ballroom is particularly noteworthy, carrying a long and colorful history, its architecture dating back to its days as a dancing and dining venue when it hosted famous performers of the Swing Era.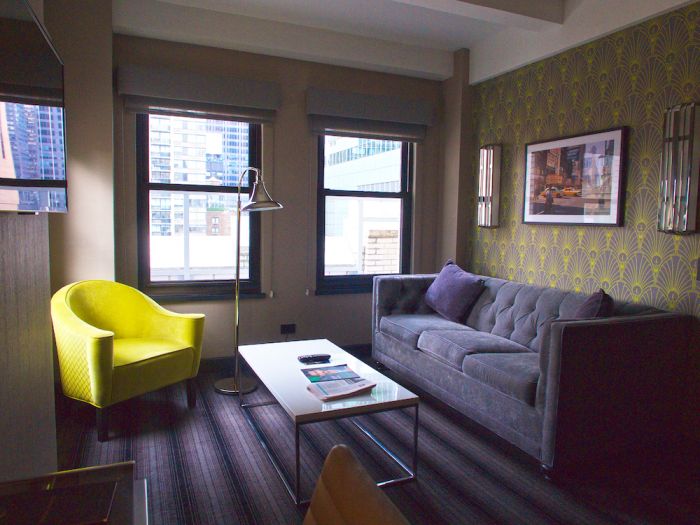 Photo Credit: Columbia Hillen
Our accommodation, 1715, a signature suite with terrace, was recently renovated and comprised three-rooms, including bathroom. Ample natural light poured in from three windows in the living-room, with furnishings consisting of a large gray sofa, bright yellow armchair, wall television, hideaway closet, coffee-maker, chrome framed chair with desk and flat-white coffee-table. We padded around on thick carpeted floors. The bathroom, which was separated from the bedroom by a sliding door, featured a spacious shower and marble floor.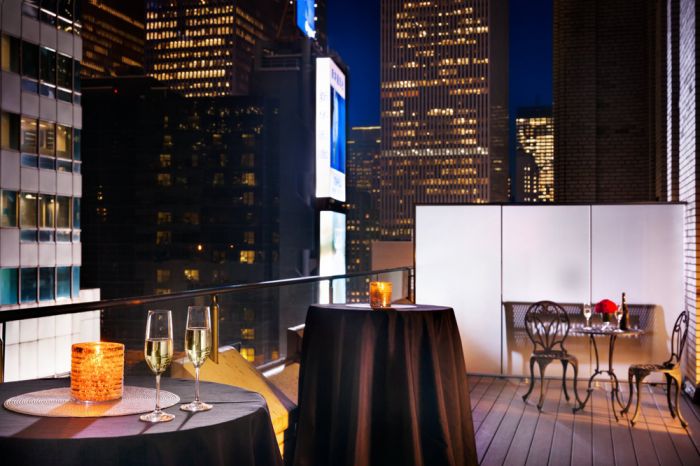 Photo Credit: Edison Hotel
As added services to guests, the Hotel Edison offers complimentary neighborhood walking tours, as well as a wine and cheese manager's reception every Tuesday and Friday. It also has valet parking and a 24-hour business lounge and fitness center.