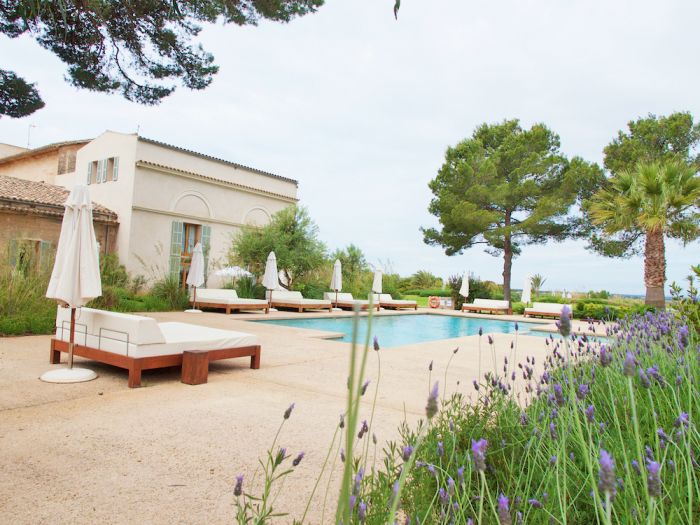 Photos Credit: Columbia Hillen
Behind an electronically-operated steel entrance door, a stillness pervades the air so soft even birds seem to sing their tunes lightly.
Such is the aura of tranquility at Fontsanta Hotel Thermal Spa & Wellness, a 36-room 19th-century holiday retreat deep in the Mallorcan countryside. A short drive from the sandy beaches of Es Trenc, Ses Covetes and Sa Rapita, the hotel sits near Campos in the southern part of the island.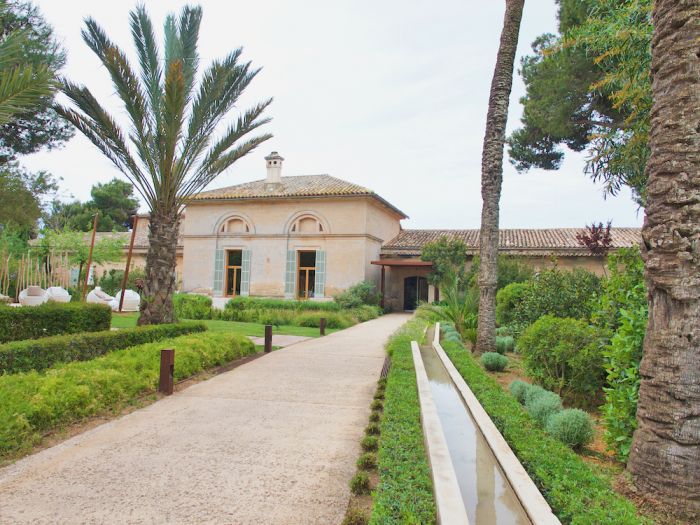 As the gate slowly opens, a bucolic vista presents itself: a wide expanse of manicured lawns with wicker seats, gleaming waters from two open-air swimming pools and a series of Jacuzzis complete with double day beds. Beyond lie the salt flats of Es Salobrar de Campos, alternate ponds and fingers of land that are home to hundreds of bird species.
Straight ahead along a pebbled-pathway are sandstone buildings containing hotel bedrooms and the Balearic island's only thermal-waters spa. Now owned by the Cosmet family, the spa has been in use since the Roman era 2,000 years ago when they'd extract salt, then known as 'white gold' by channeling sea-water into salt-pans. Spa treatments continued through the Middle Ages and in 1869 the waters were officially approved for public use.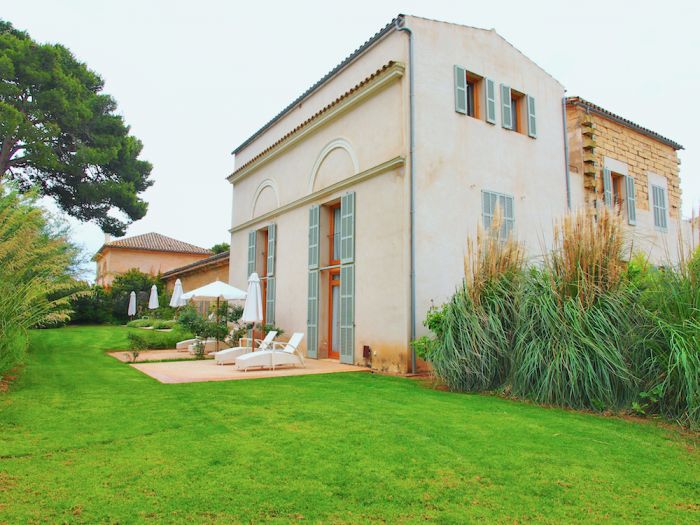 Heated thousands of meters below the surface, the waters emerge at around 38 degrees Celsius and contain high levels of minerals such as chlorine, sodium, magnesium, calcium and potassium, all having restorative and healing properties on skin and the blood and lymphatic systems.
Entrance into the main building is past an airy lobby and a relaxation room complete with a cozy fireside decorated with artifacts handed down through generations of the Cosmet family. These include some interesting pieces, including Castellano furniture, an Isabelino chair with a false bottom (used in childbirth), a Canterano chest and an embroidered rebosillo (traditional headscarf). Dangling from the ceiling is an original oil-lamp dating from the 1800s. A modern sculpture hangs intriguingly from a nearby ceiling.
Our two-level room overlooked a network of pathways through lush greenery and landscaped gardens, planted with swaying purple lavender, tall palm, fir and olive trees and thick borders of rosemary around which birds flitted hither and thither. Several slender sandstone statues, standing upright or sitting in thoughtful repose, add a hint of eastern, Zen-like ambience to the surroundings. Room layout and design reflects a combination of contemporary and traditional Mallorcan style with light-colored decoration, pine-wood floors and bare rafter ceiling.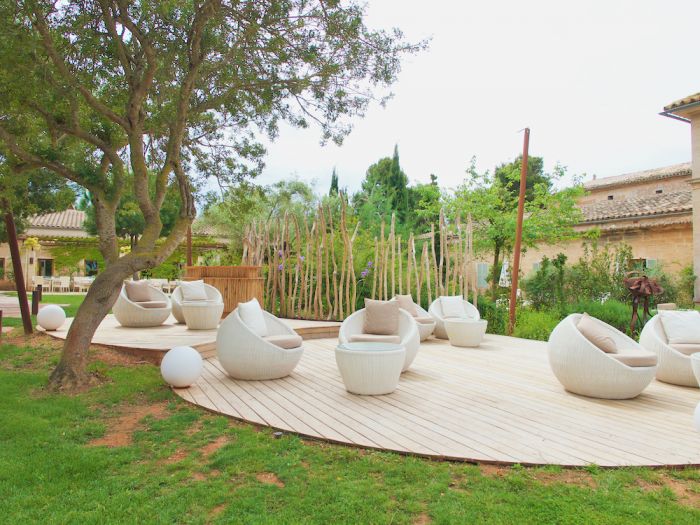 The spa is conveniently reached inside the building from bedrooms, has its own separate reception and consists of a large thermal pool, a Jacuzzi, steam-room, 10 intimate individual thermal baths, hand and foot baths, three treatment rooms and a relaxation area.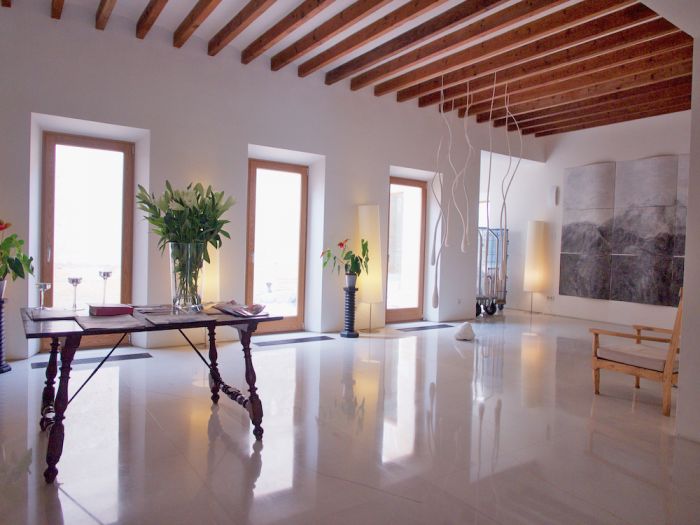 Breakfast and dinner are served in a separate building that formerly housed the estate's stables. Elongated and characterized by a series of arches with walls of bare stone slabs and a high, beamed ceiling, it resembles a transformed sophisticated monastic dining room. Guests can also choose to eat alfresco on an outside terrace facing the gardens. Interestingly and appropriately, the breakfast buffet includes a choice of flavored salts including hibiscus, rose and olive, as well as Mediterranean and Sri Lankan varieties.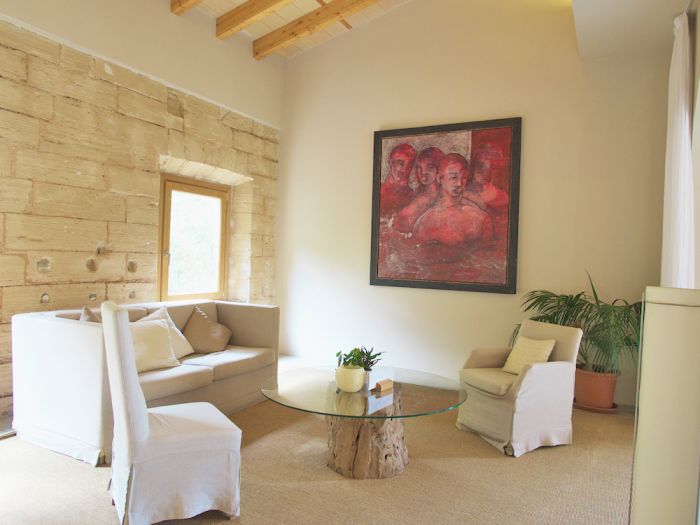 Pre-dinner drinks are served in quiet side-lounge with privacy curtains and soft seating where glass tables rest on the severed trunks of olive trees. Our evening table granted us views through a large arched window on to a quiet garden, the main hotel building and the lofty cross atop a disused church. Chef Jose Vicente Tarin succeeds in offering dishes inspired by traditional Mallorcan cuisine, presented in a sophisticated manner. A paella of delicious nutty brown-skinned rice called Sa Pobla (after the area where it originates) is topped with pieces of crayfish and roasted artichoke and served in a square tin tray. Frito Mallorquin, another local dish normally rich in sausage meat, is cooked with a rainbow of vegetables such as green beans, asparagus, mushrooms and peas, with a sauce made from the sausage.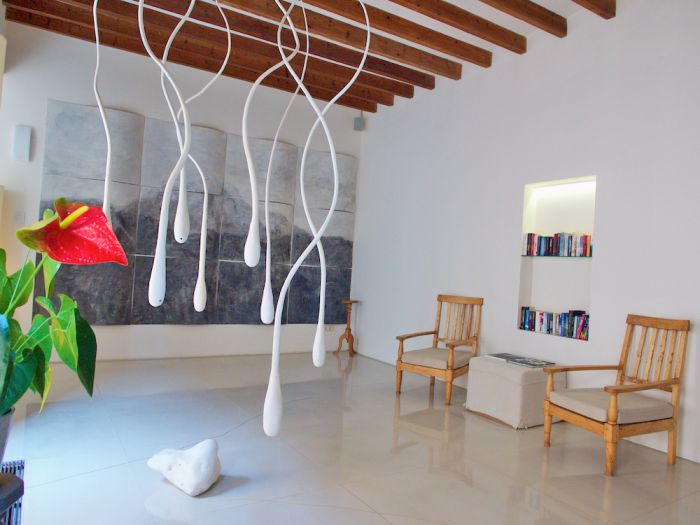 While Fontsanta is primarily a place of relaxation, various outside activities aren't far away. Guests can drive to the nearby town of Colonia de Sant Jordi for a short boat-ride across to the turquoise waters of the 18-island archipelago of Cabrera, which was declared a Marine Land National Park in 1991. The National Park of Mondrago is 20 kilometers away, offering a series of coves. Other pursuits hotel officials can help organize are scuba-diving, wind-surfing, bird-watching, cycling, golf, hiking and horse riding.
For those seeking serene surroundings for rejuvenation of body and spirit in an historic Mediterranean island setting with convenient access to beaches and other open-air activities, Fontsanta Hotel, Thermal Spa & Wellness is a luxury property well worth considering.