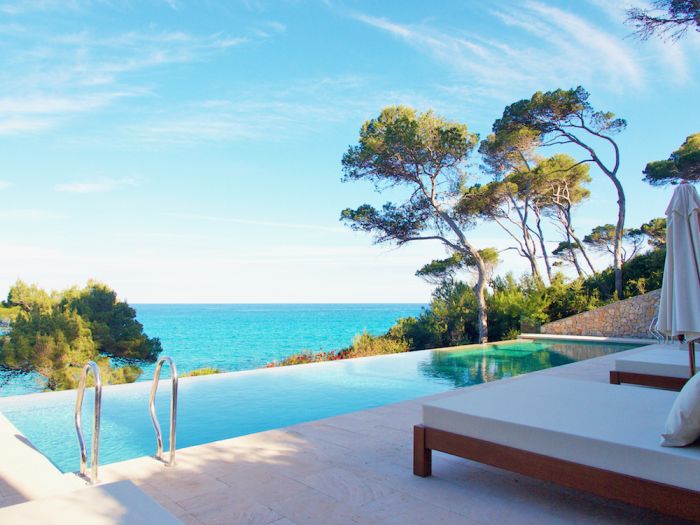 Photo Credit: Columbia Hillen
Beside a walkway bordered by orange and lemon trees, Mallorca's Hotel Can Simoneta offers a dazzling location with a wide expanse of manicured lawn, overlooking not only the Bay of Canyamel, but also sharp cliff faces nearby.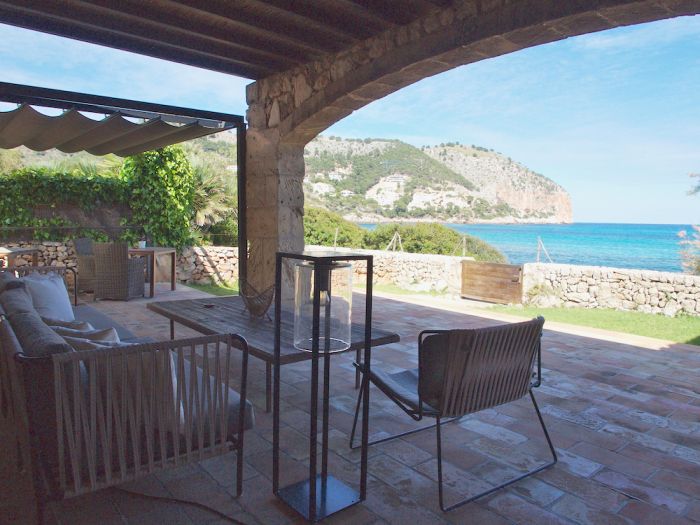 Part of the Torre de Canyamel group, this five-star property one hour's drive from Palma comprises three historic stone buildings, with the main hotel fronted by the extensive immaculate lawn. A second building, a few hundred meters away, and a third, down a series of stone steps towards the rocky coastline, house the property's 28 individually designed bedrooms, including 12 suites.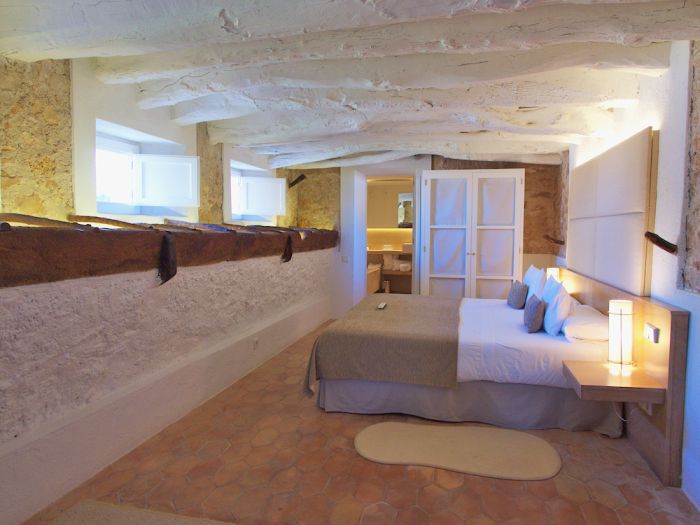 Our accommodation was in the latter, termed 'the beach-house' constructed of honey stone. The room, at basement level, featured a stone-tile floor, low beamed ceiling and whitewashed walls. Four narrow windows granted partial views of the sea. Close to the sea it had a small garden in front with chaise lounges for easy leisure. From here or in bed at night, listening to the soft, soothing sounds of the sea, veils of sleep came falling fast.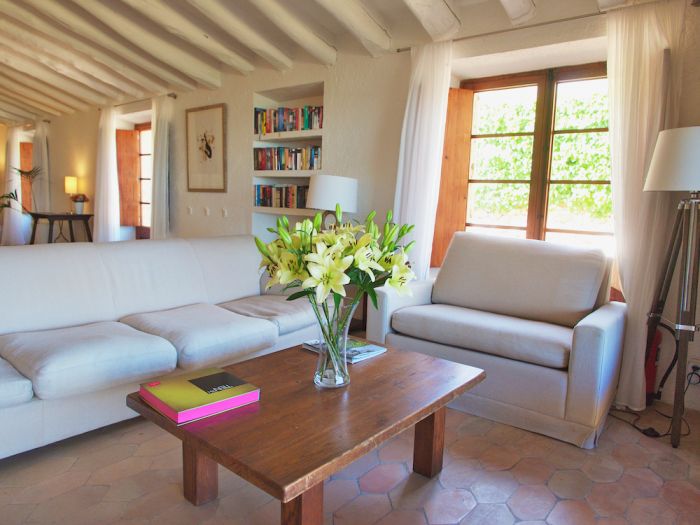 A nearby indoor courtyard and an outdoor terrace furnished with sofa, tables and wicker chairs, were shared by guests of the few rooms in this particular area of the property, with complimentary tea, coffee and soft drinks, as well as a selection of fruits, pastries and snacks refreshed every day. A small gate beyond the garden opened on to a narrow path that led to the seaside village of Canyamel 10 minutes away, where cafés and restaurants lined the sandy shore, as well as Llevant nature reserve, with colorful birds swimming and flitting to and fro.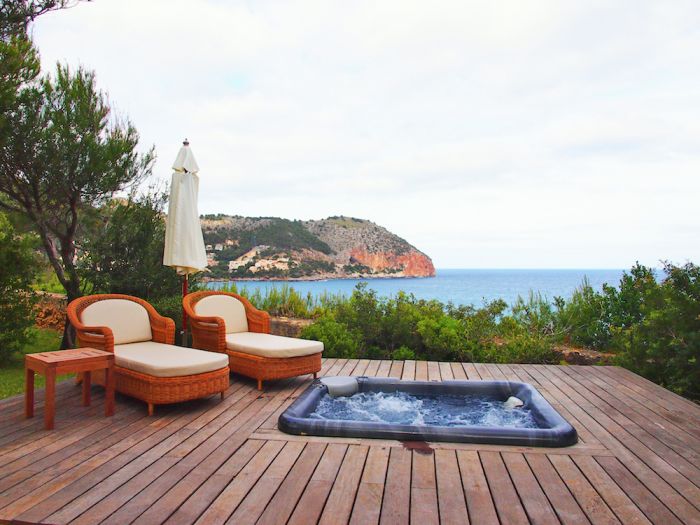 Relaxation is simple at Can Simoneta. Located on the island's northeast coast, the property offers a heated outdoor swimming pool featuring comfortable daybeds beside the lawn, two outdoor Jacuzzis, sauna and steam wood-cabins in a secluded spot among some trees and decorative plants. In addition, a wellness center discreetly located among some the woodlands grounds offers a range of treatments. Or you can simply lie dreamily in a hammock under the pine trees.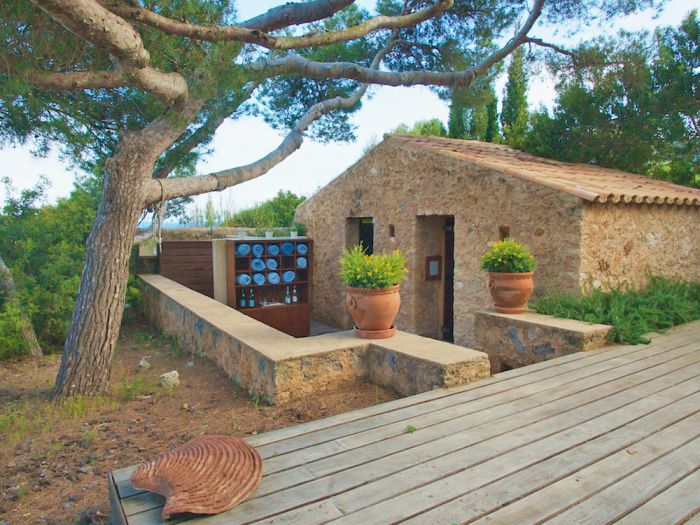 For the more adventurous, a steep, winding stone staircase leads to a pathway running alongside clumps of jagged sea rocks, with a small natural pool perhaps suitable for bathing on calm days.
Other activities can be organized for guests including water and beach sports, yoga, hiking and mountain-biking, horse-riding and horse-drawn carriage rides. There are four golf courses within easy driving distance.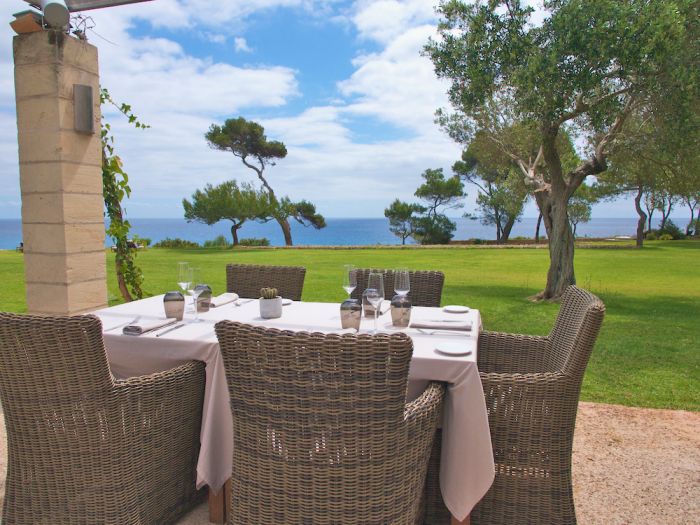 Can Simoneta's history dates back to 1812, although the present house was built around 140 years ago for an ailing monk who required seawater baths. Torre de Canyamel is a family business whose activities range from farming to hospitality and cultural events.
Depending on one's mood and the weather, breakfast can be taken either on an open terrace furnished with rattan chairs facing the seaside and a sculpture by renowned island artist Joan Bennassar, or inside the restaurant, with clear views through large windows.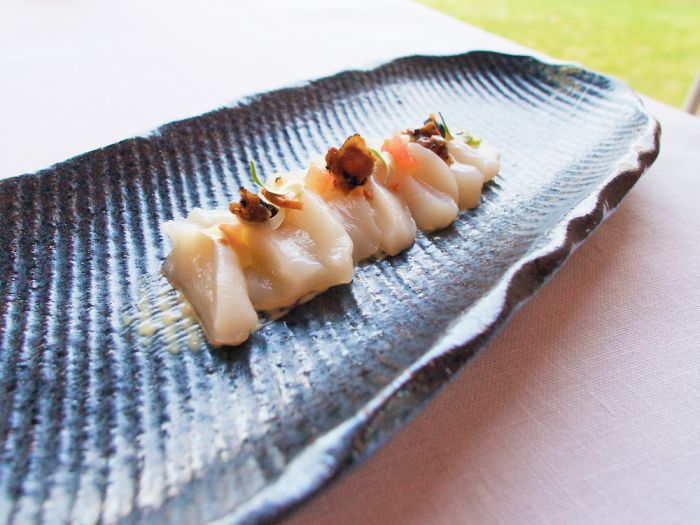 An innovative dinner menu by Valencian chef Pablo Tamarit offers Mediterranean à la carte dishes and special five and eight-course tasting options, using fresh and locally-sourced produce. Items range from prepared meats of all kinds, including wagyu beef on a soft corn tortilla with cilantro; maki fish with foie gras, apple and smoked eel; sliced scallop tartare with garlic and truffles; rice with snails and aioli and a modern interpretation of the Catalan fish dish named suquet.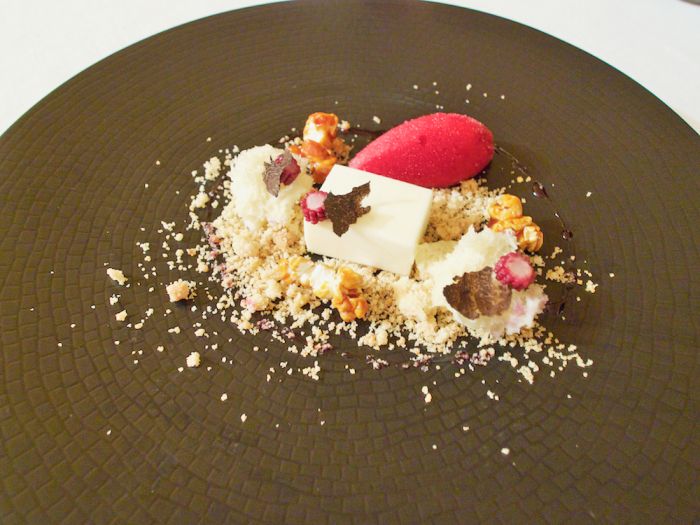 A comprehensive drinks list includes delicious dry white and dessert wines made from the Malvasia grapes of the Tomeu Isern family vineyard near the sleepy village of Estellencs in Sierra Tramontana, with a taste that hints at fine sherry.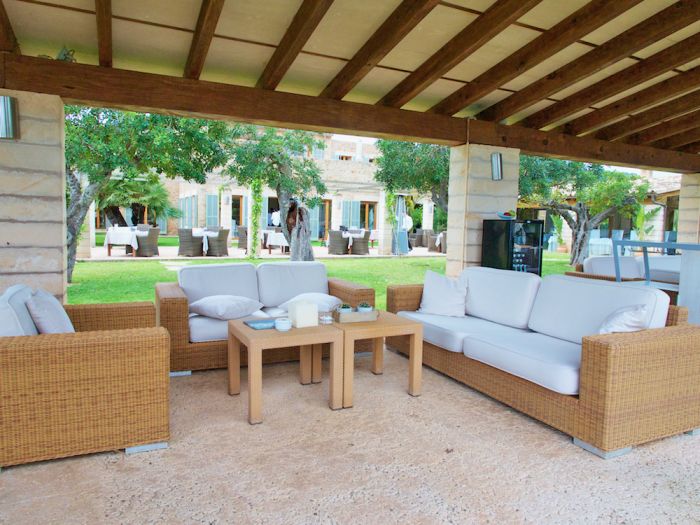 Excursions in the region from Hotel Can Simoneta include caves near Artà, with multilingual guided tours through the chambers with stalactites and stalagmites and the rural town of Capdepera, with its medieval castle. Five minutes' drive away is the hotel's 13th-century watchtower, Torre de Canyamel, which includes a museum and popular restaurant. The prehistoric Ses Paisses settlement is a 15-minute drive away.
Owners of Hotel Can Simoneta pride themselves on creating a serene mood ambience in a desirable rural setting to help guests feel relaxed and refreshed. They succeed in spades.