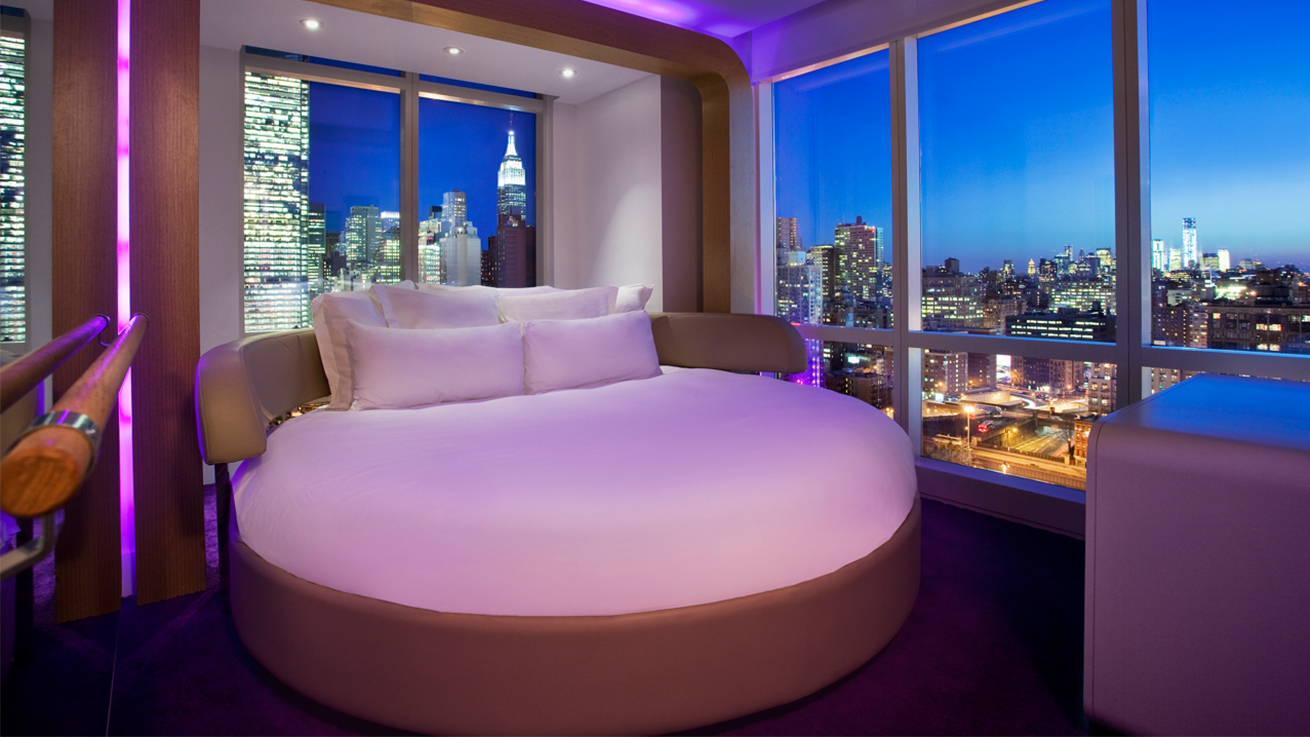 Photos Credit: YOTEL NYC
When you think of stylish Manhattan hotels, affordable isn't the first trait that necessarily comes to mind. But in recent years YOTEL New York, the brainchild of Yo! Sushi boss Simon Woodroffe and business partner Gerard Greene, has been carving out a name for itself for providing unbeatable modest luxury in the heart of New York City.
When I say "the heart of New York City" I'm not exaggerating. Located in prime position in Midtown, YOTEL New York is just three blocks from Times Square, four blocks from Bryant Park and Fifth Avenue, and even SoHo is just a short subway ride away. Located on the corner of 10th Avenue and 42nd Street, YOTEL New York is definitely one of a kind. Here's how this unique hotel measures up.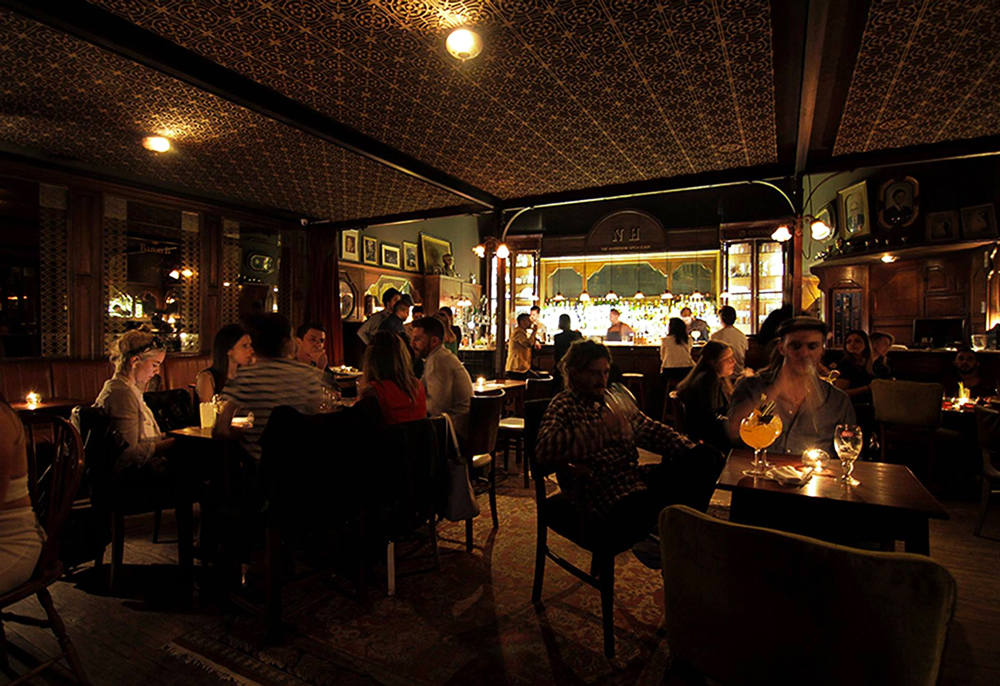 Style & Ambiance
As soon as you enter the white-on-white, glass-fronted lobby of this 669-room hotel, you'll know you've arrived somewhere very special. The clean lines of the lobby make it feel like a futuristic, incredibly stylish airport, and this is no coincidence: the idea for YOTEL came to Woodroffe after he was inspired by the innovative use of space in Japanese pod hotels and the luxury of first-class travel.
Guests check themselves in at the touch-screen check-in machines, and the luggage is sorted by robot porter with 60-foot hydraulic arm. Everything is slick, efficient and cutting-edge. If the Starship Enterprise were a hotel, YOTEL would be it.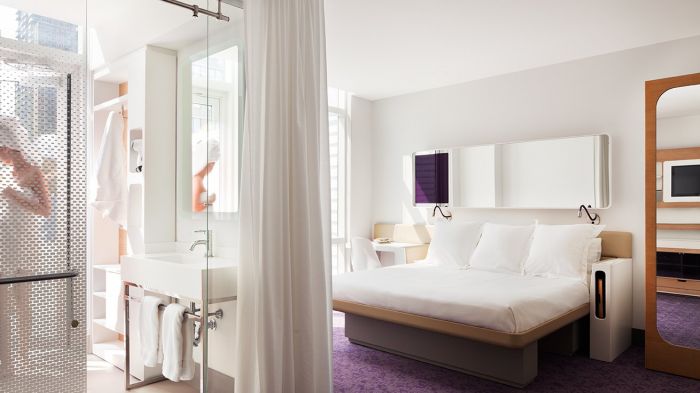 Rooms & Amenities
In keeping with the air travel theme, rooms at YOTEL are called cabins. Premium cabins—the most basic rooms—start at $152 per night, which is extraordinarily inexpensive for the location. Most boutique hotels in Manhattan begin at double that price—and offer far less room, too.
Though the cabins are designed to be compact, they're much larger than you might think, and the bright white decor and subtle purple backlights help it seem larger still. The comfy queen-sized bed is motorized, so you can sit on it like a couch during the day, and then extend it to its full length to sleep.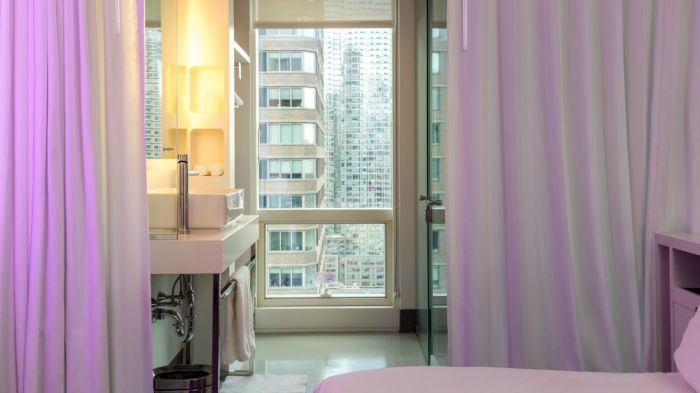 Aside from the motorized bed, the use of space is extremely clever in general: a tray-table is stowed in the bed's armrest, suitcases can be easily slid under the bed and you can hang your clothes on a single rail rather than inside a bulky wardrobe. There's also a flat-screen TV, a small, but perfectly workable desk, an office-style chair and smart storage spaces underneath the TV.
The well-designed bathrooms are found behind a sliding glass door, and have a strong monsoon shower, a square sink and spots to store your toiletries. Larger rooms are available, too: choose from corner rooms (only $20 more), first-class cabins (which boast terraces and hot tubs), or VIP suites, which are just as swanky as you'd hope and feature fireplaces, pool tables and potentially-deafening sound systems.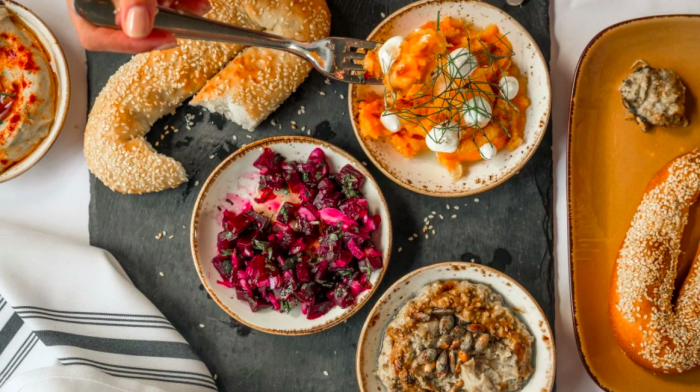 Food & Drink
There are coffee and tea making facilities, microwaves and vending machines on each floor if you fancy a quick drink or snack, but for something more substantial, head to the fourth floor. The Green Fig restaurant fuses North African, Middle Eastern and Southern European cuisine and serves up mouthwatering breakfasts, brunches and dinners. If you're unsure what to choose, go for the sharing menu, where you can enjoy a unique combination of flavors and spices.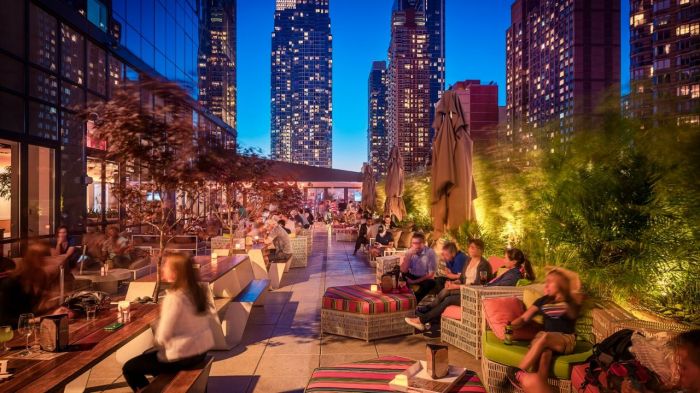 Be sure to head to the Rooftop Terrace Bar for a cocktail or bite, too. This enormous 7,000 square foot terrace is actually the largest outdoor space of any New York hotel, and is the ideal spot to escape the chaotic streets below. Breakfast is served up here during warmer times, and dining here at night allows you to admire the glittering skyline view (there's also a heated and covered terrace). With an extensive menu that features culinary delights from all across the globe, there's something for even the pickiest eaters.
An excellent location, relaxed vibe and futuristically cool style make YOTEL a no-brainer for those seeking affordable luxury in the Big Apple.