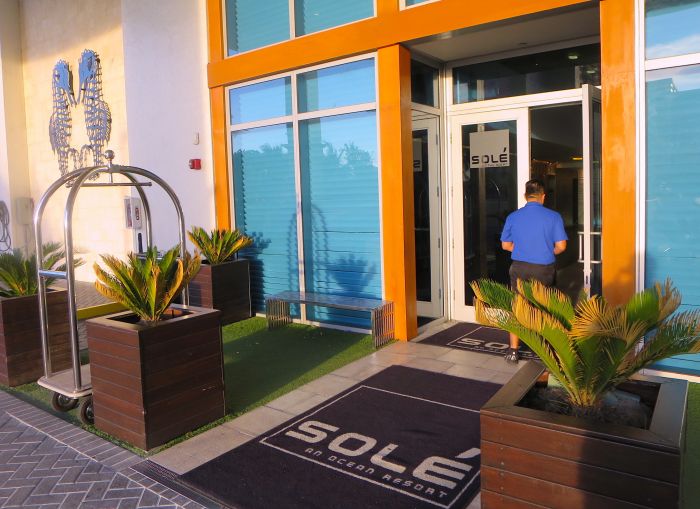 Photo by Michael Reiss
If the warmth and waves of Florida are calling, they might just be whispering Solé Miami. Located on Sunny Isles Beach, this resort is within easy ride share distance of South Beach yet just far enough from the action to attract families and couples.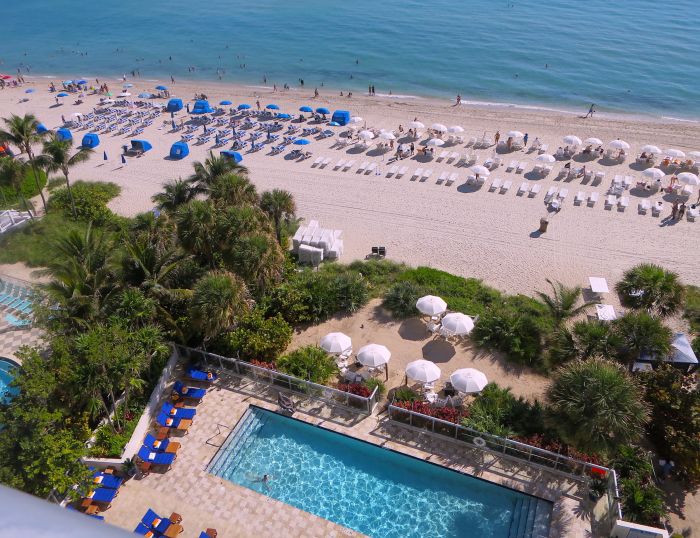 Photo by Michael Reiss
The pool and patio dining at Solé Miami are just steps away from the turquoise water and white sand. From morning sun umbrellas and lounge chairs to evening fire pits just right for s'mores and such, this place offers plenty of soul on the beach. As a recently acquired Noble House property, expectations are high for the quality and individuality that are their hallmarks. The recently completed renovation does not disappoint.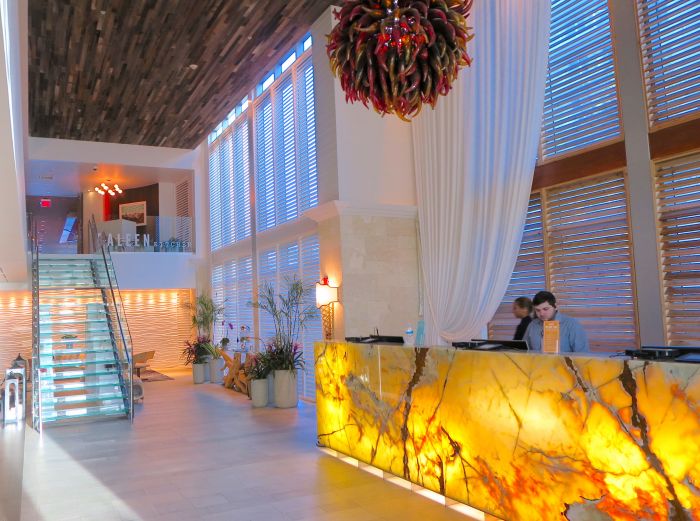 Photo by Michael Reiss
Stepping up to the backlit onyx check-in area is a visual treat. The soothing, ocean tones of the lobby's casual cottage chic decor are offset by the cool, edgy plexiglass staircase leading to Baleen Kitchen. But before climbing the steps to check out the dining, pause a moment to peruse the intriguing collection of books that entice you to relax in the lobby area with its comfy pillows and hand-hewed wooden benches. Let your vacation vibe settle in as you sip some fruited mint water and scan a book or two.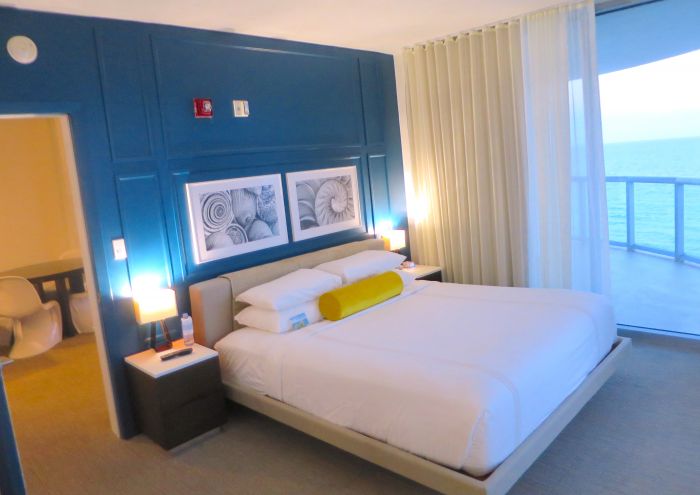 Photo by Michael Reiss
At Solé Miami your ocean front suite awaits. These newly-renovated, contemporary digs are a pleasing meld of modern chic décor and thoughtful comfort. The sleek, fully fitted kitchen is an unexpected amenity for those quick meals and snacks. The living, sleeping and bath areas are spacious and dramatic with wall murals and full- length mirrors not to mention a luxurious soaking tub shower combo. The Noble House Mango Coconut toiletries smell good enough to eat as well as soothing your sun-drenched skin.
If wellness is on your agenda, plan some exercise time in the fitness center and check out the sauna and steam rooms after your swim.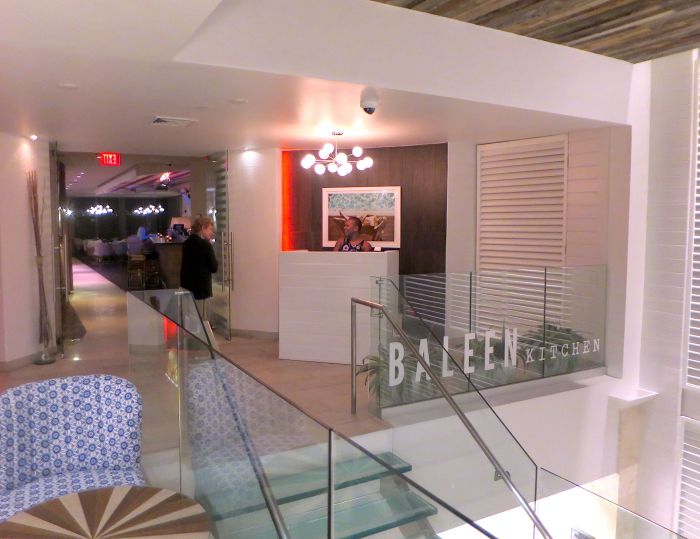 Photo by Michael Reiss
The resort restaurant, Baleen Kitchen, is worth a visit whether or not you are staying at the resort. It features locally sourced, globally inspired dishes in a serene, stylish, coastal ambience.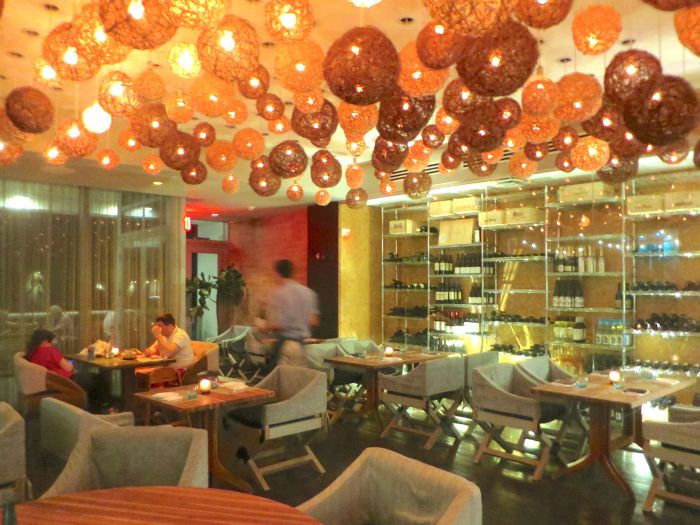 Photo by Michael Reiss
The bar and restaurant offer outdoor, ocean facing tables as well as cool, comfortable interior seating with uniquely atmospheric ceiling lighting. Tables are well spaced for intimate conversation.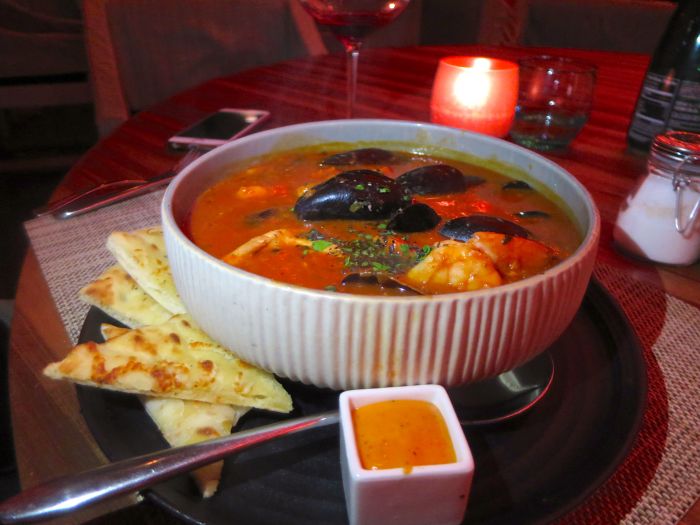 Photo by Michael Reiss
The menu is full of enticing choices that don't disappoint in presentation or taste. Some highlights include: Duck Carnitas with Cornmeal Crepes, Chipotle Blackberries and Apple Slaw; Noble Garden with Quinoa, Farrow, Mixed Greens, Beets, Avocado, Tomato, Cucumber, Radish, Mint, Toasted Almonds, Crumbled Blue Cheese, and Aged Sherry Vinaigrette; and the Cioppino – Fresh Catch, Shrimp, Calamari, Clams, Mussels, Tomato-Fennel Broth,Solé Bread.
Wines are well stored in a temperature controlled walled display area. The wine selection is thoughtful with plenty of by the glass selections to make for tasteful pairing possibilities.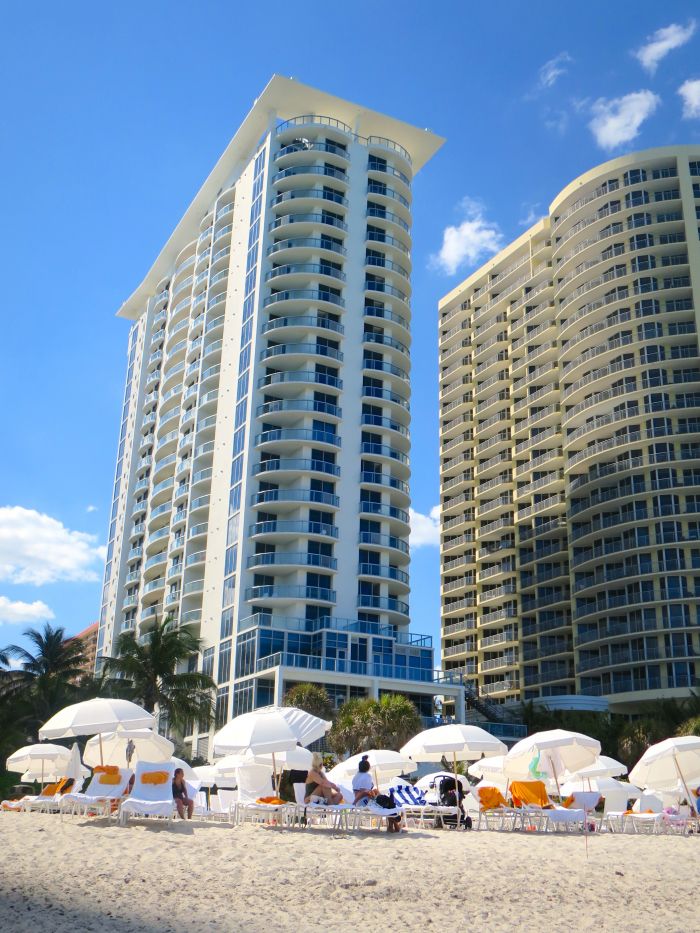 Photo by Michael Reiss
The views of the ocean and intercoastal waterways are mesmerizing day and night. Most of all, having the seemingly endless white sand beach at your door is a definition of luxury. True to the Noble House philosophy of providing experiences at their properties, Solé Miami is the essence of a blissful beach holiday.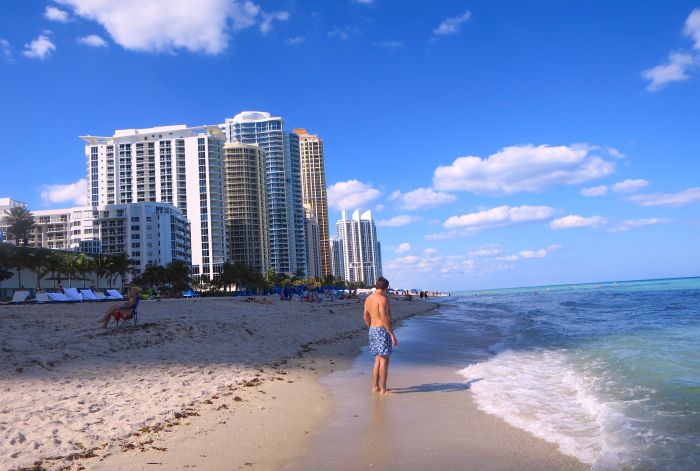 Photo by Michael Reiss