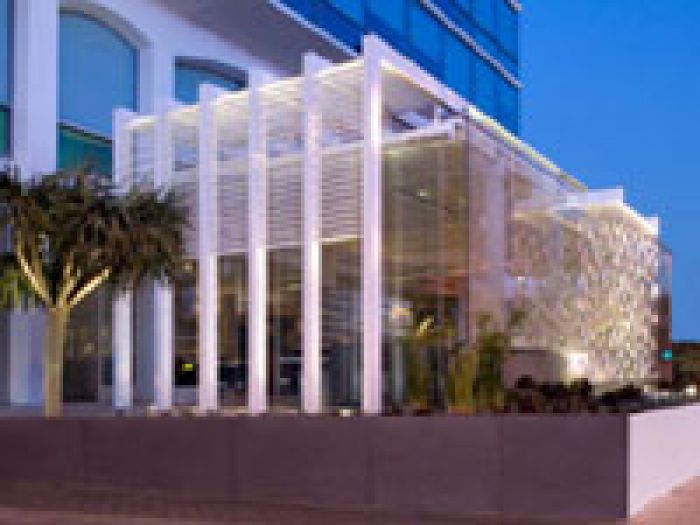 Luxury Hotels:
Designed to offer the best in personalized service and living spaces, Andaz has opened their newest location in West Hollywood: the hotspot for a wild night life and exciting vacations.
Transforming the "Riot Hyatt" on the Sunset Strip has been an exercise in excellence, providing a unique experience of comfort and convenience to all that stay there for travel, business, or just a luxurious weekend away.
Since its opening in London, the Andaz name has seen wild success, all thanks to their approach to the hotel experience. For example, there is no tedious check-in line (a truly innovative feature): A host comes to you while you sit and relax after your journey to the hotel. Only at the Andaz could you enjoy a glass of wine while being checked into your room.
The look and feel of the hotel itself, along with the accommodating staff, is engaging and welcoming. From New York-based architecture and interior design firm Janson Goldstein LLP comes 14 stories of fascinating spaces meant to showcase the locale and feature the attitude that comes with a prime location on the Sunset Strip.
The Andaz West Hollywood is about glamour from the ground-up. From a commissioned hand-painted 11-foot sculpture from renowned artist Jacob Hashimoto in the garden pavilion off the main entrance to the rooftop terrace with a heated pool and daybed seating, the Andaz West Hollywood is setting the standard for the best-of-the-best; and they're setting it high.
Highlighting the spectacular views of downtown Los Angeles and the Hollywood Hills, 257 guest rooms (including 20 lavish suites) are only the beginning of the experience at the Andaz.
Sensitivity to every detail in and outside the hotel allows the Andaz West Hollywood to benefit people on a larger scale. Like its predecessor in London, the Andaz West Hollywood will support the local network, keeping its focus the culture of the Sunset Strip, its markets and patrons alike.
The Andaz West Hollywood provides a comfortable blend of innovative hospitality and personal, customizable preferences to bring you a one-of-a-kind experience. This new addition to the Sunset Strip is sure to spearhead the luxury hotel community and place itself at the top of everyone's favorites list.
For LxM Kate Prihoda