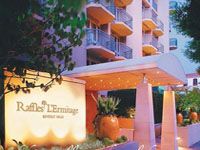 Luxury Hotels
There are few places where everyone is someone, and someone could be anyone. Beverly Hills is that kind of place. It's a glittering oasis for Hollywood starlets, international dignitaries, business tycoons, and anyone else who can flaunt an aura of importance. I was recently feeling important myself, so I thought a few days in the city would be fun to indulge in.
Friday afternoon: I pulled up to the unassuming Raffles L'Ermitage, tucked along a residential area of Beverly Hills on Burton Way. The boutique hotel happens to be an eight-time recipient of the Mobil Five Star and AAA Five Diamond Awards. It's not the type of hotel that overwhelms you with its grandiose style or size. Instead, the Raffles L'Ermitage presents itself as an exquisite estate, a secret hideaway shared only by an elite handful who frequent it often and cherish it well. I noticed more than once a receptionist or concierge greeting a guest-"oh, welcome back Mr. Reynolds. . .. good to see you once again, Mrs. Lee. How is your daughter?" From the small lobby to the stunning roof top pool deck, there was a commitment to personal touch throughout the hotel one doesn't see often. I loved the complimentary courtesy car, which took me touring a number of times through the city.
Book a Stay at Raffles L' Ermitage >>
I didn't linger too much at Raffles L'Ermitage, unfortunately, because I was on a schedule. I was off Friday evening to the Beverly Hills Hotel, affectionately known as the Pink Palace, for cocktails amid the palm tress at its Bar Nineteen12. Named after the year the hotel first opened, Bar Nineteen12 expands from its handsome indoor out to a patio terrace that wraps around the bar, creating perfect private nooks for movie deals and celebrities. Bar Nineteen12's menu is decisively impressive, featuring ten types of international brand water and sassy cocktails such as the Moscow Mule and the Tokyo Tea. We noshed on a sampler plate brimming with excellent Vietnamese salad rolls, buttermilk calamari, and more.
After sunset, we were whisked to Luau Restaurant, a posh Polynesian restaurant inspired by the original hot spot Luau restaurant of the 50s and 60s. It's hard to do Island style without looking like the set of Gilligan's Island, but Luau delivered a distinct grown-up atmosphere, a fresh and elegant menu, and a mature staff. We sampled several appetizers from the Pacific Rim, created by Makoto "Mako" Tanaka, former executive chef at both Chinois on Main and the original Spago. Go with the Kobe beef meatballs and Kurobuta pork spring rolls between sips from your coconut cocktail.
Book a Stay at Raffles L' Ermitage >>
The next morning started with a lovely outdoor breakfast at the Raffles L'Ermitage and followed with a trip to the Beverly Hilton Hotel's Aqua Star Spa. Wandering through the Hotel, I could feel the legacy of the hotel's history envelop me like a mink wrap. Dozens of red carpet events are held at the Beverly Hilton, including the Golden Globes. The pool was lined with sun worshipers and sunglassed onlookers, and the lobby buzzed with a bustle of an event unfolding later that evening. Inside the discreet Aqua Star Spa, I nibbled on some mini chocolate chip cookies (imagine-in a spa! For once not dried figs and stale nuts) before melting away with the Aqua Star Signature massage. On a return trip, I'll spring for the Betty Davis Eye treatment and perhaps the Stardust Treatment, a California spray tan and blow out from the next-door salon. Oh so Beverly Hills.
Somehow, I was able to peel myself off the massage table to stroll back to the pool area for a little lunch served under a bright umbrella by a dashing waiter. Several hours later after a casual walking tour of Beverly Hills shopping district-a must in order to soak in the prestige, presentation and panache of the city-I settled in for dinner at Via Alloro on North Canon Drive, so called the "Little Restaurant Row." Via Alloro is part of the Drago family empire which includes several of LA's best restaurants such as Tanino in Westwood and Il Pastaio, just down the street from Via Alloro. A Drago restaurant was the perfect finale to this little trip to Beverly Hills. Via Alloro is intimate, just like the city, packed with eclectic sets of diners, all from stunning walks of life. The conversations swirl throughout Via Alloro, like red wine in an oversized glass, while waiters breezed by tables like a practiced dance. I loved the authenticity of the menu-bold yet simple Italian cuisine, highlighted by swordfish carpaccio, whole wheat pizza topped with anchovies, baked sausage, and salmon topped with perfect sun dried tomatoes.
What else could one ask for in just 48 hours, I thought while packing the next morning, still stuffed from the night before. In Beverly Hills, dreams do come true.
Katherine Sutton
Freelance Writer
JustLuxe
Contributor