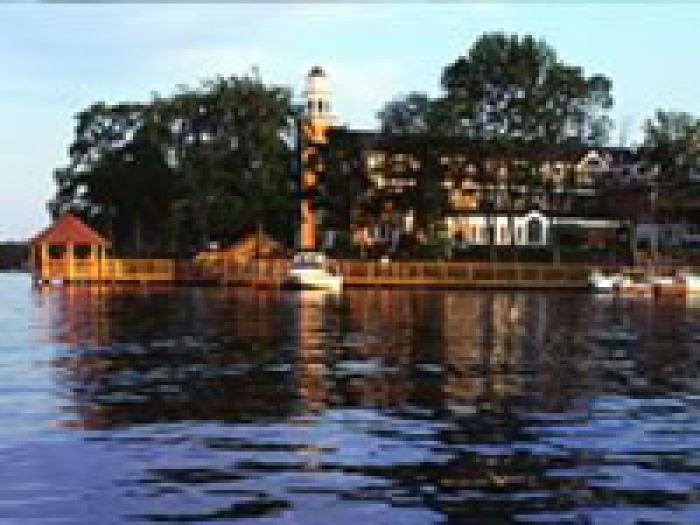 Luxury Hotels:
If you are looking for an amazing weekend getaway, escape to The Inns & Spa at Mill Falls. Located just an hour and a half from Boston, the property is located on the shore of New Hampshire's Lake Winnipesaukee. The New England village has the most breathtaking water views as it sits on 1,000 feet of pristine lake frontage.
The property consists of five separate locations, including The Inn at Mill Falls, The Mill Falls Marketplace, Bay Point, Chase House and Church Landing. There are four inns here, including The Inn, which houses the Waterfall Café and Giuseppe's Italian Ristorante. CAMP restaurant is located at Chase House where you can have dinner in an Adirondack restaurant that brings back memories of summer camp on the lake.
We stayed at Church Landing, which opened in 2004 with 57 lake front guestrooms. Each room has a fireplace and the property is pet friendly. They offered some unique amenities to make sure even our bulldog had a wonderful stay, including a pet bed, dog bowls, doggie bag with treats, bags and dog walking map. There are two pet friendly rooms available at Church Landing as well as another two at Mill Falls so be sure to book your stay in advance.
Our room had a king bed with sofa sitting area, cozy fireplace and a small balcony overlooking the lake. The room also had a DVD player but the best part was absolutely the amazing views from the balcony right on the lake. There's even a coffee maker and a mini fridge in a separate area of the room, which was a nice added bonus when stocking the room with snacks and drinks. The best part about the Mill Falls experience is all the properties are linked as well as the seven restaurants and there are so many great dining options to choose from.
There's a fitness room a Church Landing that offers everything you need for a quick workout- a couple of treadmills, stationary bikes, an elliptical and some weights. The Lakehouse Grille is also located at Church Landing for more upscale dining but they have a casual bar, which is bustling on the weekends.
The Cascade Spa books up quickly and is rated one of the best in the region offering everything from massages, body treatments and facials to exclusive VIP treatments, manicures and pedicures.
We went in the wintertime and there were people ice fishing right on the lake. We can't wait to come back in the summertime to enjoy the beautiful sunsets here.
For
JustLuxe
Kellie Speed