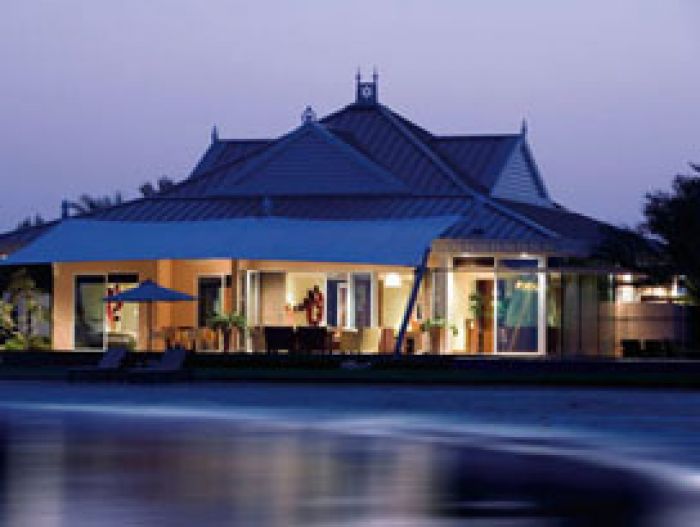 Hotel Review:
A brand synonymous with luxury and exclusivity, The Ritz-Carlton brings its name to the islands of the western Arabian Gulf. The country of Bahrain has celebrated independence from Britain since 1971, and The Ritz-Carlton, Bahrain Hotel & Spa is the most luxurious destination to experience the immeasurable culture and architecture of the area.
Situated within a 20-acre urban resort complex,
The Ritz-Carlton, Bahrain
gives its guests the stunning views of the Manama seafront from one of their 245 rooms and suites located on seven lavish floors.
From the moment you step into the resort you can't take your eyes off the beauty of the natural environment surrounding the complex. The neutral colors of the hotel's design allow the scenery to stand out, inviting you outside to bask in the sunshine by the chilled pool.
Ideal for a tranquil and relaxing experience at the resort are, of course, the ultra-luxurious villas. There are only 23 of them, each tucked away amongst the greenery and lining the resort's private beach. Meant to be secluded and private, they are all at least 20 meters from each other giving you the feel of your own beachfront property. Three earth-toned bedrooms and your own Private Lifestyle Butler complete the package, putting the extravagant amenities of your villa and the knowledge of Bahrain's opportunities right at your fingertips for the entirety of your stay.

If you can get yourself to stray from your cozy villa, head to one of the resort's eight dining options for an unforgettable meal. The Ritz-Carlton, Bahrain is so attuned to your every need, they've placed a restaurant or café at almost anywhere on the complex you could possibly desire food or drink. For that post-workout snack or something to quench your thirst while lounging by the pool there's the Overlook Café. Or if you've just had a facial at their lavish spa and your sweet tooth is perking up, head to the Tiare Spa Café for their light and delicious low calorie desserts. Or on the sad but accomplished day of your departure, have a drink at the Lobby Lounge if you have a little time to spare before checking out.

If your muscles and mouths, they'd be watering at the tempting list of services available at the spa. From volcanic stone therapies to microdermabrasion treatments, you'll go in tense and tired from your trip and come out renewed, refreshed, and ready to give yourself to your incredibly getaway on the Arabian Gulf.

The Ritz-Carlton, Bahrain Hotel & Spa is ready and waiting to bring your bags to your private villa as you begin your unforgettable stay. What are you waiting for?

For JustLuxe Kate Prihoda