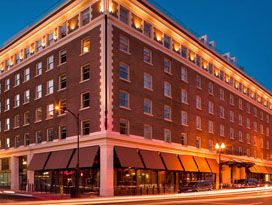 Hotel Review:
If
the Ivy
hasn't revolutionized the way you look at luxury hotels, you probably haven't stayed there yet. The boutique hotel in San Diego is a beacon of style and extravagant amenities. After your first stay, you'll wonder what took you so long to get there.
Contemporary and urban elegance is the name of the game at the Ivy. The moment you step into the lobby, you are welcomed with rich colors and the incredible service of the hotel personnel. Steeped in understanding and practice in providing first-rate experiences to all their guests, the staff is accommodating and attentive. The team of butlers at the Ivy will take care of everything pertaining to your stay and are at your beck and call 24 hours a day. There's no need to worry about anything other than exactly how you want to spend your time enjoying the Ivy.
Each of their extravagant rooms, ranging from the guestrooms to the lavish and exciting Star Suite, are all decorated in modern sophistication with dark wood furniture and seductive surprises. The fine bed linens and opulent tile are inviting, but even more enticing than that are the premium guestroom and suite features.

There will be no question in your mind upon entering your premium guestroom about the Ivy's daring and sensual atmosphere. Dominating the room is the glass-enclosed bathtub, encouraging you to forget inhibitions and indulge in one of the Ivy's signature, butler-drawn molten baths.

Just when you thought the Ivy couldn't possibly push the envelope any further, you see the Star Suite. This room is not for the faint of heart but the thrill-seeking couple or group, looking for an exciting and sexy retreat. Complete with king-sized bunk beds, a stripper pole (and the availability of private pole dancing lessons), fully stocked wet bar, and then, of course, the open shower that turns opaque, or not, when touched. Your night isn't over until you've experienced Envy, the multilevel nightclub. As a guest of the Ivy, you receive exclusive VIP passes to the club, which is open Thursday through Saturday. Exhilarating and energizing, Envy is at the top of the list of nightlife in the seductive Gaslamp Quarter of San Diego.





If the upbeat, club life isn't your style, the Ivy San Diego features the biggest rooftop lounge, pool, and bar in the city. With the expansive sundeck perfect for lounging and relaxing in the sunshine, you can catch the rays in the afternoon and indulge in the exclusive bottle service under the moon and stars in the evening. The relaxed and warm ambiance of the rooftop is inviting and calming for a more laid back end to your evening.

This summer, it's time to mix up your usual vacation haunts and add a hotel that will stand out in your memory for its intuition and innovation, catering to your adventurous side. Prime location and picturesque views of the beautiful San Diego skyline make the Ivy a favorite of critics, Hollywood elite, and possibly yourself as well. All you need to do is make the reservation; Ivy will take care of the rest.

For JustLuxe Kate Prihoda