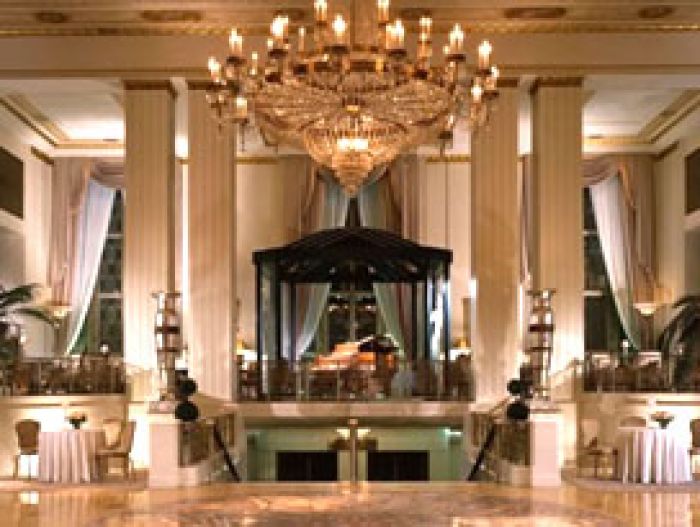 Luxury Hotels:
The aspects that make Waldorf Astoria the world-renowned destination that it is are equal parts large, unmistakable icons of luxury and the small, intimate details that set the hotel apart in the minds of its elite clientele.
For many, the
the Waldorf Astoria
has become an integral part of the New York experience. Its location in the heart of Manhattan, within walking distance of the Rockefeller Center, St. Patrick's Cathedral, the Theater District and some of the best shopping and art galleries in the city put guests in the center of what makes New York one of the most exciting cities in the country.
In 1949, The Waldorf Astoria in New York City became a part of the Hilton empire, and is the inspiration for the distinctive hotels of The Waldorf Astoria Collection. The new Hilton luxury brand created in 2006 includes some of the most exclusive hotel destinations in the world, as well as the original Waldorf Astoria itself.
Spreading over 60,000 square feet and offering a total of 1,416 guest rooms, including 303 suites, the hotel has spared no expense to bring each of its guests a luxury experience. The Art Deco motif is different in each room with varied decoration, making no two rooms the same.

Key to the Waldorf Astoria experience is its unparalleled amenities. When you are not in your room, enjoying the views of the Manhattan skyline, you are encouraged to dine at one of four distinctive restaurants or relax at one of three lounges for an unforgettable meal or a well-deserved cocktail.

The celebrated Bull & Bear Steakhouse is home to one of the mot historic and well-recognized bars in New York City, while Inagiku presents Japanese cuisine with a contemporary twist in a theatrical setting.
Lighter options during the day include Peacock Alley with its warm ambiance or Oscar's Braserie for Manhattan's best burger.

But the best way to prepare for a day in the city is by pampering yourself at Guerlain Spa, home to the cutting-edge innovations and precise beauty products by the cosmetic titan. An extensive spa menu is met by the spa's experienced Beauty Therapists who transform your visit into an entirely customized experience.

Whether your goal is to renew your body, mind, or spirit, Guerlain Spa's therapists give you a precise skin diagnosis to determine what treatments and products will work best for your specific needs.

The Waldorf Astoria has enjoyed "grand hotel" status for over a century, and after a visit to the New York landmark, there is no question about what allowed it to rise to that position. Discerning travelers from all over the world choose the Waldorf Astoria New York every time they visit the city, making it synonymous with luxury and comfort, the best the city has to offer.

For JustLuxe Kate Prihoda

Waldorf Astoria New York

Waldorf Astoria New York

Waldorf Astoria New York

Waldorf Astoria New York

Waldorf Astoria New York

Waldorf Astoria New York

Waldorf Astoria New York

Waldorf Astoria New York

Waldorf Astoria New York

Waldorf Astoria New York

Waldorf Astoria New York

Waldorf Astoria New York

Waldorf Astoria New York

Waldorf Astoria New York

Waldorf Astoria New York

Waldorf Astoria New York

Waldorf Astoria New York