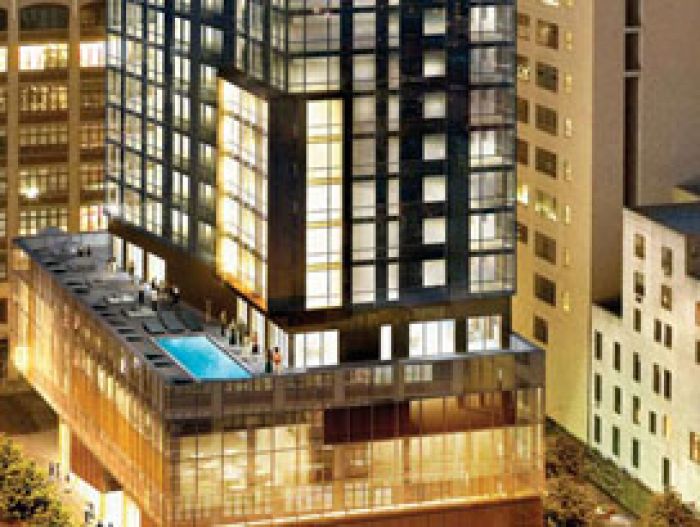 Luxury Hotels:
Manhattan's trendy SoHo district is about to become even more of a hotspot with the grand opening of its latest luxury high-rise. Rising 46 stories, the Trump SoHo will be the first Trump development in downtown New York, as well as the only luxury hotel condominium to grace SoHo.
The dramatic glass tower, designed by renowned Handel Architects, is adjacent to a landscaped Urban Plaza, which extends from Spring Street to Dominic Street. Upon entering the
Trump SoHo
, guests are greeted by a two-story conservatory, which opens up into an opulent grand lobby. Inspired by the décor of the early 1900s, the lobby features 22-foot high ceilings, four ceramic columns, and artwork commissioned by local artists.
As a hotel condominium, the Trump SoHo offers a unique, and perhaps profitable, ownership opportunity. Those who often frequent the city can now own their own condominium unit while still taking advantage of the luxury amenities offered by the hotel. In the owner's absence, each unit can be rented out to hotel guest, which could potentially offset the cost of ownership.
The Trump SoHo offers 391 beautifully appointed guestrooms and suites, which range from the deluxe and studio suites to the luxurious spa and presidential suites. At more than 10,000 square feet, one particular penthouse suite has earned bragging rights for being the largest on the East Coast. With three lavish master suites, one guest bedroom, five full baths and a two-tiered living area, the penthouse suite would wow even the Donald himself. The suite also boasts a recording studio, a gym, a playroom, a catering kitchen, and a wine tunnel.
The hotel's stylish restaurant, Quattro Gastronomia Italiana, serves authentic Northern Italian cuisine prepared by the hands of two talented, young, Italian chefs (and identical twins), Nicola and Fabrizio Carro. With 150 seats and 3,800 square feet of interior space, Quattro boasts a 1,200-square-foot mezzanine area with two private dining rooms, as well as a lobby-level lounge.
Additional hotel amenities include the Library, an intimate gathering area overlooking the lobby; an 1,800-square-foot private top floor venue called SoHi; 12,000 square feet of meeting and event space; a tranquil spa with its own state-of-the-art fitness center; a luxury wardrobe storage and management service; a fully equipped business center, white-glove concierge service, and more.
Whether you are looking for a luxurious weekend getaway or you decide to make the Trump SoHo your permanent address, this new five-star hotel is sure to please even the most discriminating tastes. After all, would the Donald ever let you down? We think not.
For
JustLuxe
Christina Stewart