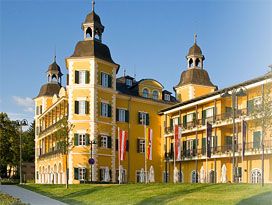 Luxury Hotels:
Capella Hotels and Resorts have become synonymous with setting a high standard in the luxury travel industry, offering guests numerous choices, from property location to on-site amenities.
Capella Hotels and Resorts feature the benefits of staying in a boutique hotel as well as superb architecture and interior design, privacy, individualized service and attention to detail.
Recently, Capella expanded its reach to reopen the world-renowned Schloss Velden. The Schloss Velden is set in a historic lake-side hotel located in the breathtaking Alpine basin of southern Austria, in the town of Velden, overlooking the scenic Wörthersee, or "Lake Wöerth," famous for its distinctive transparent blue-green color.
Since becoming a Capella property, the Schloss Velden has been remodeled to include 105 rooms and suites housed in the historic chateau and a newly built, modern addition as well as private residences sold by Christie's Great Estates. Other luxurious amenities on the property include a Michelin-rated restaurant, wine bar, cigar room, ballroom, two meeting rooms, indoor and outdoor pools and a 30,000 square-foot Auriga spa and wellness center.
Another recent addition to the Capella collection of elite resorts is the Capella Singapore. Located in Southeast Asia's premier resort destination, Sentosa Island, Capella Singapore is set on 30 acres of natural wonders, including rolling hills and beaches, with a convenient proximity to Singapore's central business district.Its masterfully restored 1800's colonial building is paired with new architectural spaces, making an elegant combination of old and modern elements.



The Capella Singapore property also features 112 villas and suites, with private outdoor showers and bathtubs, as well as Singapore's first circular, glass-roofed ballroom; a fine-dining Chinese restaurant, an all-day dining restaurant and two lounge areas; an Auriga Spa and Fitness Center; three meeting rooms; a business center with two boardrooms, a Capella lounge, three cascading outdoor pools, a world-class sculpture garden, in addition, the Capella Singapore will also give a limited number of guests the opportunity to live in the resort for up to 20 years with full access to the resort's luxurious facilities.

Continually expanding its reach into world-class properties around the world, the Capella brand is constantly giving travelers even more choices.

For JustLuxe Carly Zinderman