JustLuxe View Profile

Editorial Staff
Palm Springs Yacht Club at the Parker Palm Springs Gets a Whole New Look
Dec. 7th, 2009 | Comments 0 | Make a Comment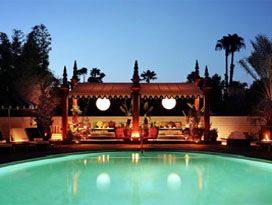 Hotel Review:
Formerly Gene Autry's Melody Ranch and Merv Griffin's Givenchy Resort and Spa,
The Parker Palm Springs
is situated on thirteen acres of beautifully landscaped gardens surrounded by the desert and picturesque mountains. The hotel features 113 rooms expertly designed by Jonathan Adler, as well as two private pools, tennis, golf and the newly renovated Palm Springs Yacht Club spa facilities.
One of the many things I love about this hotel is the constant attention to detail that makes a stay the Parker that much more special and enjoyable. Valets are appropriately dressed in peach-colored slacks while bellmen sport white pants and bright pink corduroy blazers. I instantly feel transported to another day in time—the heyday of Palm Springs- the 1960's.
The lobby further exudes a 1960's rock and roll décor by Jonathan Adler, featuring animal skin rugs, white leather couches and flourishes of bright pinks and limes. There are surprises at every corner including two life-sized armored knights, a brilliant little hidden bar tucked back in a nook, as well as a cozy lounge with fire pit and floor to ceiling windows.

We were lucky enough to score a poolside lanai room which features it's own patio and direct access to the exclusive and serene north pool. Our room was huge and expertly decorated (again, by Jonathan Adler) with nostalgic flare and a fabulous vintage-feeling marble bathroom, gorgeous French doors and an expansive living area.




While sunbathing poolside in 80-degree heat we enjoyed the Parker hotel's famous fresh squeezed lemonade cocktail. All their lemonade is expertly crafted from fresh lemons grown on the resort's property.

Not to be missed at the Parker are the fine dining options. I overwhelmingly recommend "Norma's" which is the hotel's 5-star rated diner featuring delightful outdoor patio seating and great people watching. The décor features bright orange and lime patio furniture and a nice and shady trellis to keep one cool (absolutely necessary in the desert heat). The restaurant features all your favorite traditional breakfast and lunch entrees, with a bit of flare. It also features many non-traditional dishes found only at the Parker hotel. This includes one of my personal favorites "the Wa-za?" which is a homemade waffle loaded with exotic fruit and topped with a deliciously sweet crème brulée crust.

Another highlight of the property not to be missed is the newly renovated Palm Springs Yacht Club spa, which boasts a British colonial theme. The spa features 18,000 square feet of elegance with a personal touch. This includes special touches such as the freedom to choose your own music for your treatment (fabulous!), a complimentary foot scrub with every treatment, as well as chocolaty homemade snacks, pastries and flavored water. There are also complimentary shots of whiskey, bourbon or rum for those who need a little help relaxing.



The spa also includes a newly renovated nautical-themed indoor pool area that also features an open air yoga studio covered by a magnificent nomadic raj-style tent which doubles as a cozy lounge area. Instead of typical magazines offered by most spas, PSYC keeps it interesting by offering an interesting assortment of books and games to keep guests amused. We love it!

We also enjoyed the brand new outdoor café, aptly named "the Deck." Decorated like an English garden the menu features tea sandwiches, a variety of salads and delectable homemade scones. As if this isn't authentic enough, the deck also serves British and Indian inspired cocktails to perfectly end our day.

All in all, I had a fabulous time during my stay and I can't wait to visit again. A weekend at the Parker is exactly what I needed to catch up on some R&R, enjoy the beauty of my surroundings and rejuvenate for the week ahead.

For JustLuxe Amy Mehta
Featured Luxury Hotels

Madrid, Spain
The Westin Palace Madrid
Commissioned by King Alfonso XIII in 1912, the newly restored Westin Palace...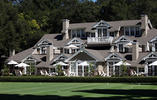 Napa Valley, United States
Meadowood Napa Valley
Located in a beautiful, two hundred-fifty acre valley, Meadowood Napa Valley is...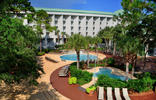 Hilton Head, United States
The Westin Hilton Head Island Resort & Spa
Nestled amid lush landscaping along a pristine stretch of white-sand beach, The...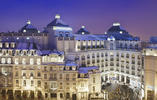 Brussels, Belgium
Steigenberger Grandhotel, Brussels
225 spacious guestrooms and a perfect location on the Avenue Louise makes the...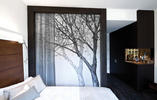 New York, United States
The James New York
The James New York brings luxury liberated from tradition to Soho. Located on...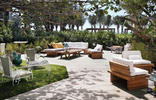 South Beach, United States
W South Beach
Glamour, location, style. Playful, energetic, whimsical. In a beachfront oasis...