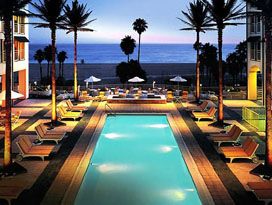 Luxury Hotels:
With a portfolio that includes 17 luxurious hotels in 16 cities throughout the U.S. and Canada,
Loews Hotels
has been catering to the needs of discerning travelers for more than six decades.
While each property projects its own distinct character and unique charm, the high standard of excellence proves to be an ongoing theme throughout the entire collection. Loews' commitment to go beyond Four Diamond standards is apparent in every last detail, from its beautifully appointed guestrooms and impeccable service to its fine dining options and world-class amenities.
The brand goes to great lengths to ensure guest satisfaction by catering to the needs of both business and leisure travelers alike. With a wide selection of branded programs offered at Loews, even the kiddos and the four-legged friends will not go overlooked. The
Loews Loves Kids
program serves as one of the industry's most comprehensive family travel programs and provides an array of entertainment options suitable for even the most curious toddlers to the most preoccupied teens.
Nearly a decade ago, the Loews Loves Pets program was launched in order to make traveling with pets a much more pleasurable experience for both the owners and their furry companions. As part of the program, each animal is considered a VIP ― or a Very Important Pet ― and is afforded all the comforts of home with comfortable bedding, gourmet room service, dog-walking services, and even a puppy pager service.

Loews has gone to great lengths to help sustain its local community by implementing the Adopt-a-Farmer program. The program is an initiative supporting partnerships with area farmers, fisherman and independent purveyors. Loews Hotels was the first of its kind to issue a brand-wide mandate to enhance and support local farming communities.

"At Loews, gourmet is going green," says Jonathan Tisch, president and CEO of Loews Hotels. "In sourcing locally grown ingredients, many of which are organic or sustainable, we are not only supporting local farms but delighting our guests with fresh, flavorful and environmentally-friendly dishes."

The brand's loyalty program, You First, offers esteemed guests the opportunity to take advantage of the many added benefits and perks of staying at any Loews Hotel. Considered by many to be the most inclusive loyalty program in the industry, You First offers the added convenience of American Express Membership Rewards® points, free Internet access, late checkout, guaranteed room availability and upgrades, and is one of the only programs to offer rewards to guests who have booked their stay through meeting planners or travel agents.



So whether you find yourself in Miami Beach or perhaps Santa Monica, do yourself a favor and stay in style at one of the many luxurious Loews properties.

For JustLuxe Christina Stewart

Loews Annapolis Hotel

Loews Denver Hotel

Loews Atlanta Hotel

Loews Hard Rock Universal Orlando Hotel

Hotel La Concorde Quebec

Hotel Vogue Montreal

Loews Santa Monica Hotel

Loews Coronado Bay

Loews Philadelphia Hotel

Loews Lake Las Vegas Hotel

Loews Portofino Bay Hotel Orlando

Miami Beach Loews Hotel

Loews New Orleans Hotel

Loews Philadelphia Hotel

Loews Regency Hotel New York

Royal Pacific Resort Orlando

The Don Cesar St. Pete Beach

The Madison Washington D.C.

Vanderbilt Hotel Nashville

Ventana Canyon Hotel Tucson