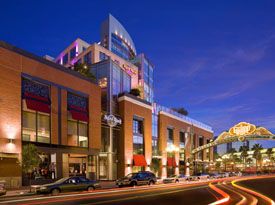 Hotel Review:
Achieve Rock Star Status at
the Hard Rock San Diego

In a way, I have always thought of myself as a rock star of sorts, but after a recent weekend stay at the Hard Rock San Diego, my wild notion seemed even more validated.
Checking into the hotel was like checking into a dream-like reality, where I was indeed a rock star living the lavish life I had always imagined.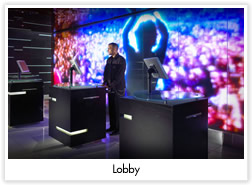 While I may actually be the furthest thing from a rock star, everything at the Hard Rock San Diego sure did make me feel like one, from the friendly and efficient valet service and VIP check-in to the opulent suite decked out in true rock star fashion. Upon checking in at the VIP lounge area, I was impressed with the level of personal attention offered by the staff. After being offered a drink, I was asked for my favorite music genre, and was thoroughly impressed as I walked into my suite and heard some of my favorite artists blaring through the state-of-the-art plasma television. In fact, the hotel has someone on-hand whose job is to constantly supply the beats for the 52 music zones located throughout the property. At the Hard Rock, it's all about the music, and having my custom station pre-set really set the mood for what was to come.
Located on the eighth floor, our Q Suite was outfitted in modern décor and featured a fully-stocked bar, an entertainment area complete with a leather couch, two plasma televisions, and a nice size balcony overlooking San Diego's historic Gaslamp District. One of my personal favorites was the semi-revealing, fogged-glass shower, with its over-sized ceiling-mount that transformed each bathing experience into my own private waterfall.
The Hard Rock San Diego offers a wide array of suites designed to accommodate even the most discriminating of tastes. In fact, 50 percent of the guestrooms are suites, ranging from the six Float Studios to the 17 custom-designed Rock Star Suites. Among the aptly named Rock Star Suites is the Blacked Eyed Peas' Suite, which was custom designed by the band itself and features signature memorabilia throughout. Divided among different tiers – diamond, gold, multi-platinum, platinum, and silver – many of the Rock Star Suites are equipped with additional luxuries, such as expansive private balconies, as well as access to the Elevation meeting room.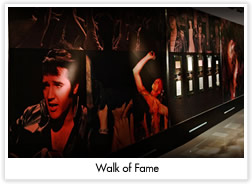 The property is filled to the rafters with music memorabilia including personal lyrics written by the Beatles, stage costumes worn by artists such as Madonna, and a Walk of Fame lined with instruments and other collectables from legends such as Jimmy Hendrix, Bob Dylan, and Jerry Garcia. One could spend an entire day perusing the collection of rock star memorabilia or perhaps take advantage of the many additional on-site amenities.
Dining options include the world-renowned Nobu, which serves up sushi and Asian fusion cuisine, as well as the more informal eatery known as Maryjane's Coffee Shop. At any given moment, patrons can be found nestled into a booth at Maryjane's, watching old episodes of retro classics such as the Brady Bunch from the small televisions mounted next to each booth. With a menu that offers breakfast around-the-clock, Maryjane's is a popular after-hours hangout for those making their way back from the hotel's nightclub, 207. The club is one of San Diego's most popular hotspots and often treats its loyal partygoers to unannounced surprise concerts.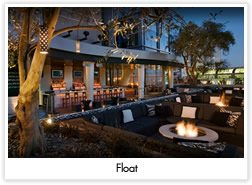 While extremely popular during the summer season, the hotel's rooftop lounge and pool, Float, is open year-round and is the ideal venue in which to enjoy the city's perfect weather and picturesque skyline. By day, the oversized daybeds and fireside cabanas draw the likes of not only hotel guests but also San Diego's most prominent trendsetters. The fully-enclosed, wood cabanas offer complete privacy and have been used on multiple occasions for private press junkets and even photo shoots for celebrities such as Cameron Diaz, Kim Kardashian and Reggie Bush. Come summertime, Float plays host to Intervention, the city's hottest daytime pool party held each Sunday from noon until sunset.
For the ultimate party experience, check yourself into one of the Woodstock Suites, which surround the massive deck area and feature a private, attached cabana complete with bottle service. As the sun sets, the afternoon pool party quickly evolves into a vibrant nightlife scene where guests can relax on sectional seating and opium beds while either live music or the sounds of resident DJs linger in the air.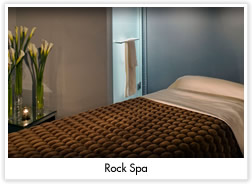 While every moment of my visit was exceptional, the highlight of my stay was hands down the treatment I received at the Rock Spa. With its chocolate suede walls, plush seating area, and a locker room reminiscent of a dream, the Rock Spa is unarguably one of San Diego's finest spa destinations. After slipping into my luxurious robe and slippers, I soon fell into a complete state of nirvana as I indulged in an 80-minute, full-body Dream Weaver Massage. My massage therapist, Cheri, was not only professional but was also genuinely determined to provide the most relaxing experience possible.
The session began as Cheri presented me with a selection of aromatherapy oils, and while they all smelled delicious, I opted for the relaxing aroma of Earth. The Rock Spa preserves the hotel's ongoing theme of music by playing soft, acoustic versions of today's rock 'n' roll hits, which surprisingly turned out to be rather soothing. The Dream Weaver Massage integrated techniques of Swedish, Acupressure, Hawaiian Lomi-Lomi and Thai stretches and left me with a renewed mind, body, and spirit. To complete the experience, I spent some time unwinding in the steam room and then made an effort to test out all of the wonderful bath and body products provided in the women's locker room. Let's face it; I did not want my experience to ever end.
From the valet service and the hotel's accommodating staff to the opulent suites and first-class amenities, the Hard Rock San Diego exceeded my expectations in every way. So, whether you're a full fledged rock star or you just want to be treated like one, the Hard Rock San Diego promises to make your next stay one you won't soon forget.
For JustLuxe Christina Stewart
Hard Rock San Diego
Hard Rock San Diego
Lobby
207 Nightclub
207 Nightclub
207 Nightclub
Rock Shop
Nobu
Nobu
Maryjane's Coffee Shop
Maryjane's Coffee Shop
Maryjane's Coffee Shop
Float
Float
Float
Pool Bar
Poolside Cabana
Elevation
Black Eyed Peas Suite
Hard Rock Suite
Hard Rock Suite
Hard Rock Suite
Rock Star Suite
Rock Star Suite
Rock Star Diamond Blue Suite
Rock Star Diamond Suite
Rock Star Diamond Suite
Rock Star Diamond Suite
Rock Star Multiplatinum Suite
Rock Star Platinum Suite
Rock Star Silver Suite
Hard Rock Studio Overlooking Pool Bar
Woodstock Suite
King Studio
Watchtower
Hard Rock Suite
Legends
The Edge
Edge Luncheon
Encore
Encore
Green Room
Rock Spa Lobby
Rock Spa Treatment Room
Rock Spa Sitting Area
Rock Spa Locker Room
Penny Lane
Legends