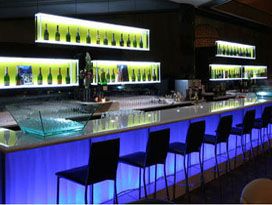 Hotel Review:
Smack in the middle of the booming, luminescent night life of St. Louis' trendy Loop district is a section of town where you can knock down pins near where President Obama knocks down pies (pizza, that is). The new jewel of The Loop is
The Moonrise Hotel
, a boutique property popular with tourists and locals.One may make a night of it here, from Eclipse Restaurant with its retro space age decor, to the chic rooftop bar. Should you dine at Eclipse, consider a starter of Pepper Fried Calamari, and either the rack of lamb or butter fried lobster as entrees. Blue Moon Bread Pudding, and Full Moon Marshmallow Pie are tasty items on the dessert cart.
The hotel, which opened in March 2009, has a lunar motif, is swarming with attractive singles on Friday and Saturday nights, and offers valet parking. Take in the view from the top, from which one can see the Gateway Arch. Folk linger during and after Happy Hour. As the property's name implies, The Moonrise is best enjoyed after sundown.

You'll seldom find an establishment with a more attentive staff than The Moonrise. Busy guests may use the business center, which sits on a loft directly above the buzzing front desk. The hotel's owner is Loop developer Joe Edwards, well-known locally for founding restaurant/club Blueberry Hill in the early 1970's, restoring the Tivoli Theatre in 1995, and being the man behind The Pageant Theatre, a Moonrise neighbor. The Loop and The Central West End of St. Louis are two of the most aesthetically impressive upscale districts in the U.S.

Nearby on 6191 Delmar, The Pin-Up Bowl is equal parts eight lane bowling alley and martini bar. There are not too many trendy downtown bowling alleys in America (only Cleveland's Corner Alley comes to mind). Pin-Up, another Joe Edwards innovation, is conveniently located near a Metro stop, Thai Cafe, the popular Pageant (you'll see young adults queuing up for music shows), and the aforementioned pizzeria al presidente, π (get it, "pie"?). St. Louis native Chuck Berry rocked his 80th birthday there, and rapper Nelly has also been in the house. It's perfect for a knockdown, drag-out good time- and all this across the street from The Moonrise. No wonder The Loop in "The Lou" is packed with patrons on Friday and weekend nights See all Luxury Hotels in North America