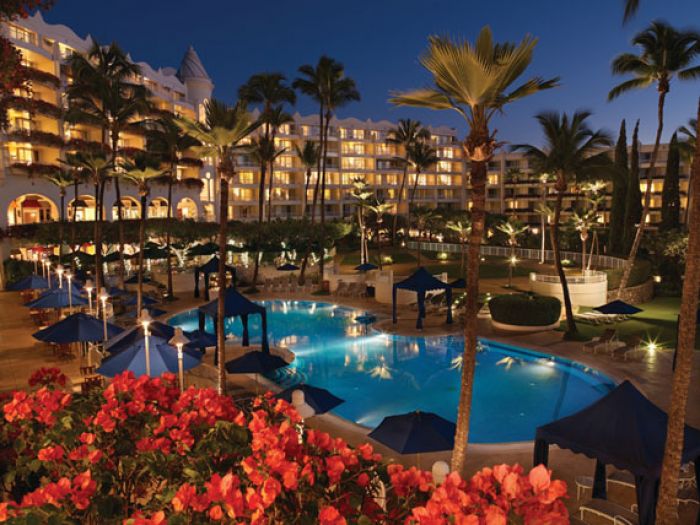 Luxury Hotels:
One potato, two potato, three potato four.
Five potato, six potato, the Kea Lani gives you more.
There's a reason for the potato analogy. At the award-winning Fairmont Kea Lani on Maui, in the luxury resort area of Wailea, they stock "potato ware" utensils, which are made from recycled spuds. And that's just the tip of the green iceberg for the Fairmont Kea Lani, which stands head-and-shoulders above most other resorts, when it comes to protecting the planet.
Kea Lani is Hawaiian for "Heavenly White," and even though the lobby now boasts a smidgen of cocoa-tan paint, the resort still has the impeccable, plumeria-white, luxurious ambiance that you've been dreaming of. In fact, we'd have to say that if you're coming to Maui and are only going to stay at one resort – this popular paradise is it. (Its design is the architectural descendant of Las Hadas in Mexico and let's not forget – pineapples were first brought to Hawaii from Spain, thus emphasizing the Mexican/Spanish tradition.) Stay here and you'll be helping yourself – and the world around you. The hotel's Green Team has successfully implemented more than 50 – count 'em – 50 environmentally-friendly initiatives throughout the hotel. For example, there's "Recycling Cents," in which recyclables are separated and placed under the "Giving Tree," to await pickup from local non-profit organizations. They, in turn, redeem the items and keep the proceeds. The resort also installed a laundry water recycling system called Aqua Recycler; the system filters detergents from the water, to be re-used. The Kea Lani now also uses a variety of disposable food containers made from cornstarch, recycled paperboard and sugarcane bagasse. And the pool is cleaned with rock salt instead of chlorine!

We stay in luxury resorts all around the world, and the Kea Lani is by far one of our favorites. Here are some more reasons why. All the rooms are 840-square-foot suites, which means that you get more than a single hotel room, with lots of luxurious space to spread out in. (You'll never want to stay in an average, mere hotel room again.) Outside there's a gorgeous pool area – featuring a heated, adult pool, so you can dive in no matter the weather, and later, take a snooze in peaceful, sybaritic surroundings without listening to little kids splashing around (they have their own pool, thank you very much). The white sands of Polo Beach are just a quick walk away, across the lawn. There's also Restaurant Ko, offering an exciting, distinctive fusion of Hawaiian/Chinese/Filipino cuisine, based on the foods that the workers brought with them when they worked on the plantations. These are just some of the many reasons why we consider the Fairmont Kea Lani a tremendous Hawaiian treat.

Located on the pristine white sands of Wailea, the Fairmont Kea Lea encompasses 22 acres of tropical landscape and offers authentic Hawaiian cultural experiences, and warm and personal service that convey the essence of "Aloha." We have always felt right at home in one of the suites – especially with their generously proportioned coffee station/wet bar with a small refrigerator and an endless supply of complimentary coffee. The attractive living room features a double sofa bed, full entertainment system including a DVD player and high-speed internet access. The large marble bathroom contains double pedestal sinks, deep soaking tub (with an array of Molton Brown amenities) and walk-in shower. When you're staying on Maui, this is definitely as good as it gets.


But wait a minute. If you're Jessica Simpson – or just a Jessica wannabee – you're going to love staying at one of the villas, which also serve as an exclusive playground for celebrities, dignitaries and executives who seek luxury and seclusion. The spacious two-story villas are set apart from the main hotel building and offer not only the comfort and convenience of a private home rental, but also all the amenities associated with a world-class resort – including three swimming pools, full-service spa, fine dining, personal concierge and twice-daily maid service. Spanning 1,800 to 2,200 square feet, these idyllic havens provide an escape within an escape. Each villa boasts its own private lanai with barbecue grill and plunge pool. Villa guests experience expedited check-in services; dedicated villa manager to offer personalized service; special welcome amenities that can range from fresh pineapples to chocolate-macadamia nuts; and a refrigerator stocked with water and juices. If you've got deep pockets, you can also opt for a grocery shopping service; garment packing/unpacking; in-room spa treatments; and a personalized barbecue meal prepared by a private chef, on the grill at your villa. No wonder these villas have become incredibly popular with the jet set.

The President's Club
The first thing you should do when booking your suite is to join the Fairmont President's Club, which offers a heightened travel experience. These benefits, for complimentary Club membership, include free in-room high-speed Internet access, free local calls, daily room delivery of a national newspaper, and at participating resorts, complimentary access to Lexus courtesy vehicles. Then, there's the wonderful Fairmont Fit program, which works in partnership with Adidas (just pay a onetime $10 fee per visit).

Translation: you don't need to lug your sneakers and workout clothing, as the hotel will provide you with fitness apparel and sneakers, pre-loaded MP3 players, yoga mats and more. Aveda Travel Kits are also available for a nominal $9 fee, so you don't have to carry all your lotions and potions.

There's also an "R U Ready" Fitness Program for guests aged 7 to 17; this innovative interactive program addresses the fitness needs of the resort's younger guests. In partnership with adidas and Trick It Out Sports, there are fitness challenges designed to improve kids' athletic skills in baseball, basketball, football, lacrosse, skateboarding, snowboarding, soccer and more. The goal is to teach kids how to improve their skills in each venue. Cost is $65 per class.



For the small fry, there's the Keiki Lani Kids Club, which offers everything for young tykes to have fun. There's a theme for every day (such as Under the Sea Day on Thursdays). The activity list includes boogie boarding, fish feeding, a cultural property tour, hula lessons, lawn crafts, scuba lessons and more. The cost varies, but a full day costs $85 per child, $60 for a sibling.


Fine Dining Finesse
We had an extraordinary dinner at Restaurant Ko, featuring plantation-inspired cuisine. ("Ko" means "sugarcane" in Hawaiian.) As the sugar industry grew in Hawaii, so did its need for manpower, bringing immigrants from around the world to work on the plantations. Simultaneously, this work force created Hawaii as "the melting pot of the Pacific." Each ethnicity brought its own food, and culturally diverse farms and markets followed. At the Kea Lani, you can sit outside, by the pool, and sample some of these delicious and noteworthy offerings. Start with the lumpia Filipino spring rolls filled with chicken and mushrooms – they are scrumptious. Follow it up with the Mauka Harvest salad featuring local pohole fern shoots, hearts of palm, Kula baby lettuce, macadamia nuts and a spectacular passion-fruit-and-Tahitian-Vanilla vinaigrette. (It's so good, everyone always asks to buy it, to serve over ice cream!) It is perfectly complemented with the restaurant's Portuguese sweet rolls with a taro filling, served with lavender-herb butter, as well as an edamame spread. Delicious!

Then, just follow our example. For the entrée, Deb enjoyed a sweet walu fish grilled with miso butter and served with an Asian coleslaw, while Bill enjoyed a macadamia-nut crusted walu with a coconut-butter sauce. We went all out on desserts – the chocolate custard is a let's-throw-calories-to-the-wind creation that is a cross between custard, mousse and fudge, and worth every bite. Of course, Bill encountered love at first bite with the pineapple upside-down cake. Then, naturally, we just had to try the lumpia bananas that the hotel's food-and-beverage manager told us would be "life-changing." In fact, the entire meal was unforgettable, especially as we were seated poolside, in a private curtained cabana. Life – and travel – just doesn't get any better than this. Our compliments to the chef!

Other dining options at the resort include Nick's Fishmarket Maui, an excellent seafood restaurant (read our review of it in our story about "Maui's Top 10 Restaurants" on www.Justluxe.com.) Nick's offers some of the island's freshest fish such as island snapper piccata, candied peanut-crusted Hawaiian opah or gilled ahi mignon, served in a tropical ambiance. Nick's also features a 2,000-bottle wine cellar and has consistently earned the Award of Excellence from Wine Spectator magazine for having one of the world's most outstanding restaurant wine lists. (Although we fell in love with the tomato soup – more about that in our review at JustLuxe.com.) If you're seeking the ultimate in romance, however, the Kea Lani can offer a "Twilight Dinner" and personalized four-course meal in a private cabana, as well as a "Hoku Lani" (dining under the stars) served near the beach overlooking the Pacific Ocean.

And don't forget about an umbrella-drink pina colada from the Luana Lounge, which offers spectacular views of the Maui sunsets. In Caffe Ciao Bakery and Deli, you'll find a fabulous (and we do mean fabulous) selection of specialty coffees, fresh pastries and gelato, gourmet cheeses, and more. "Food for Flight" is exactly what you want before you catch the red-eye to Los Angeles – a delicious meal to take on the plane ride home. The Kea Lani also boasts its own line of bottled sauces, spreads, preserves and condiments – everything from coconut syrup to pineapple mustard. There's no better way to "take the hotel home with you."

As we said, we love the fact that the pool is heated, even in Hawaii, where we found the Pacific waters to be a bit chilly in November. The glamorous pool area also boasts adorable leaf-shaped rattan chaise lounges, and private cabanas that are available at a cost of about $150 for the day, with full services including fruit, cold towels, and more.


Spa Sensations
The spa experience at the Kea Lani is distinctively Hawaiian, and pleasureable in every way. (Read our full report about "Hawaii's Top Five Spas" on www.JustLuxe.com). The Kea Lani's spa offers The Full Monty of services in nine treatment rooms, including the most popular Ala Lani (Heavenly Scent) 80-minute wrap ($225) that features made-in-Maui products in the scents of ginger-lime and lavender-vanilla. (Don't you just love when a spa uses indigenous ingredients?) "These fragrances were designed specifically for our spa," says Angela Doyle, Spa Director. "The spa is elegant and quiet," she said, pointing out the duvet covers on all of the massage tables, the domed ceilings, as well as the hydrotherapy tub and the couples rooms. Retail products include some of Deb's favorite luxury brands -- Jane Iredale, B. Kamins, Kerstin Florian and Skinceuticals, as well as a retail area featuring jewelry and clothing. We shared an amazing couples massage ($450 for 80 minutes), which really is a must-do for every couple visiting the resort. Our therapists used Ala Lani Hawaiian Bliss oil, which is a delightful combination of citrus oils. Spa packages are also available, such as the Ocean Odyssey featuring a caviar facial and a body experience, ($455 for 130 minutes).

Adjacent to the spa is the Juvenal & Company hair salon, featuring Aveda and OPI products. "Women love to come here to get pedicures, and we also do a lot of wedding hair," says Chau Hidalgo, the owner. This is by far one of the best salons on Maui, featuring services designed to exceed your expectations. Ladies, when you're in Hawaii, having a fantastic dinner every night, and wearing your best resort wear, you want perfectly pedicured-toes, stylish haircuts, and expert blow-drys, while men want a polished look as well. You'll find everything from highlights, to men's haircuts, to French braids, manicures, brow tinting, and special-occasion up-dos. Ask for stylist Barbara Holmes, who gave Deb an expert blow-dry that received rave reviews.

And here's something else that's sensational. Every Friday and Saturday, a terrific local artist and jeweler, Fileena Bahris — who has designed for innumerable A-list Hollywood celebrities — exhibits and sells her jewelry in the Terrace-level lobby. Her designs are a hit with Sharon Stone, Paris Hilton, and Charlize Theron. Fileena uses genuine Murano glass that comes directly from the factory in Venice, and crafts exquisite necklaces and bracelets. She also designs her "Shooting Star" jewelry featuring a small diamond, which is popular with Paris Hilton (who also bought some for her two dogs). Charlize Theron "loves the coral," says Fileena, while Sharon Stone "loves the coral and pearls." Many of Fileena's designs also use genuine Tahitian black pearls, as well as tanzanite, and part of the proceeds of her sales go to stop inhumane treatment of dolphins in Japan. Fileena's designs became a must-have among Hollywood celebrities after she crafted jewelry for the Star Wars Episode III, Revenge of the Sith movie, and then donated her creations to an auction afterwards. Fileena doesn't mass-produce any of her designs, and told us, "I swim with the dolphins every week in Lanai and design the jewelry after I get out of the water with them." You've probably already read about her in any number of magazines or seen her designs worn by celebrities on The Tonight Show with Jay Leno, The Simple Life and E Entertainment. We're impressed that the Kea Lani offers this kind of special, unusual designer under its roof entirely for your benefit.

The Kea Lani is something special -- with everything under its heavenly white roof to make your Maui experience as memorable as it can be. The best thing is that even if you're not a VIP – you'll get the VIP treatment.



Rates for 2010 start at $369 for a moderate suite; $529 for an oceanview suite. Many packages are available, including the "Romance Package," for $439 per night that includes accommodations in a one-bedroom suite or villa for a minimum of five nights; champagne; deluxe buffet breakfast; candlelit dinner-for-two at Restaurant Ko; flower petal turndown, and more.

For more information contact the Fairmont Kea Lani, (800) 441-1414, (800) 659-4100; www.fairmont.com/kealani.

See all Luxury Hotels in Hawaii