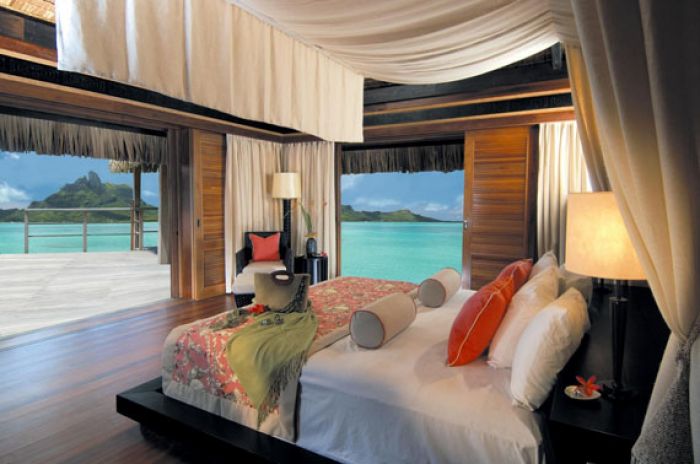 Hotel Reviews:
Itís no secret in the hospitality industry what
hotel
sets the standard and surpasses all others in its class. That property is, of course, the St. Regis Bora Bora. The resortís Royal Over Water Villas have become an icon of luxury amongst hotels and resorts, and make the St Regis Bora Bora the resort to beat. After its recent renovations following slight damage from Cyclone Oli that went through French Polynesia last February, the resort has done what many thought wasnít possible, and that is up the ante.
All of the pools at the
St. Regis Bora Bora
were retiled, including the pool at the resortís lavish 13,000 square foot Royal Estate which was fitted with white glass paste tiles that reflect the color of the sky. Pools at the Royal Over Water villas, Pool Beach Villas, the Private Ocean Front Villas, Royal Oceanfront Villas, and the Main pool were also retiled with turquoise glass tiles to reflect the natural light.

As if Bora Bora could get any more beautiful, the grounds have been updated with newly redesigned landscaping and re-sanded beaches. The Private Lagoonarium and other ponds on the property received marine alterations and now have new fish species and coral growth.
Newly appointed General Manager Michael Schoonewagen comes to the St. Regis Bora Bora with ample experience in 5-star luxury hotel management, starting with the hotel his family owned in the South of France. He has worked at top establishments ranging from Monte Carlo to Paris to Mauritius and is aimed at even further enhancing the resortís legendary experience. Only opened in 2006, the St. Regis Bora Bora has become the resort against which all others are measured with their unrivaled personalized services and amenities. Top destination to traveling elite and Hollywoodís hottest celebrities, the St Regis Bora Bora shows no signs of losing its rank of the most luxurious resort on earth.