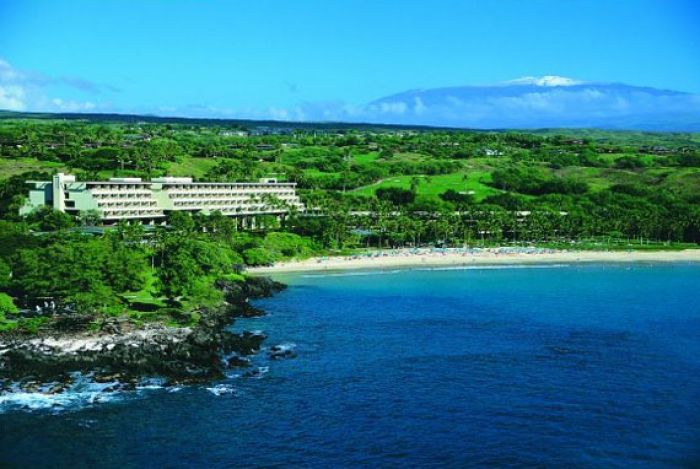 Hotel Review:
Do you want to know what makes the
Mauna Kea Beach Hotel
tick? We found the answer in the water one day, as we set foot on its incomparable beach – probably the best beach on the Big Island of Hawaii. (Dr. Beach named it the best in the country in 2000). There, we met a woman from Santa Barbara, and struck up a conversation.
"We've been coming here for 35 years," she told us. "We've tried other resorts on the Kohala Coast, but nothing compares to the Mauna Kea. Now our children and their children come here. We love it. It has everything we want." She added, "When we first started coming here, my husband had to have a jacket, and I brought St. John knits. But today it's all so relaxed." We also met other couples who were returning guests (all on the beach, by the way) and they kept telling us, over and over again, that they had tried other resorts on other islands, but that the Mauna Kea was for them, as good as it gets.
There you have it. The reasons why people keep returning to the impressive Mauna Kea.

We were first here about seven years ago, and since then, the resort has kicked up everything a notch, to make it even more a first-class experience. Take the rooms for example. If we didn't know better, we would think we were in a sleek-European hotel in Berlin - - everything is all right angles and very modern. There are Plasma high-def TV screens hidden behind walls, linear furniture, and bathroom that is the size of most studio apartments, with a gleaming, all-open white-tile shower, with a head the size of a dinner plate. Not to mention HUGE soaking tub. The bathroom shower area isn't just a walk-in – heck, it's a drive-through! Our room, 604, also had a huge walk-in closet with mini fridge, large bedroom with long desk-counter area, small foyer, two bathroom sinks, and two lanais. It was a luxe lounging area fit for a king.



We also love the amenities and décor – because the resort's logo is an orange plumeria, you'll find orange accessories abound – from the swizzle sticks to the coasters, to the beach towels, to the adorable tins that hold coffee and tea. But we must confess – we do miss the shower caps with the big orange flowers on them. They have been replaced by clear-plastic caps, and L'Occitane amenities. Well, some things have to change!

Ah, Spa!
If you want to transform – and possibly even transcend the moment – you must schedule a visit to the hotel's Mandara Spa located on the ground floor right near the beach. Mandara had its beginnings on the spiritual island of Bali. Today, Mandara spas offer Balinese-inspired services, while the name "Mandara" is Sanskrit, and comes from an ancient legend about the gods' quest to find the secret to eternal youth and beauty. Lucky Deb, she had a Swedish massage ( $135 for 50 minutes -- ask for Lillian) and you'll revel in every moment. Every Mandara treatment begins with a foot ritual in which oil and warm towels are placed on the soles of your feet. You'll also have the option to select your favorite scent for your pampering: Deb chose Island Spice, a glorious mix of cloves, ginger, and nutmeg, which was the next-best thing to Agraria, the famous potpourri, or a pomander ball. Other scents include the Mandara (sandalwood and patchouli), Tranquility (vetiver) and Harmony (lavender bergamot). Everything about the massage was sublime, including the head and scalp massage that made Deb positively euphoric. Afterwards, Elemis' lime oil was spritzed in the air to awaken the senses.

Other spa treatments include the Elemis Tri-Enzyme Resurfacing Facial (which Debbi has enjoyed on numerous cruise ships), the Mandara four-hand massage (bliss on a blanket), detoxifying seaweed massage, Balinese body polish, exotic coconut rub and milk ritual wrap, and more delights than you could ever take partake of in one day.


Manta On The Menu
We were in Hawaii celebrating our 10-year wedding anniversary, and so we decided that we could celebrate in style at Manta Restaurant at the Mauna Kea. This lovely open-air restaurant glimmered with candles at each table, and we happily sat down at Table 407. Brian Clancy, the wine manager, explained to us how the restaurant is wine-driven, as it carries the Italian eno-matic system of dispensing 48 different wines by the ounce. That means that you can decide how many ounces (two, three four?) you wish with your appetizer, and how much you want with your entrée.

"There are eight bottles on each machine and the wine is preserved with argon gas, making it stay fresh up to 30 days," Clancy said. "In all, Manta offers about 400 wine selections by the bottle. "It's a pretty fun list, and the best on the Big Island."

Also on the menu are 15 dessert wines including a 1990 Chateau Suidraut sauterne that costs $300 a bottle. "We bring in Chateau Y'quem (the famous sauterne) for Christmas," Clancy adds. The restaurant also hosts wine dinners every month.

Manta is a special restaurant that will make assurea great memory of your meal. We started with the Hawaii Island goat-cheese ravioli, in a head-shakingly delicious sauce of edamame and corn, which we could live on. For salads, the roasted organic baby beets served with spicy walnuts is a winner. There's also a grilled Wailua asparagus served with a Parmesan yuzu vinaigrette. For her entrée, Deb chose steamed moi ($37), a fish that was originally served only to Hawaiian kings. She inhaled it in a New York minute. This delicious creation included pineapple carpaccio and sizzling oil, but was still very light. Bill had the Big Island butterfish served in a ginger-butter fondue ($35), and we highly recommend it. We were glad to see that Manta is committed to using sustainable fish and organic produce whenever possible.

Dessert – well, that was an embarrassment of riches. Deb had requested (as an anniversary surprise) a lowfat carrot cake with lowfat cream cheese frosting – and our server, Evelyn, brought over two huge cupcakes of this special treat. We loved how we could eat them without any guilt. But we had also ordered a chocolate soufflé (fantastic) and the island chocolate organic beet cake, a sinfully succulent creation served with a Jack Daniels sauce. We inhaled all of these desserts – after all, you celebrate 10 years of marriage only once, right? If you need even more options, the restaurant also offers Portuguese sweetbread French Toast – yum!


The Art Of Collecting
Back in 1965, the Mauna Kea's founder, Laurance S. Rockefeller, collected 1,600 eclectic pieces of art from the Pacific Rim, Polynesia, and Asia, which today is informally grouped around the hotel, so that guests can experience it up-close-and-personal. You'll find Hawaiian tapa cloths, glittery Thai icons, Maori canoe prows, bronze Indian chests, wooden carvings and countless other interesting things.

Other offerings at the resort include the Mauna Kea Golf Course, a spectacular 18-hole, par-72 championship course designed by Robert Trent Jones, Sr., and refurbished by his son Rees Jones. There's also the Seaside Tennis Club offering 11 courts that overlook the ocean.

But nothing beats being on the magnificent beach – whether you're sunning, swimming, snorkeling or just sitting. No matter, when you're there, look up at the stars, and thank the Universe. You have arrived at the ultimate destination.

For more information: www.Maunakeabeachhotel.com. The resort is currently offering a "4th night free" promotion whereby the fourth night is free after three consecutive nights, starting at $450 per night, are booked.