Touring & Tasting View Profile

Touring & Tasting Magazine
Sonoma County Wine Tours: Scratching the Surface
Oct. 11th, 2010 | Comments 0 | Make a Comment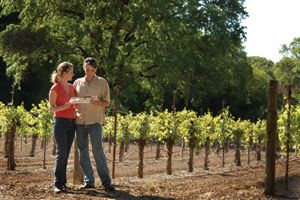 Luxury Vacations:
I just got back from four days in
Sonoma County
. As I planned the trip with the generous assistance of the Sonoma County Tourism Bureau, I thought I was giving myself ample time. Well, I could have easily stayed twice as long and still have only scratched the surface of this fantastic region! Sonoma County offers so many things to do and places to stay. I recommend that you find lodging in one of these three areas, make it your home base, and realize that you'll have to come back again and again!
Sebastapol and Guerneville
If you're looking for redwoods, rivers, and winding roads, look no further. I started my first day in Sebastapol with breakfast at East West Café. The whole-wheat quesadilla brims with melted Jack cheese, avocado, tomato, and a zaatar herb–blend dressing—the perfect start to a wine taster's day. From there, I drove out past the berry farms and vegetable gardens to Iron Horse Vineyards. The winery presents a stunning vista and some equally stunning wines, crafted by David Munksgard. I was tempted to stop in Forestville twice—at Aioli Gourmet Delicatessen and then at Nightingale Breads—but instead continued on to Armstrong Woods State Park in Guerneville. This is a beautiful place for a short walk or hike. Next, I drove up Westside Road and stopped at Hop Kiln Winery. Between gentle jokes, Don in the tasting room introduced me to the 2008 Thousand Flowers, a delightfully fragrant white blend, and the 2008 Rushin' River Red, a blend of Syrah and Grenache. On my way back to town, I stopped at Porter Creek Vineyards, where Jonathan De Michael poured several nice organic hillside-grown wines, including a stunning Old Vine Zinfandel blended with 10 percent Carignane.

Okay, this is where it gets weird. I then left the world as I know it and followed a friend's truck 13 miles off Highway 116 to stay at her home in the hills beyond Cazadero. It was a wonderful solar-powered experience, but for you I recommend sinking into a pillow at Applewood Inn & Restaurant near Guerneville!

Healdsburg
I started my second day not far from the headwaters of Wild Hog Creek, driving back from my friend's house (solo!) down the winding, bouncy, rock-filled dirt roads to Wild Hog Vineyard. Since it was early and I hadn't alerted the owners that I'd be in their neck of the woods, I simply paused to admire this rugged mountain property that stands in the middle of nowhere and yet everything. It took me an entire hour to navigate my return to the freeway, with a little help from my GPS and a few members of a road crew. From there, I headed over to Healdsburg, where I enjoyed a fabulous roasted beet salad with goat cheese at Healdsburg Bar and Grill.

The intriguing shops and tasting rooms in Healdsburg's historic downtown are ideal for a between–wine trails stroll, since Healdsburg is located at the intersection of the Russian River, Dry Creek, and Alexander valleys. In the afternoon, I took an informative Sonoma County Vineyard Adventure at Mauritson Family Winery in Dry Creek Valley. The self-guided tour is free and it leads guests through actual rows of vines, with clearly marked points of interest along the way. Each tour is less than a mile in length and designed for all ages. The Sonoma County Winegrape Commission has developed the tour for a handful of vineyards around Sonoma County. I rounded out my afternoon with a visit to Dry Creek General Store, where nearly everything is locally grown or made, and a visit to a couple more tasting rooms in downtown Healdsburg.

That evening, I holed up in a beautiful, pristine home overlooking a rolling vineyard. This time I was the guest of Healdsburg Vacation Homes, owned by Elisabeth and Marc Matson. The Matsons manage about 20 properties in the Healdsburg area—all viewable at healdsburgvacationhomes.com. Since Sonoma County wine country is a great place for a family reunion or friend getaway, renting a home is a wonderful, affordable option.

Kenwood, Glen Ellen, and Sonoma
I met Jeff Kunde in the sleek tasting room of Kunde Family Estate. Jeff, fresh from the vineyards in dusty overalls, was anxious to take me up to see his new project—a cleared spot on a mountaintop overlooking the whole of Sonoma Valley. As we bumped and bounced up the narrow lane, Jeff told me about his family's history with these 1,850 contiguous acres of land—a history that dates back 105 years. Jeff likes to get visitors out in the vineyard to gain a personal understanding of what winegrowing is about.

The winery offers frequent eco-tours, dog hikes, and now mountaintop tastings. On a clear day, you can see for miles, and as you taste each wine, your guide points out the vineyard where its grapes were grown. I was blown away. From there, I checked into the cozy Glenelly Inn in Glen Ellen. It's a great little wine-country inn, ideal for a romantic weekend. There are many common areas where guests can linger, read, sip wine, and write (like I did). But I tore myself away from the page and drove to Sonoma's historic plaza for a stroll and lunch at The Girl and the Fig. I ate every last bite of my fig and arugula salad. After a few more winery stops, I headed for Barcelona...at Gloria Ferrer Winery. They were hosting a special sold-out event—Tapas on the Terrace—with a Spanish flamenco guitar player and, of course, Gloria Ferrer's exquisite sparkling wines.

Lucky Bonus: What a way to start my last day! The gourmet breakfast served at Glenelly Inn changes daily. I was treated to blueberry French toast (made with blueberry bread with cream cheese in the middle) and chicken sausage. After lingering on the terrace, I packed and headed out to visit just a few more marvelous Sonoma wineries to last me until next time.

By Wendy van Diver
Featured Luxury Hotels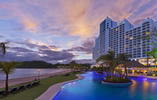 Panama City, Panama
The Westin Playa Bonita Panama
Discover complete rejuvenation at the natural refuge, where a serene beach...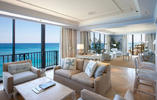 Palm Beach, United States
The Breakers Palm Beach
A spectacular resort destination on Florida's Atlantic coast, The Breakers Palm...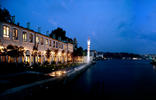 Istanbul, Turkey
Sumahan on the Water
Sumahan is a Hotel on the Water Sumahan sits on the very edge of the...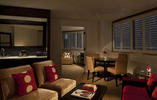 New Orleans, United States
W New Orleans
What's the word for W New Orleans? Spicy. Located just steps from the notorious...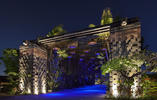 Bali, Indonesia
The St. Regis Bali Resort
Bask in luxury on the soft, sandy beach of Nusa Dua, the Garden of Bali, where...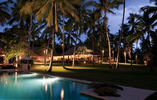 Bali, Indonesia
Alila Manggis
One of Bali's best kept secrets, Alila Manggis is a secluded, stylish seaside...